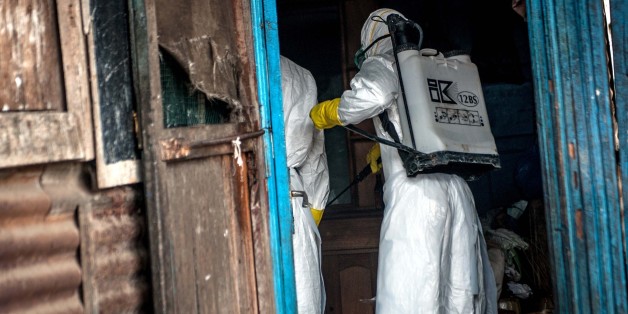 While the United States is debating the protocols for health care workers treating Ebola patients in American hospitals, a report recently published in Liberia highlights the devastating shortages the West African nation faces in its battle against the deadly disease.
In a report released on Oct. 10, Liberia's Ministry of Health and Social Welfare indicated that the country currently has 4,901 body bags in stock, but will need an estimated 84,841 bags in the next six months if the disease continues to spread. That leaves an astounding gap of 79,940 pieces. The ministry also said it is 1,433,519 face masks and more than 509,000 protective goggles short of what it will need in the coming six months.
Nearly 4,500 people have died of Ebola since the start of the outbreak, most of them in West Africa. Liberia is the country that has been hit hardest by the disease.
The report also revealed that of the 4,217 confirmed, probable and suspected Ebola cases reported in the country thus far, 208 were health care workers. Ninety-five workers did not survive.

(Liberia Ministry For Health And Social Welfare)
Dr. Bruce Aylward, assistant director-general of the World Health Organization, warned on Tuesday that West Africa could see up to 10,000 new Ebola cases a week within two months, according to new projections. Aylward also said the death rate in the outbreak has risen to 70 percent.
"We either stop Ebola now or we face an entirely unprecedented situation for which we do not have a plan," Anthony Banbury, the head of the UN mission for Ebola response, said Tuesday.
According to NBC, 565 American troops are in West Africa to help the region fight the disease, with most of them in Liberia. Eventually, the U.S. is expected to deploy up to 4,000 military personnel, who will help construct 17 treatment centers and give training to local health care workers.
H/T Mother Jones
Read more from HuffPost on Ebola:
The Uncensored Reality Of Covering Ebola As A Journalist
All The Times The World Tried To Warn Us
Why We Won't Have An Ebola Vaccine For Years
The Most Destructive Ebola Myths, Debunked
What Actually Happens When A Person Is Infected
BEFORE YOU GO
PHOTO GALLERY
Ebola in West Africa