Hollywood is finally beginning to empathize with West Africa.
After some had criticized the lack of star power spurring action for the Ebola outbreak, a handful of celebrities threw their support behind combating the disease. In the Ebola Survival Fund's Crush Ebola Now campaign video, several entertainers -- including Whoopi Goldberg, Alicia Keys, Idris Elba and Naomi Campbell -- address viewers alongside former U.K. Prime Minister Tony Blair to spread hope regarding the dire global health situation.
"Ebola is not a death sentence," many of them say throughout the video message, claiming there's "reason to be hopeful" the world can stop Ebola, as many have survived after being diagnosed -- in both the developed and developing worlds.
The video encourages viewers to support the Ebola Survival Fund, which supports various community-based organizations working in Liberia and Sierra Leone. According to the organization's YouTube account, funds will be put toward existing national plans in both countries in coordination with United Nations' response efforts.
Athlete and UNICEF goodwill ambassador David Beckham has also joined the fight against the epidemic. The soccer star made an exclusive video for the humanitarian organization, Isha Johansen, president of Sierra Leone Football Association (SLFA), announced on Facebook on Oct. 1. ABC News reported the video -- which will raise awareness about preventing the spread of Ebola -- will be broadcast across West Africa.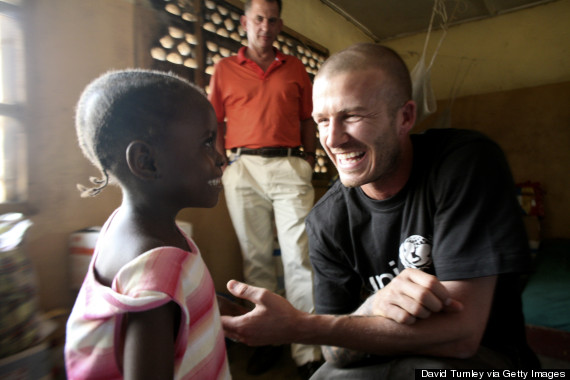 David Beckham with 5-year-old Senyo at a therapeutic feeding center on January 19, 2008 in Makeni, Sierra Leone. (Photo by David Turnley/Getty Images)
SLFA and UNICEF partnered months ago to fight Ebola through sanitation programs across Sierra Leone, according to Johansen.
On Sunday, Johansen told The Sun that the video message will have an enormous impact in Sierra Leone, one of the hardest hit countries.
"To have David Beckham involved in this campaign is massive for us and we are so grateful to him," she told the outlet. "In Sierra Leone, football is a religion. All men, women and children follow a player or a team from the Premier League but David Beckham is the favorite."
The World Health Organization (WHO) announced on Tuesday that the outbreak's death rate has risen to 70 percent, with 8,914 cases total and 4,447 deaths confirmed, according to the Associated Press. WHO also reported that with increasing infection rates, there could be up to 10,000 new cases weekly in two months.
Support UNICEF's efforts to combat Ebola through the fundraising widget below.
Read more from HuffPost on Ebola:
The Uncensored Reality Of Covering Ebola As A Journalist
All The Times The World Tried To Warn Us
Why We Won't Have An Ebola Vaccine For Years
The Most Destructive Ebola Myths, Debunked
What Actually Happens When A Person Is Infected
BEFORE YOU GO
PHOTO GALLERY
Ebola Symptoms