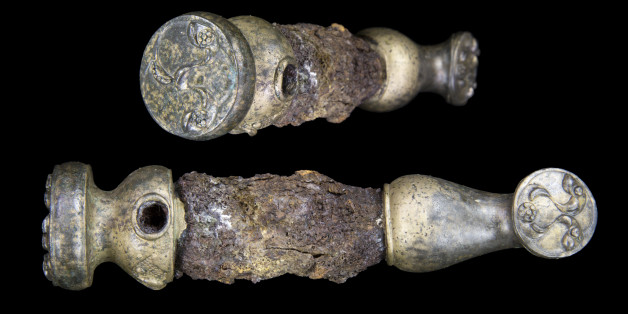 You don't find something like this every day.
Archaeologists excavating an Iron Age fort in Burrough Hill, England say they were astonished by the discovery of a bronze chariot believed to date back to the 2nd or 3rd century B.C.
"The atmosphere at the dig on the day was a mix of 'tremendously excited' and 'slightly shell-shocked,'" Dr. Jeremy Taylor, a lecturer in landscape archaeology at the University of Leicester's School of Archaeology and co-director of the Burrough Hill field project, said in a written statement. "I have been excavating for 25 years and I have never found one of these pieces--let alone a whole set. It is a once-in-a-career discovery."
(Scroll down to see the photos.)
Taylor's remarks come as the chariot, found in several pieces last year, is set to go on display at Melton Carnegie Museum in Leicestershire, England. The exhibit will run from Oct. 18 to Dec. 13.
Taylor and his team have been digging at the site since 2010, with students and volunteers joining in. Four students unearthed the first piece of bronze in a deep pit near the remains of a house, later discovering the other pieces of the chariot.
The archaeologists believe the chariot could have belonged to a high-status "noble" or "warrior," and that it was dismantled and buried as part of a religious offering.
"Realizing that I was actually uncovering a hoard that was carefully placed there hundreds of years ago made it the find of a lifetime," Nora Battermann, one of the students who made the discovery, said in the statement. "Looking at the objects now [that] they have been cleaned makes me even more proud, and I can't wait for them to go on display."
PHOTO GALLERY
Iron Age Chariot Unearthed
BEFORE YOU GO