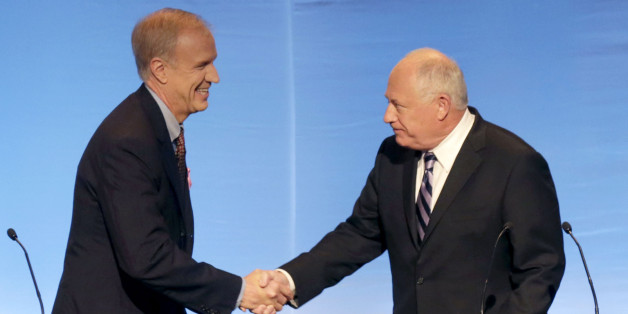 With less than three weeks to go before voters head to the polls in one of the nation's most contentious gubernatorial races, a conservative advocacy group backed by the Koch brothers launched an unusual campaign aimed at helping unseat the state's Democratic incumbent.
The Illinois chapter of the Koch-funded group Americans for Prosperity is behind the so-called "Leaving the Land of Lincoln Tour" tour, which features a large moving truck emblazoned with Gov. Pat Quinn's face and the statistic -- from the most recent United Van Lines study -- that Illinois is home to the second-highest outbound migration in the nation. The tour launched Oct. 11.
Crain's Chicago Business reports that the tour's "Gov. Quinn Moving Company" truck, which also calls out Quinn for the state's $5 billion-plus unpaid bill backlog and 67 percent income tax increase, is expected to turn up in some 23 towns across the state before the Nov. 4 election.
Americans for Prosperity Illinois also held a tour rally at the home of controversial former congressman Joe Walsh, a tea party favorite.
The Koch-backed group has some close ties to Quinn's challenger, Republican candidate Bruce Rauner. His Rauner Family Foundation donated $150,000 to Americans for Property in 2012, as the Chicago Reader reported this week.
Americans for Prosperity has also funded anti-Quinn television ads, as well as an online and direct-mail campaign criticizing the state's income tax hike the governor approved in 2011 and has proposed keeping.
Billionaire brothers Charles and David Koch's Americans for Prosperity was founded in 2004 and has grown into one of the conservative movement's most influential outside groups, pouring undisclosed "dark money" into political races throughout the country.
The group was criticized last month when its North Carolina chapter sent hundreds of voters -- and at least one cat -- incorrect voter registration information.
BEFORE YOU GO
PHOTO GALLERY
2014 Gubernatorial Challengers