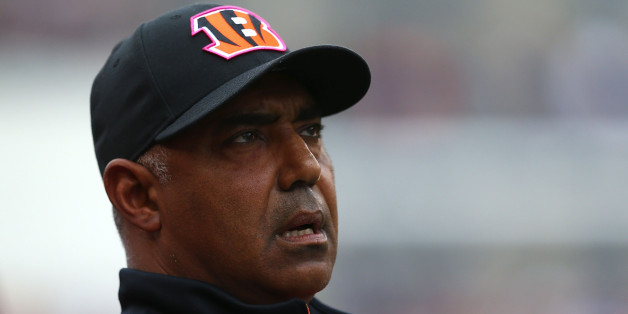 NFL Players Association president Eric Winston wasn't going to let the comments from Cincinnati Bengals head coach Marvin Lewis go without a stern response.
While answering a question about Bengals linebacker Vontaze Burfict's history of concussions, Lewis seemed to suggest that the media is to blame for concussions lingering longer.
"I coached defenses and linebackers for a long time and concussions didn't linger," Lewis said at a press conference on Wednesday, via Paul Dehner Jr. of Cincinnati.com. "Now we have found that because of the media and things they seem to linger longer. There's a lot of attention paid to it. I don't know why they linger longer. I don't remember them lingering like they do now."
Hours later, Winston took aim at Lewis with a series of tweets.
Always good to see the NFL educating their HCs on health/safety. Glad they are taking the lead on serious issues like concussions. #sarcasm

— Eric Winston (@ericwinston) October 15, 2014
You don't have a "mild" concussion. You either have one or you don't.

— Eric Winston (@ericwinston) October 15, 2014
Perpetuating the idea that it's the medias fault that concussions "longer" longer just shows how far we still have to go in educating every1

— Eric Winston (@ericwinston) October 15, 2014
ESPN's Coley Harvey speculated that Winston, a former offensive lineman, may have also been referring to Carolina Panthers head coach Ron Rivera with his tweets as well. On Wednesday, Rivera said Panthers wide receiver Kelvin Benjamin suffered a "mild" concussion during last Sunday's game against the Bengals, per Charlotte.com.