Filming was stalled, which tends to happen when the star is a wild horse. "I took its head in my hands and just looked at it," says Simon Ma, before sipping a glass of water. "Then he calmed down."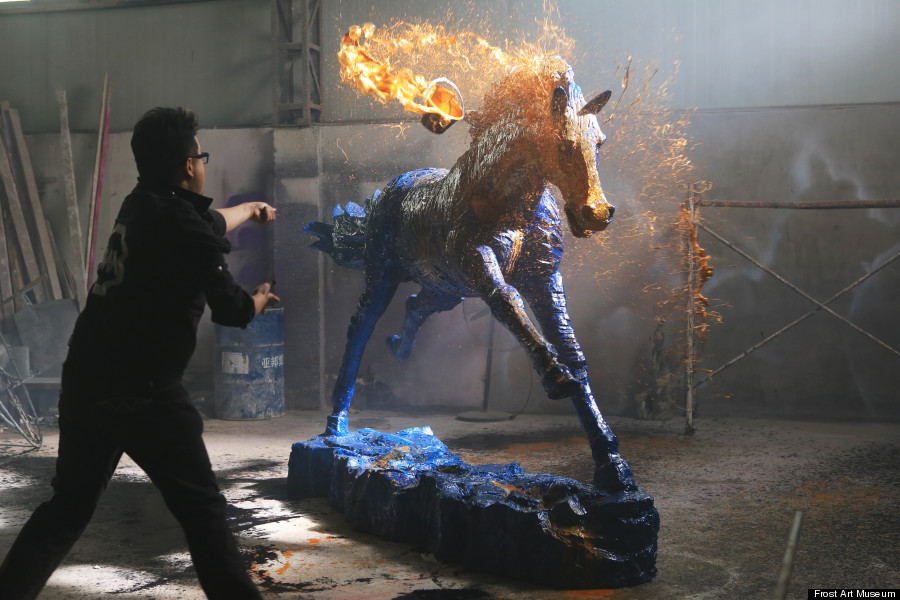 Ma splatters paint on one of his equine sculptures, part of a series currently on display in Miami.
No one on set knew their director could horse-whisper, but then Ma is that kind of man. Little in the artist's life is predictable, starting with his decision to move to London at the age of 13. Born in Hong Kong, he'd trained until then in traditional Chinese painting, and, by his telling, wanted to see what the West had to offer to his artistic knowledge.
Now Ma is one of China's most commercial artists, routinely invited to turn out limited items for luxury brands. He's clearly absorbed corporate wisdom: his U.S. press junket involves him stopping into every media office he can, armed with Powerpoint presentations outlining the portfolio of someone who could pass as much for a brand manager as an artist. Here, a courtyard gleaming with stainless steel rain drops, which he installed at last year's Venice Bienniale. There, a dragon motif for Ferrari, to commemorate the Italian car manufacturer's 20th year selling in China.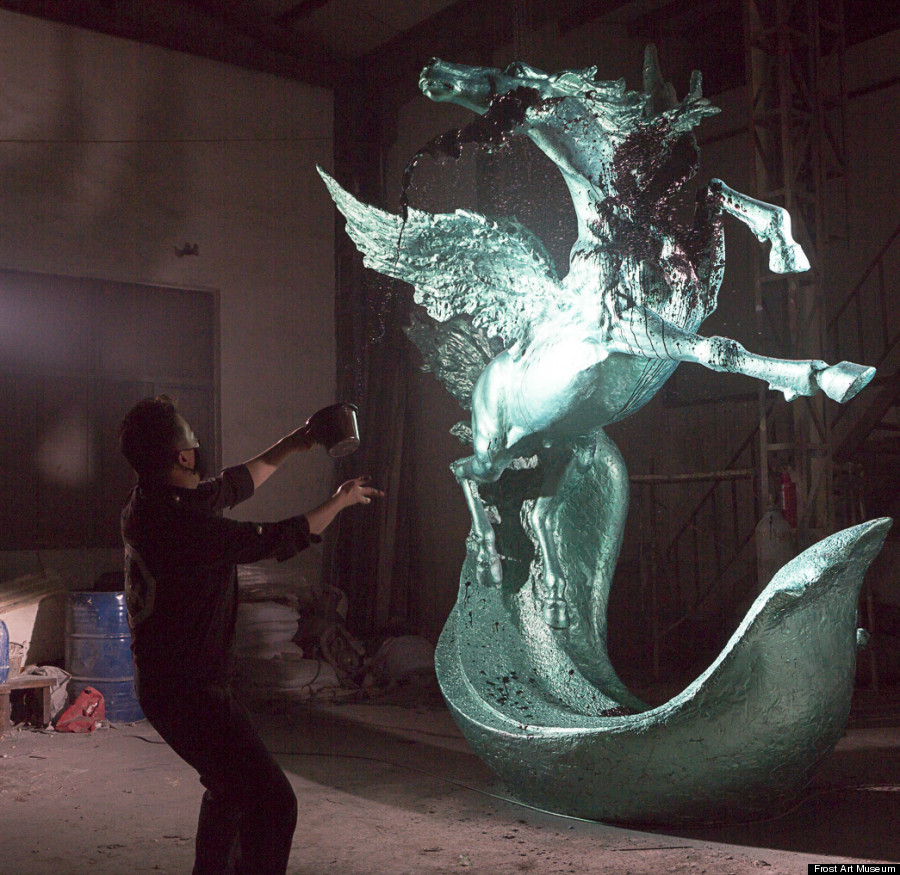 He's currently a walking advertisement for horses. On display until October 19 at the Frost Art Museum in Miami, Ma's latest exhibit, "Heart Water Ink," comprises 70 works of varying media -- from Murano glass to ink calligraphy -- all focused on the horse. At this year's Venice Biennale, he plans to kill two birds, expanding his relationship with Ferrari with a team of sculptural horses recalling the brand's mascot, frozen mid-stride in a line from the Chinese to the Italian pavilions.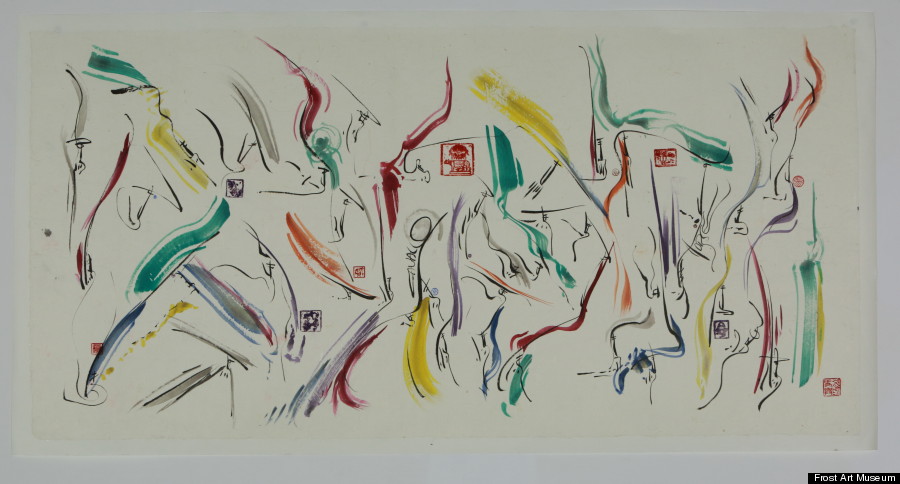 Every piece in the Frost exhibit is inspired by horses, including ink paintings and glass sculpture.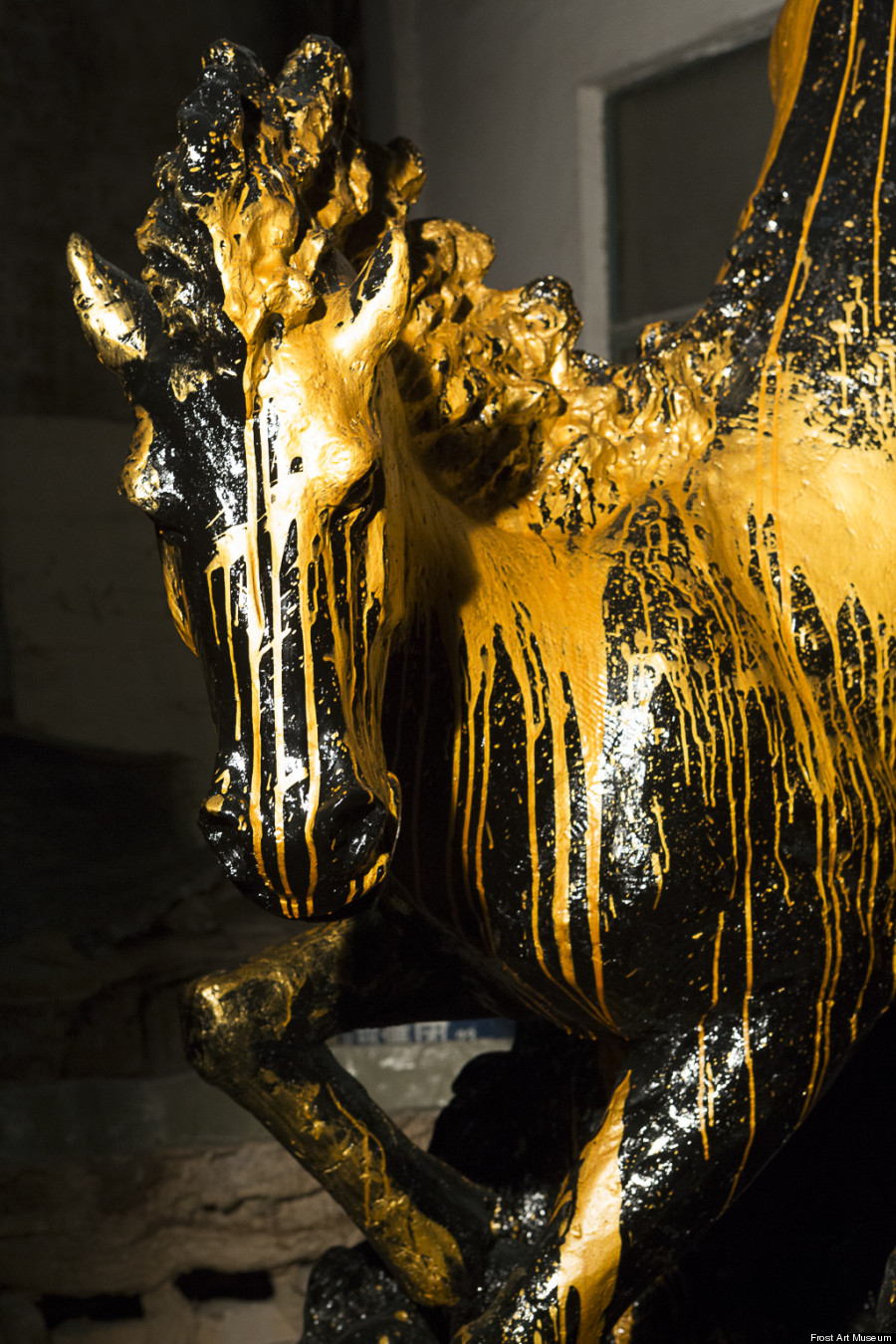 A close-up of one of Ma's larger-than-life-size horses.
It must be asked, and it is: Why the horse? Ma rattles off a list of perfunctory reasons. The iconography is "relevant" (2014 is the year of the horse), "personal" (his surname means horse in Chinese), and linked to the natural world, with which he likes to align himself. He also intends to pay homage to the work of Xu Beihong, an early 20th century Chinese painter.
But unlike Xu, whose galloping horses represented the optimism of the Chinese populace, Ma is tight-lipped about deep meanings. We circle back to the agitated horse he calmed with a look. That particular specimen he'd had brought into Shanghai from the Mongolian steppes, for a trailer he shot for the exhibit -- he's the kind of artist who doesn't flinch talking about trailers for his work. The animal was rightfully upset, he says, given the journey. And yet Ma seems unfazed by how quickly he turned the situation around. "I've always had a connection with horses," he says simply.
The trailer for Ma's traveling exhibit, Heart Water Ink, features a wild horse.
It's as good a basis as any for an artist to pick a subject: interspecies connection. Horses are a classic target for fixation. Our cave-dwelling forebears drew them. They're one of the few creatures with whom humans collaborate -- galloping is teamwork. So deep is our love, we even have dirty jokes about it, with punchline subjects from Catherine the Great to Daniel Radcliffe. Popular culture has started to medicalize the feeling: "horse girls," we are now told, may simply have Asperger's Syndrome.
But Ma doesn't mention any of that stuff. Having defined his own connection with horses ("always"), he's minimalistic about everyone else. He uses the words of a man selling tickets. "Most people," he says matter-of-factly, "like a horse."
BEFORE YOU GO
PHOTO GALLERY
10 Contemporary Chinese Artists You Should Know