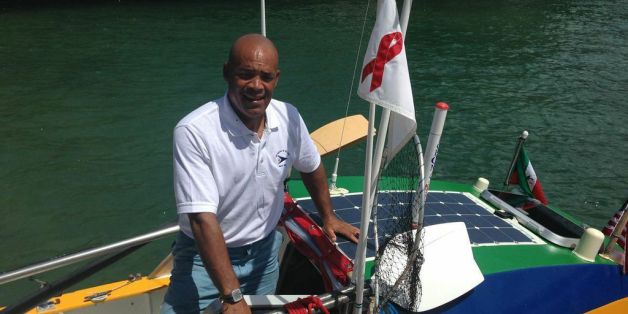 When the going gets tough, Victor Mooney gets rowing.
Undeterred by previous setbacks and close calls with catastrophe, Mooney is making his fourth attempt to cross the turbulent Atlantic Ocean in a rowboat.
The aquatic endurance test is dedicated to raising awareness about HIV and AIDS, which took the life of his brother in 1983. Another brother is HIV-positive.
This time the 48-year-old has made it farther than in previous voyages, which were foiled by malfunction and shipwreck. Since February, he's traveled about 3,500 miles from the Canary Islands in a 24-foot boat to the Dominican Republic, with stops on St. Maarten and Puerto Rico.
"The story continues. It hasn't been easy," Mooney told HuffPost by telephone this week. "I want to finish this mission."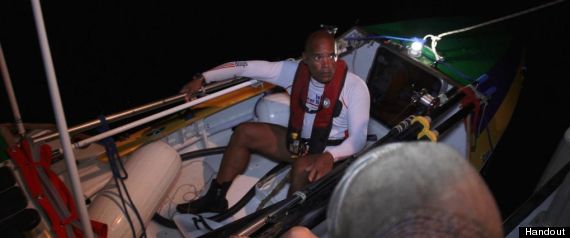 A weary Mooney needed to be towed 20 miles to St. Maarten after a perilous crossing.
About 1,500 miles separates Mooney from the finish line in his native New York City, and he's going to cross it during hurricane season.
Thursday morning, he'll start rowing toward Cuba, having given Hurricane Gonzalo a wide berth. From there, he'll make a relatively short burst toward Miami and, in the homestretch, return to New York.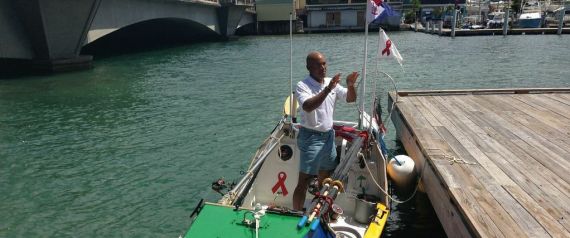 Typically, he rises at 4 a.m. and alternates between an hour of rowing and a 30-minute break until 7 p.m. But the days can be anything but ordinary.
Along the way from Gran Canaria, frenzied sharks have damaged his boat, the Spirit of Malabo. He's had to fish to feed himself after running out of provisions. It's no wonder he has lost 80 pounds on the high seas.
In contrast to Mooney's many difficult days, one of the best was when he found a 250-pound dorado caught on his line.
"I ate for two weeks," says Mooney, a practicing Roman Catholic. "I felt like it was brought to me."
The married father of four says he has his wife's blessing but this is his final shot at the journey.
"When you start something, you should finish it," Mooney says. "Hopefully you won't write that Victor Mooney is making his fifth attempt."
To acquire backup supplies, like another set of oars, Mooney is asking for donations on his GoFundMe account.