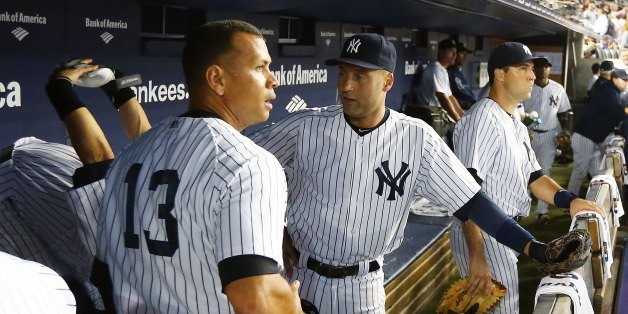 For New York Yankees fans, the party is over. After two seasons spent celebrating franchise icons Derek Jeter and Mariano Rivera, it's time to face reality -- and likely Alex Rodriguez.
With Jeter and Rivera jerseys only turning up in the stands in 2015, the Yankees will need to look to find a way to make the postseason for the first time since 2012. To do that, the team may need to welcome back Rodriguez, an MVP-turned-pariah who was suspended for the 2014 season over his involvement in the Biogenesis PED scandal. A-Rod is expected to be with the team in spring training ahead of the 2015 campaign, even if he needs to learn a new position before then.
While Jeter's farewell season was defined by #RE2PECT, the 2015 season might be defined by a different hashtag and mood. Yanks superfan Vinny Milano got a head start on 2015 by showing that he's ready to #FORG1V3:
Now IN STOCK! Order before 1pm and it ships TODAY! #FORG1V3 http://t.co/m2aHevkNjI pic.twitter.com/NYgA2hvxM6

— vinny milano (@baldvinny) September 19, 2014
Will Yankee fans actually rediscover the quality of mercy? Does the team's front office need to in hopes of fielding a contender?
If videos like the one below are an indication, A-Rod shouldn't expect to see too many of those #FORG1V3 t-shirts in the Bronx.
BEFORE YOU GO
PHOTO GALLERY
Derek Jeter's Love Life, By The Numbers