A catcall -- made in the moment, often hollered casually with little forethought -- lasts only a few seconds. Once a statement like "Good morning, good looking" or "Why won't you talk to me? I'm not such a bad guy" has been hurled at a passerby (probably a woman), the catcaller (probably a man) is left to go about his business. There's no evidence of the unsolicited encounter, no physical proof of the infraction that went down.
Brooklyn-based artist Elana Adler is out to change this. In her series, "You Are My Duchess," she painstakingly cross-stitches the words hurled at her on the streets. While the catcall is brief and forgettable to some, her needleworks take hours of planning and execution. From one instance of unwanted attention to another, she records the intangible misdeeds, turning invasions of personal space into beautified works of art.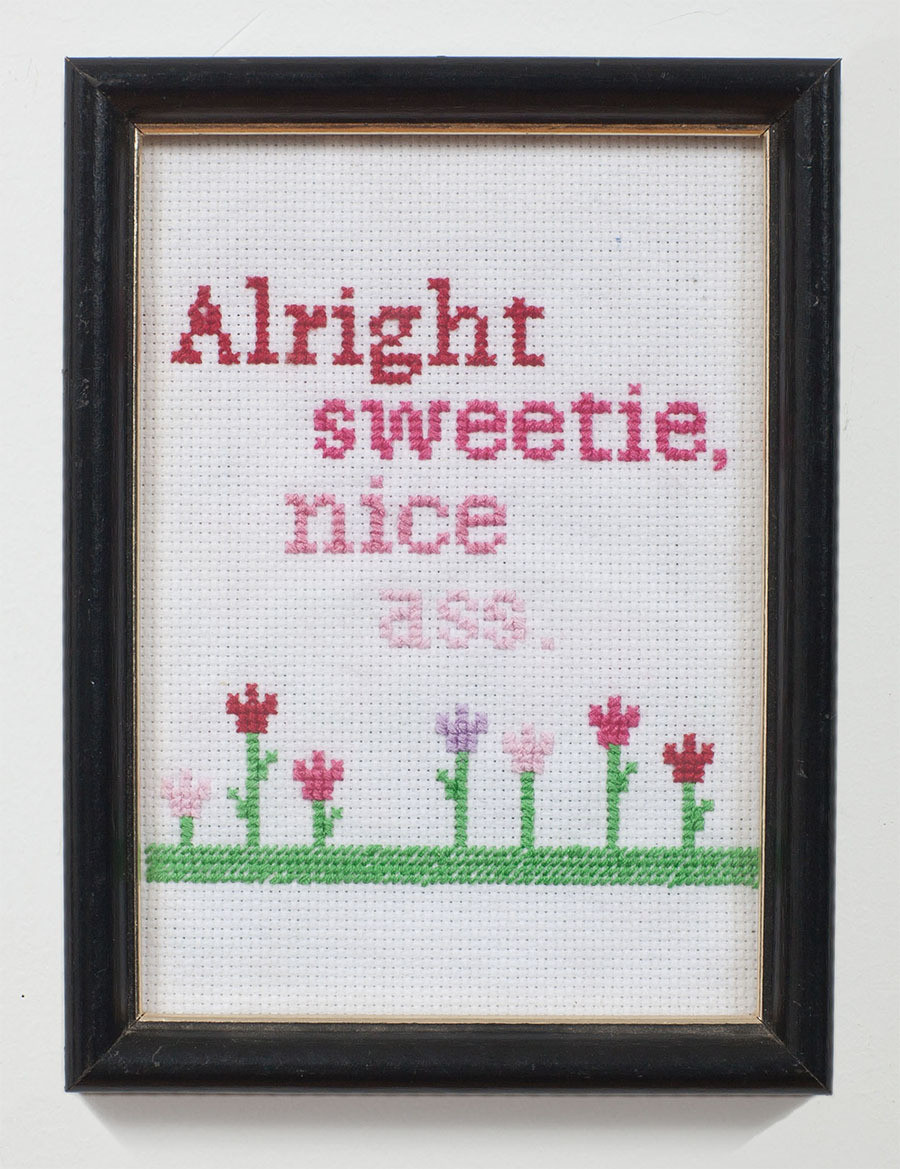 "I get cat called all of the time, most women do," Adler explained to The Huffington Post. "Once I started getting more interesting 'calls,' I started texting them to myself and thus the collection began." At first she wasn't sure what to do with the documentation. She spent some time thinking about traditional craft practices. For example, the hope chest, which the artist describes as a collection of material items like quilts, utensils, and linens that are given to a husband as dowry. It's meant to represent the wealth and skills a wife can bring to marriage.
Adler took special note of the sampler, a decorative piece of needlework often included in the hope chest that would showcase a woman's knowledge of both stitching and story-telling. What better way to confront the persistence of catcalls than with this "simple piece of women's work"?
And so "Duchess" was born. It currently takes the form of 32 samplers intended to be as provocative as the statements they embellish. Adler calls them "a contemporary feminist interpretation of women's work" and "an objectification" of her personal experience. By memorializing the words in thread, she gives the statements a visual presence that is physically delicate and traditionally feminine. On the one hand, they transform crassness into sweetness, the gentle cursive slightly masking the actual content of the words. On the other hand, they draw the viewers in, forcing them to confront the very essence of catcalling they may try to avoid.
"You read one sampler. Perhaps you are amused, but as you continue reading and consider the body as an entire collection, the response changes. The inherent filth emerges. It is a beautification of an assault. Perhaps in the moment these statements are meant to compliment, but most [women] don't find vulgar, highly sexualized statements whispered or screamed at them by random strangers complimentary."
You can catch a preview of Adler's striking needlework here. For more on her project, head over to her website. While she's officially on to new projects, for fans of the series, there's still hope. "When I get a really 'good' or creative cat call I still write it down. It is a project I can always revisit," she says.
PHOTO GALLERY
You Are My Duchess
BEFORE YOU GO
PHOTO GALLERY
Heartstrings