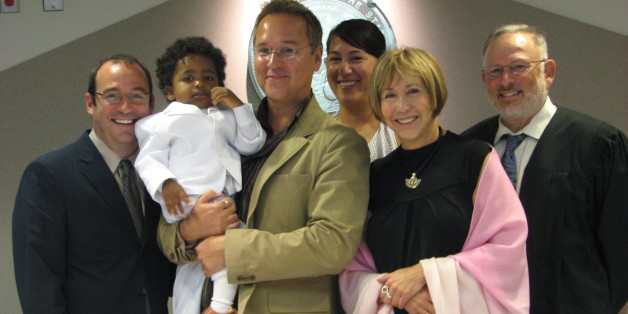 This week's Huffington Post Gay Voices RaiseAChild.US "Let Love Define Family™" series installment spotlights Ed and Joey, who have carved out a connection to religion on their own terms as they raise their two sons in a two-dad family.
Eduardo Martin and Joseph Porter's 2008 wedding at Lutheran Church of the Master in West Los Angeles was a joyous occasion. Their two-year-old son Xavier toddled down to the altar carrying the couple's wedding rings on a little white pillow. Their mothers walked them down the aisle and Joey's dad read Corinthians 13:1-13 from the Bible, which contains the well-known passage "Love is patient, love is kind."
"We were both raised Catholic," explained Joey. "I always hoped that I could operate within the Catholic Church to change hearts and minds from within the church I was raised in. But then when we went to the Catholic church in West Hollywood and I saw they had 'Yes on Prop 8' pamphlets set up outside the church, I was like, okay, never mind."
Ed and Joey found a church near UCLA where friends had had a commitment ceremony before same-sex marriage became legal in California. "We went to talk with the reverend there and the clergy were very enthusiastic about marrying us. We became a part of their congregation."
A month after Ed and Joey's wedding, California's Proposition 8 passed, invalidating their marriage and devastating the happy couple. But, like hundreds of other newly married LGBT couples, they joined a protest at the historic intersection of Santa Monica and San Vicente Boulevards in the heart of West Hollywood.
"The energy in the air was palpable," recalled Joey. "That protest continued throughout the whole night and days and weeks after, and brought us all to this amazing new place that we're at as a community."
"I'm so happy we have pictures from that night, and that Xavier understands that he was a part of changing history, that he was actually there in my arms on that night. It makes me choke up remembering it, and fills me with gratitude. There's a lot of love out there, and it really can officially and legally drown out the hate."
Joey and Ed began pursuing foster-adoption in 2005, well before the national conversation on marriage equality exploded. The couple was not even sure if it was possible for a gay couple to adopt a child when they walked through the doors of Vista Del Mar Child and Family Services in West Los Angeles. What they discovered reassured them.
"Vista Del Mar made it very clear from the very beginning that we were more than welcome there," said Joey. "They've even invited us back several times to speak to prospective parents at various training classes."
Joey, 51, is a middle-school special education teacher and an author in the field of autism education. Ed, 52, is an actor in English and Spanish-language television commercials. Today they have two sons. Eight-year-old Xavier was four days old when he came to them and 18 months old when his adoption was finalized. They met little Jaheim, who is now three, in a neonatal intensive care unit (NICU) when he was 34 days old. His adoption was also finalized at around age 18 months as well.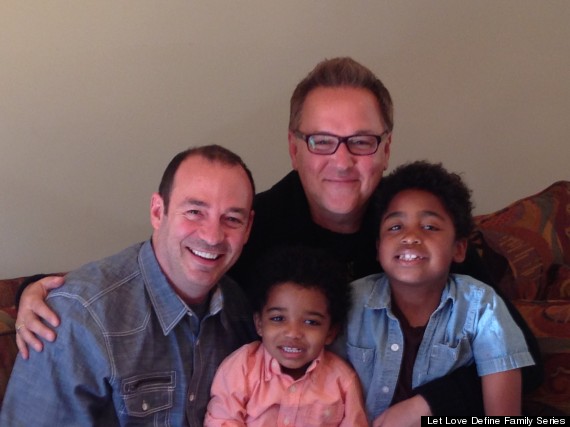 Ed says that although the Vista Del Mar training prepared them well for the ups and downs of the foster-adoption process, it was still an emotional challenge. At the same time, they also knew a gay couple who had pursued private adoption and the birthmother had changed her mind at the last minute, so they knew other family-building options came with risks as well.
"The possibility of losing Xavier and Jaheim was difficult for us, but we understood that reunification with the birth mother was the goal," said Joey. "I know that we were blessed with both our sons, and the relative ease of their adoptions. The fost-adopt system also provides the satisfaction of providing a stable, loving family to a child who otherwise would be greatly at risk. I often think what life might be like for both my sons if they weren't with me. I'm so grateful that they are."
Joey was a stay-at-home dad for three years and has been back in the classroom for the past three years. His professional training in special education has been helpful with parenting.
"With autistic kids, there's so much behavior modification that needs to be done, almost as much as academic instruction," explained Joey. "So I've become pretty adept at it, although it's very different when you come home and you try to apply those same techniques. However, the basic principles hold true: holding them accountable, points and positive reinforcement and consistency."
Joey is happy that the couple found a sibling for Xavier. "As much as they fight with each other and as loud and crazy as they are, there's also an amazing love I see growing between them that is wonderful to watch. Everyone's always asking if they are biological siblings because they look so much alike and then there's a lot of similarities in their back stories. It just feels like they were destined to be together."
In the end, Joey remarked, "the foster-adoption process really does become like a spiritual thing. You have to kind of open to yourself to it and be prepared for whatever the universe is going to give you."
The couple's friends and family have been very supportive. Joey's younger sister, a single mom, lives close by has become something of a co-parent to the boys.
"Her support has been invaluable," he said. "It really does take a village. I have grown to love and appreciate her during this phase of my life, now more than ever."
Corinne Lightweaver is the Communications Manager at RaiseAChild.US, a national organization headquartered in Hollywood, California that encourages the LGBT community to build families through fostering and adopting to serve the needs of the 400,000 children in the U.S. foster care system. Since 2011, RaiseAChild.US has run media campaigns and events to educate prospective parents and the public, and has engaged more than 2,200 prospective parents. For information about how you can become a foster or fost/adopt parent, visit www.RaiseAChild.US.