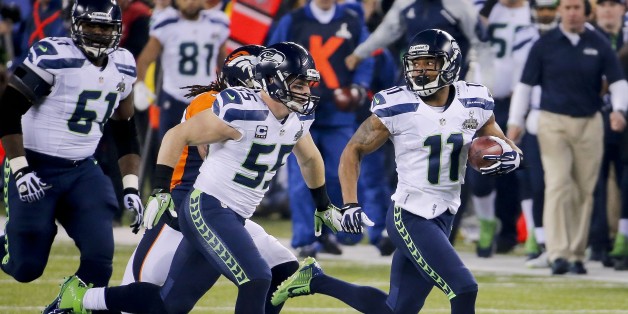 Percy Harvin may be leaving the NFL's penthouse to join one of the league's cellar dwellars.
The Super Bowl champion Seattle Seahawks agreed to trade the dynamic offensive player to the struggling New York Jets on Friday, as first reported by Jay Glazer of FOX Sports. The 26-year-old wide receiver has 22 receptions for 133 yards and no touchdowns in five games for the Seahawks during the 2014 season.
BREAKING: The JETS have just agreed with Seattle to a trade sending WR Percy Harvin to NY for conditional pick. FOX SPORTS has learned.

— Jay Glazer (@JayGlazer) October 17, 2014
Seahawks heading to St Louis today and leaving soon obviously without Harvin. Trade still contingent on Harvin passing physical

— Jay Glazer (@JayGlazer) October 17, 2014
Citing an unnamed source, ESPN's John Clayton reported that Seattle will receive a conditional draft pick in 2015, which could range from a second- to fourth-round selection.
The reported trade came less than 24 hours after the Jets fell to 1-6 during the 2014 season with a 27-25 loss to the New England Patriots on "Thursday Night Football." The Seahawks have opened their title defense 3-2.
Percy Harvin is headed to New York: http://t.co/7DNRMb7y7U pic.twitter.com/6DBHio9Y94

— NFL (@nfl) October 17, 2014
MORE FROM THE ASSOCIATED PRESS:
FLORHAM PARK, N.J. (AP) — The New York Jets have acquired wide receiver Percy Harvin from the Seattle Seahawks.

Two people familiar with the trade told The Associated Press on Friday that Harvin, a star in last season's Super Bowl but injury prone through his career, was headed to the Jets. The people spoke anonymously because the deal wasn't officially announced by either club.

The 26-year-old Harvin has played in only 43 career games since being a first-round pick (22nd overall) by Minnesota in 2009. He was traded to the Seahawks in 2013, appearing in just one regular-season game because of hip surgery. But he had two rushes for 45 yards and ran back the second-half kickoff 87 yards for a touchdown in Seattle's 43-8 win over Denver in the Super Bowl.

The deal was first reported by Fox Sports.

Terms weren't immediately available.

Harvin has battled a thigh injury and was listed as questionable for the Seahawks' game at St. Louis this weekend. The Seahawks have tried to find a variety of ways to use him in their offense as a runner, receiver and on special teams, but injury woes slowed their plans.

This season, Harvin has 22 receptions for 133 yards, with 12 of those catches coming behind the line of scrimmage. He has only one catch on a ball thrown more than 10 yards, according to STATS. Harvin's average of 6 yards per catch is last among all wide receivers in the NFL averaging at least two receptions per game.

He also has 11 runs for 92 yards and a touchdown, and 12 kickoff returns for 283 yards.

New York's offense has struggled and the Jets have lost six straight since opening with a win over Oakland. Harvin figures to team with Eric Decker and Jeremy Kerley as the Jets' main weapons in a so-far weak passing game with Geno Smith at quarterback.

___

AP Sports Writer Tim Booth and freelance writer Curtis Crabtree in Seattle contributed to this report.

___

AP NFL website: www.pro32.ap.org and www.twitter.com/AP_NFL