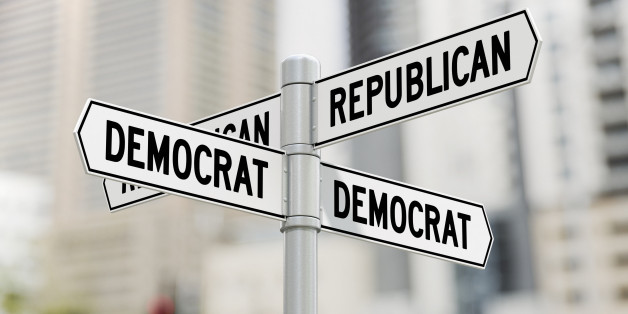 Republicans have made modest but important gains in a handful of key swing states. A majority of Americans support recent judicial decisions in favor of gay marriage. And Latinos' demographic growth outpaces their electoral presence. This is HuffPollster for Friday, October 17, 2014.
SENATE POLLS TREND TO GOP - Since the HuffPost Pollster Senate forecast debuted in early September, Republicans have benefited from modest but important polling trends in six key battleground states. Our poll tracking model now estimates that Republican candidates have gained between one and three percentage points against their Democratic opponents in Louisiana, Alaska, Colorado, Iowa and New Hampshire. While these changes have been slight in absolute terms, they have helped shift a near toss-up races in several of those states to modest leads for the Republicans.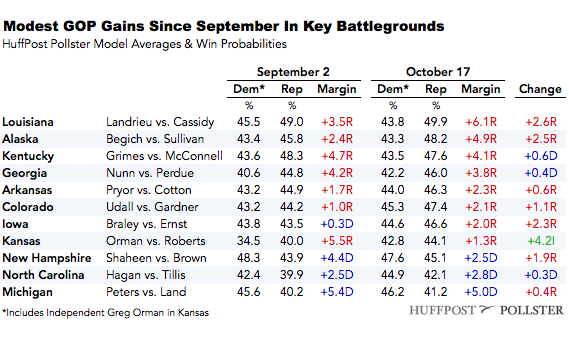 The changes have been more pronounced in affecting the way the model rates each candidate's probability of winning. These shifts are what has moved the model's overall assessment of the Senate battle from a near toss-up slightly favoring the Democrats to a 65 percent probability, as of this writing, that Republicans will win a Senate majority (Drew Linzer has reported similar trends in the estimates of the DailyKos Election Outlook model).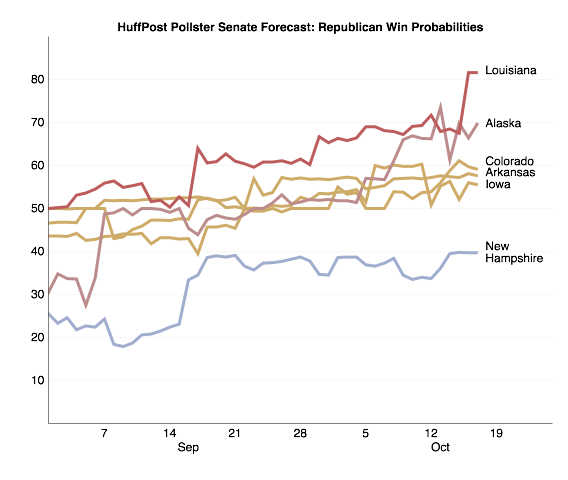 What may be of more concern to Democrats is the way these shifts have occurred. Since early September, our model's estimates show the Republican share of the vote in these six battleground states growing by 2 percentage points (from 45.2 to 47.3 percent), while the Democrats share of the vote has remained essentially even (nudging up from 44.6 to 44.8 percent).
That pattern matches a theory offered in September by RealClearPolitics election analyst Sean Trende. Trende noted that in recent elections that the support for incumbent Senators appears capped by the President's approval rating in their state: "It isn't an absolute tendency, but it is nevertheless real. The Democrats' problem is that they seemingly find themselves in a position similar to that of Republicans in 2006: They are in tight races. But so far, they seem unable to move past where the fundamentals suggest they should be able to go....If this theory is right, we should expect to see these races continue on the basic trajectory we've seen over the past few weeks: Democrats holding at their current levels. Eventually, Republicans should begin or continue to improve, as undecided voters engage and make up their minds, and as Republicans narrow the spending battles."
Republican pollster Patrick Lanne floated a similar argument a week ago, writing: "A review of the 2006 exit polls showed that Republican candidates in the 10 most competitive Senate elections struggled to separate themselves from the President and failed to dramatically out-perform the President's job rating." Lanne concluded that because "late-deciding voters broke to the Democratic candidates" in 7 of 11 competitive 2006 races, Democrats "may not be able to count on a late surge to win" in 2014.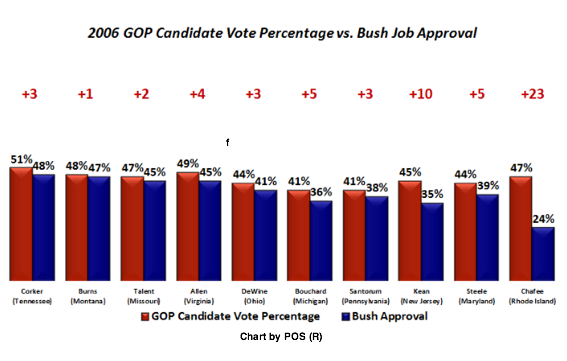 Robert Blizzard, a colleague of Lanne's at the Republican firm Public Opinion Strategies, took the analysis a step further in a blog post published on Thursday: "In 2006, on average, six Republican Senate incumbents who lost bids for re-election ran only six points higher than where President Bush's approval rating was in their state. And, today, six Democratic Senate incumbents facing tough re-election fights are also running only six points higher than where President Obama stands in their state. Bottom line – while anything can happen between now and November 4th, the President's current approval ratings in these competitive U.S. Senate races are acting as an anchor on Democratic support, making it very difficult for these Democratic incumbents to break through this "Obama ceiling" and win re-election."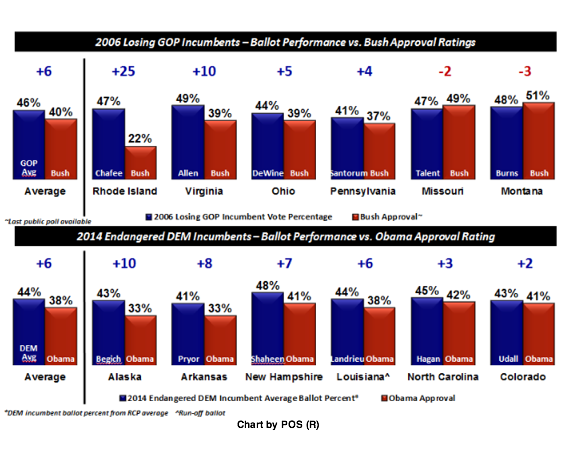 Finally, GWU Prof John Sides argues in a new blog post that "late movement in Senate polls tends to be in the direction of the underlying fundamentals." Sides examined the a model based on "only a few factors: economic growth, presidential approval, whether it's a midterm or presidential year, and how the state voted in the most recent presidential election." His conclusion: "the polls have not yet fully incorporated even these basic fundamentals by this point. After today, 18 days before the election, there tends to be further movement toward those fundamentals...As we noted back in January, a slightly more elaborate fundamentals-based forecast based on elections since 1980 favors the Republicans. And this is what poses a challenge for the Democrats: Right now they need the polls to move in their favor, but in key states this would entail movement opposite to what the fundamentals would predict."
LEVEL OF UNDECIDED VOTERS HIGHER THAN IN PAST YEARS - David Nir (D): " It's not just you – there actually are more undecideds in polls this year, at least for the most prolific pollsters in the month of September...for [Rasmussen, SurveyUSA and PPP], the median is higher in 2014 than it was in 2010….It's possible that much of this increase is due to changes in method. Both Rasmussen and SurveyUSA changed methods for the 2012 cycle to include cell-phone-only respondents, and PPP followed suit for the 2014 cycle. The largest changes in undecideds appear to correspond to these method changes." [Daily Kos]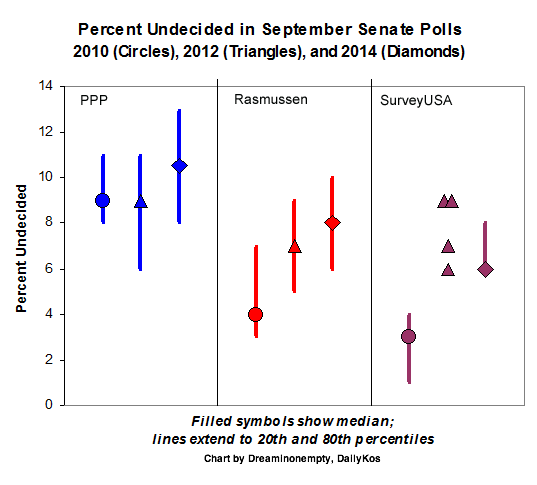 -Nate Silver: "Yep ... that's a reason models should be a little more cautious this year." [@NateSilver538]
-And that's why our model is more cautious One of the most important reason's HuffPollster's win probabilities are typically lower for the leading candidates than other poll-based forecasts is that we take the undecided percentage into account. Our win probabilities are systematically lower when the undecided share of voters is larger than the margin between the candidates (see How HuffPost Forecasts Senate Elections: The Technical Details.
MOST SUPPORT SUPREME COURT'S EXPANSION OF GAY MARRIAGE - Ryan Struyk: "Most Americans in a new ABC News/Washington Post poll support the recent U.S. Supreme Court action allowing gay marriages to go forward in several states – including a bare majority in the 11 states in which such marriages have begun in the past week and a half. Overall, 56 percent of Americans support the court's action, while 38 percent oppose it – exactly matching opinions on whether or not gay marriage should be legal, asked in an ABC/Post poll in June. These results reflect the public's dramatic shift in support of gay marriage the past decade….In the 19 states (and Washington, D.C.) that had previously legalized gay marriage, the court's decision is especially popular: Sixty-six percent support the decision, with 30 percent opposed. Support is sharply lower, but still 51 percent, in the 11 states that have allowed gay marriage since the Supreme Court's action, vs. 42 percent opposed." [ABC]
LATINOS' POWER AS A VOTING BLOC REMAINS MUTED - Mark Hugo Lopez, Jens Manuel Krogstad, Eileen Patten and Ana Gonzalez-Barrera: "A record 25.2 million Latinos are eligible to vote in the 2014 midterm elections,making up, for the first time, 11% of all eligible voters nationwide. But despite a growing national presence, in many states with close Senate and gubernatorial races this year, Latinos make up a smaller share of eligible voters, according to an analysis of Census Bureau data by the Pew Research Center….in the eight states with close Senate races, just 4.7% of eligible voters on average are Latinos. Among those states, Latinos make up less than 5% of eligible voters in six. Only in Colorado does the 14.2% Latino share among eligible voters exceed the 10.7% national average….In each midterm election since 1974, the number of Latino voters reached a new record high, largely reflecting the community's fast population growth. However, the share of those Latinos who actually vote on Election Day—the voter turnout rate—has lagged significantly behind other racial and ethnic groups." [Pew Research Hispanic Trends Project]
AMERICANS WORRIED ABOUT EBOLA, BUT FEW PREDICT WIDESPREAD OUTBREAK - Kaiser Family Foundation: "While the survey finds that basic information about Ebola transmission is registering with the public, full understanding of the nuances transmission is incomplete. When presented with specific scenarios, the public tends to correctly identify how Ebola is transmitted….When asked more generally whether a person infected with Ebola can transmit the disease to others before they are showing symptoms or only once they are showing symptoms, public awareness is somewhat lower….A majority of the public says they are at least 'somewhat' worried that the U.S. will see a large number of Ebola cases in the next 12 months (63 percent), and a robust, albeit smaller, share is worried that they or someone in their family will get sick from Ebola (45 percent)....Despite this general level of reported concern about Ebola in the U.S., when asked which is the more likely scenario, about three quarters of the public (73 percent) say it is more likely that Ebola will be contained to a small number of cases in the U.S." [KFF]
HUFFPOLLSTER VIA EMAIL! - You can receive this daily update every weekday morning via email! Just click here, enter your email address, and and click "sign up." That's all there is to it (and you can unsubscribe anytime).
FRIDAY'S 'OUTLIERS' - Links to the best of news at the intersection of polling, politics and political data:
-Widespread discontent is among the factors driving voters in this year's elections. [ABC]
-Yep, everyone still hates Congress. [Gallup]
-Automated phone polls look significantly better for the Republican in Massachusetts than do live-caller or Internet polls. [Mass. Numbers]
-Harry Enten sees Charlie Crist gaining in a contest where voters dislike both candidates. [538]
-Democratic party affiliation and support of President Obama are at six-year lows in Kentucky. [Gallup]
-Brendan Nyhan notes the partisan differences in views on Ebola. [NYT]
-Americans now see inequality as the greatest threat to the world. [Pew]
-Jason Husser explains what pollsters mean by "weighting data." [YouTube]