Finally, finding room in your fridge for both a six-pack of beer and that large pizza won't be next to impossible.
A product design engineer living in Charlotte, North Carolina, has figured out a way to easily and securely suspend bottles from the top of a fridge using magnets, freeing up empty space in your fridge for whatever else it is you consume.
The device is simple enough: an eight-inch plastic strip outfitted with a row of three extremely strong neodymium magnets. Those magnets are encased in steel cups, to focus their magnetic strength. The strip is held to the fridge by a high-grade adhesive tape that works at low temperatures.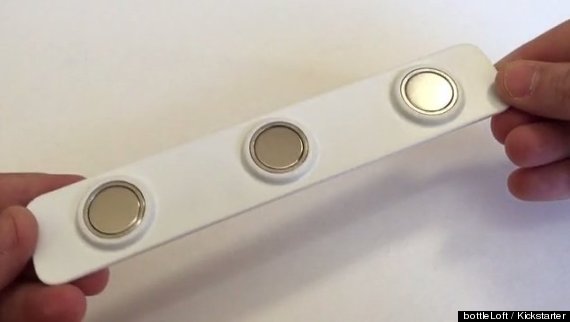 Each bottleLoft strip contains three powerful magnets.
The product is called bottleLoft, and its creator, Brian Conti, is using Kickstarter to bring his invention from prototype to market. With 23 days to go, he's more than halfway to meeting his $20,000 goal and plans to ship the products by January 2015.
Worried something might shake the bottles loose? Conti confronts such concerns head-on in a video on his Kickstarter page that shows him lifting a 10-pound barbell using only a single bottleLoft strip. He claims each magnet can hold up to 4.8 pounds, while the standard 12-ounce beverage only weighs 1.2 pounds.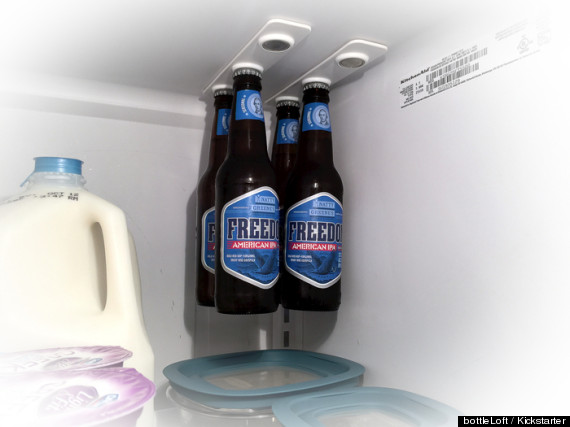 As long as it has a metal cap, you can hang it on bottleLoft.
Conti is something of a Kickstarter master. He has already successfully funded four other projects and started his own magnet-based company, Strong Like Bull Magnets.
(h/t Digital Trends)