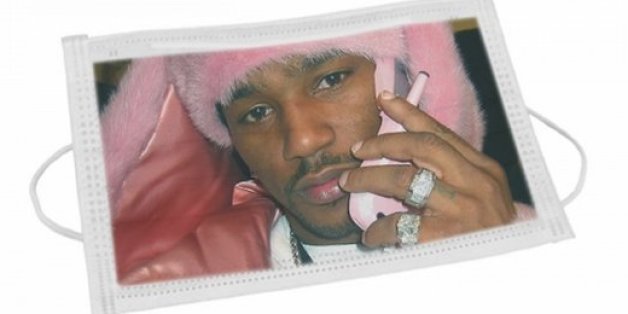 Cam'ron's response to the devastating outbreak of Ebola in West Africa? A new line of gimmicky Ebola masks.
"Ebola is no joking matter.. So if u have to be safe.. Be fashionable," wrote the New York rapper last week in an Instagram post. His new line of "Cam'ron Ebola Masks" are printed with a throwback photo of Cam'ron wearing a pink mink jacket and holding a pink cell phone.
Ebola is no joking matter.. So if u have to be safe.. Be fashionable. #CamEbolaMask get'm at @dipsetusa1997 nx week, made by @chinagram www.dipsetUsa.com 😷😷😷
"Wrap it up and protect yourself from Ebola just like Killa Cam!" says a description listing the masks for $19.99 each. "Provides complete protection while remaining light and comfortable. ... A full-width nosepiece guarantees proper fit. Latex-free ear loops."
But despite the masks' advertised "polypropylene outer facing," they would provide very little protection from the viral hemorrhagic fever making headlines as it sweeps through Sierra Leone, Guinea, and Liberia. Ebola is not airborne, but is instead spread through direct contact with blood or other body fluids, contaminated objects like syringes, and infected animals.
The World Health Organization said last week that some 4,555 people have died so far as a result of the current Ebola outbreak, which began earlier this year in West Africa. A total of 9,216 cases have been reported in seven countries, with nearly half occurring in Liberia.
BEFORE YOU GO
PHOTO GALLERY
Ebola Virus Myth-Busting