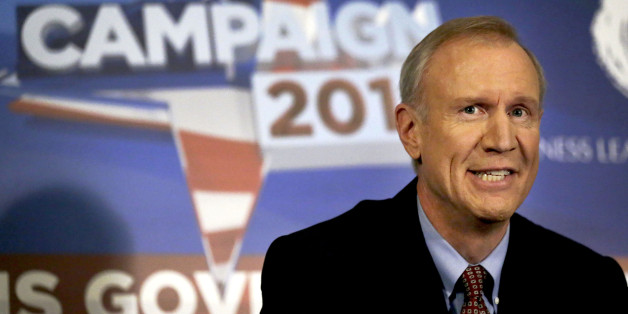 A major newspaper's decision to issue its first political endorsement in three years -- for a candidate who previously owned a stake in its parent company, no less -- is turning heads as the heated Illinois gubernatorial campaign stretches into its final days.
The Chicago Sun-Times announced Friday that it is "back in the endorsement business" and that it would "make endorsements without fear or favor." The same day, the paper issued its endorsement of Republican gubernatorial candidate Bruce Rauner in its only endorsement since the policy change, as of this writing. Rauner is challenging Gov. Pat Quinn (D) in a tight contest, one of the nation's most closely watched governor's races.
The paper's Rauner endorsement came just days after an editorial lauded Rauner in such a way that some political writers read it as a "non-endorsement" endorsement, though Sun-Times publisher and editor-in-chief Jim Kirk insisted to Chicago magazine's Carol Felsenthal that the Oct. 14 editorial was not "a backdoor endorsement."
Rauner was formerly a 10-percent owner of Wrapports, LLC, which owns the Sun-Times. He sold his stake in the company to Wrapports CEO Michael Ferro Jr. shortly before he began his gubernatorial campaign.
The endorsement also comes amid questions of whether the Rauner campaign pressured the Sun-Times to retaliate against one if its reporters, Dave McKinney, after he co-wrote a story centered on allegations that Rauner verbally threatened an executive of a company owned by GTCR, Rauner's investment firm. The Rauner campaign has repeatedly denied these allegations, pointing out that the complaint was dismissed in summary judgement, though the Quinn campaign has been using the story in both radio and television ads.
Crain's Chicago Business reports that McKinney has hired former federal prosecutor Patrick Collins to look into the Rauner campaign's actions following his story.
In response to the Crain's coverage, Kirk wrote Monday that the Rauner campaign had contacted the paper to question the story, suggesting a conflict of interest between McKinney and his wife, Ann Liston, who works as a political consultant. The Rauner campaign confirmed to Crain's that it believed the story to be "misleading and inaccurate" but claimed it "followed all proper channels" to voice concerns.
Kirk also said McKinney and Liston have "taken extraordinary steps" to avoid a conflict and stated that the paper stands by McKinney's story. As for Rauner's past involvement with Wrapports, Kirk wrote that "those former ties mean nothing when it comes to the Sun-Times' ability and determination to report on him and his campaign fairly and accurately."
The Sun-Times announced back in January 2012 it would stop making political endorsements. At the time, the paper said it had "come to doubt" the value of endorsements, "especially in a day when a multitude of information sources allow even a casual voter to be better informed than ever before." But this current race, the paper wrote in its Rauner endorsement, is "simply too important to the future of Illinois for us to stay silent."
The final debate between Quinn and Rauner before the Nov. 4 election takes place Monday night.
BEFORE YOU GO
PHOTO GALLERY
2014 Gubernatorial Challengers