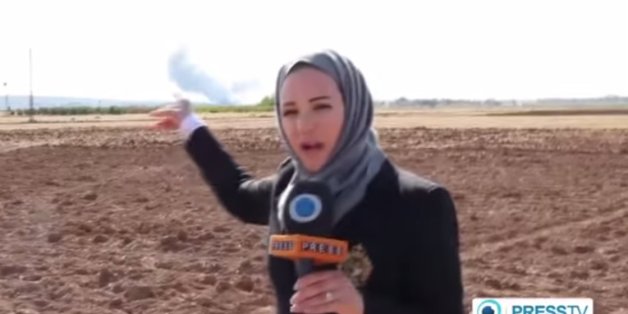 ANKARA, Oct 20 (Reuters) - Iranian television pointed the finger at Turkey on Monday over the death of a Lebanese-American journalist killed in a car crash while working for Iran's Press TV in Turkey near the besieged Syrian border town of Kobani.
However, the governor of the Turkish province where the crash occurred dismissed the allegations as unfounded, saying an investigation was under way.
Serena Shim, a Lebanese-American journalist, was killed on Sunday when the car she was traveling in collided with a heavy vehicle, Turkish media reported.
Hundreds of journalists have descended on the area in southeastern Turkey to be within sight of the Syrian town of Kobani, where Kurdish forces have been fighting for more than a month to stave off an advance by the militants of Islamic State.
Hamid Reza Emadi, the head of Press TV's newsroom, told the English-language channel that Iran would pursue the matter through legal means.
"Her death is very suspect and it is likely an outcome of her critical expository reports of the adverse impact of Turkish and Saudi policies on Syrian refugees," he said.
A Turkish Foreign Ministry official said the ministry had no information on the case and other government officials were not available to comment. But Izzettin Kucuk, governor of Sanliurfa province, rejected the allegations.
"Turkey is a democratic state of law. The allegations are completely untrue," he told the state-run Anatolian news agency. "These are efforts designed to put Turkey in a difficult position. When the investigation is completed we will make a statement."
HARASSMENT
Emadi said Shim had called her bosses two days before her death to report constant harassment by Turkish security forces, who she said had told locals she was a spy.
Shim reported in the days before her death that she had uncovered evidence of Turkish trucks crossing the border to bring aid to Islamic State fighters.
Turkey has taken in well over a million Syrian refugees, many of whom have fled before Islamic State.
Yet repeated denials by Turkey have failed to quell widespread rumors among Kurds close to the border, resentful of its refusal to step in to rescue Kobani from Islamic State, that it has helped the radical Sunni Islamist group.
With many of the region's current conflicts pitting Sunni Muslims against Shi'ites, mostly Sunni Turkey finds itself, with both Saudi Arabia and Islamic State, on the opposite side of the fault line to Shi'ite Iran and Syrian President Bashar al-Assad, whom it wants to see removed from power.
The Syrian conflict in particular has undermined what were once close ties between Iran and Turkish President Tayyip Erdogan.
Ali Larijani, Iran's influential parliamentary speaker, said this month that "Turkey's role in Syria is very dangerous and should be closely monitored."
Turkey and Iran respectively rank 154th and 173rd in the Reporters Without Borders press freedom index for 2014.
Driving in Turkey is a notoriously dangerous affair, with speeds high and seatbelts rarely worn. An estimated 10,000 people are killed each year on the country's roads, according to the World Health Organization. (Reporting by Mehrdad Balali; Writing by Jonny Hogg; Editing by Daren Butler and Kevin Liffey)