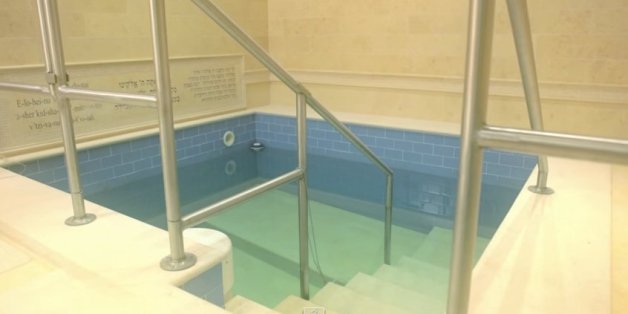 WASHINGTON (RNS) In the days since a prominent Orthodox rabbi was charged with spying on naked women in his synagogue's mikvah, Jews who oversee the ritual baths across the country are rushing to reassure that the same scandal could not happen under their watch.
Sharon Weiss-Greenberg, executive director of the New York-based Jewish Orthodox Feminist Alliance, said she's heard about people checking for hidden cameras in mikvahs. She's learned of some mikvahs where security firms have been brought in to assure that the space is as private as its clients — most of whom are women — expect.
District of Columbia police arrested Rabbi Barry Freundel on Tuesday (Oct. 14) at his Georgetown home, not far from Kesher Israel, the synagogue he has led since 1989. Freundel, 62, has pleaded not guilty to charges of voyeurism and spying on women through a camera pointed at the shower used before dipping into the synagogue's mikvah.
The synagogue suspended Freundel without pay as the investigation continues.
In the wake of the Freundel scandal, Weiss-Greenberg and other women are suggesting that a focus simply on hardware isn't enough to keep mikvahs safe and sacred.
JOFA is drawing up a list of suggested policies for mikvahs that address the culture of these places. The guidelines aim to ensure that authority over a mikvah is not concentrated in one person whose judgment may be difficult to question — such as the rabbi, the rabbi's wife or a person appointed by the rabbi.
"They're about creating an environment that's welcoming," said Weiss-Greenberg.
The mikvah is most commonly used by Orthodox Jewish women each month, seven days after their menstrual period has ended, but is also used for conversions. And it is gaining popularity among less traditional Jews to mark important life transitions.
Carrie Bornstein, executive director of Mayyim Hayyim, a mikvah outside Boston that caters to traditional Jews as well as the less observant, said there is a panicked tone in the email traffic among those mikvah overseers.
She worries that too much emphasis will be placed on making the mikvah safe by making it more restrictive, and controlling more carefully who goes in and out.
"This was not a stranger who snuck in," she said. "This was the guy in charge."
Like Weiss-Greenberg, Bornstein argues that a more open, welcoming attitude toward mikvah as a community institution, where responsibility for its sacredness is shared, may be the key to its sanctity.
"We need to reassure people," she said. "We don't need a security upgrade."
BEFORE YOU GO
PHOTO GALLERY
Most Jewish States