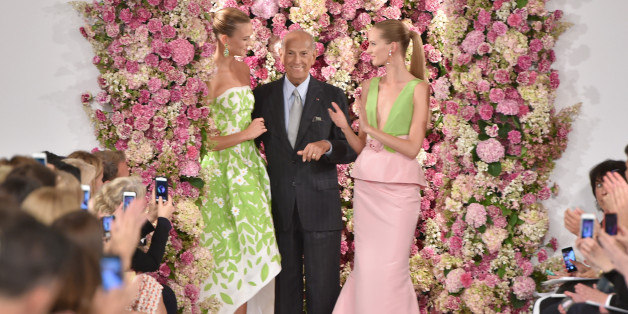 The fashion world has lost a true gentleman in Oscar de la Renta.
The late designer's kind spirit weaved a tapestry just as beautiful as his runway, red carpet and bridal creations. And it is because of the utmost class de la Renta exuded beyond the catwalk, that he will live forever in our memories.
Following news of his death on Monday, fashion's elite took to Twitter to offer heartfelt condolences and memories of de la Renta. Scroll down to see how they mourned "the king of evening."
Just posted a photo http://t.co/Nr5istSimb

— OscarPRGirl (@OscarPRGirl) October 21, 2014
The "King of Evening" will be forever remembered. #RIP #OscardelaRenta http://t.co/Wxz3abRxDp

— Vogue Magazine (@voguemagazine) October 21, 2014
Saddened to hear the news about Oscar de la Renta. Thank you for bringing so much beauty into the world #RIP

— Rebecca Minkoff (@RebeccaMinkoff) October 21, 2014
Oscar de la Renta loved powerful women: http://t.co/8yvTTw2Jio pic.twitter.com/nsNbMz9RF5

— The Cut (@TheCut) October 21, 2014
RIP Oscar de la Renta. He always seemed to care more about being right, being good than being cool. That quality is rare, and getting rarer.

— Matthew Schneier (@MatthewSchneier) October 21, 2014
RIP Oscar de la Renta. http://t.co/ew9EbKgOl8 pic.twitter.com/AC6bcgW3Ne

— W magazine (@wmag) October 21, 2014
Mr. de la Renta passed today - my heart goes out to his entire family - especially Moises - NY just lost a whole lot of Glamour

— Kelly Cutrone (@kellycutrone) October 21, 2014
RIP legend #OscarDeLaRenta

— Zac Posen (@Zac_Posen) October 21, 2014
Sad to hear of the death of #OscardelaRenta. What a remarkable life and career, and a kind and generous man.

— Anderson Cooper (@andersoncooper) October 21, 2014
RIP Oscar de la Renta. 1932-2014. You'll be missed.
http://t.co/O2lF4PFQQG pic.twitter.com/M0xRwYAylV

— GQ Magazine (@GQMagazine) October 21, 2014
" Walk like you have three men walking behind you" - Oscar de la Renta
#OscardelaRenta pic.twitter.com/eop672iihI

— Rosemary Kokuhilwa (@fashionjunkii) October 21, 2014
#RIP to the legendary Oscar de la Renta. #odlr #oscardelarenta http://t.co/UPutZi2y2Z

— S/Style & Fashion (@SStyleFashion) October 21, 2014
Our sincerest condolences to the family of #OscardelaRenta on his passing. A true gentleman and icon in the industry.

— Fashion Group NYC (@FGINYC) October 21, 2014
BREAKING: #OscarDeLaRenta has passed away at 82. The world has lost a true visionary. http://t.co/vn15kZUB1c

— FLARE Magazine (@FLAREfashion) October 21, 2014
RIP #OscarDeLaRenta a #Fashion Legend! http://t.co/MbVHbjcFk8

— Garcelle Beauvais (@GarcelleB) October 21, 2014
"Fashion is about dressing according to what's fashionable. Style is about being yourself." Rest in power + elegance, Mr. #OscardelaRenta

— Janet Mock (@janetmock) October 21, 2014
R.I.P #oscardelarenta
The most elegant and classiest gentleman in fashion.

— Kat DeLuna (@KatDeLuna) October 21, 2014
"I like light, color, luminosity. I like things full of color and vibrant." -- the incomparable Oscar de la Renta, ❤️ to @OscarPRGirl & fam

— opening ceremony (@openingceremony) October 21, 2014
We've lost a legend. RIP Oscar de la Renta

— Project Runway (@ProjectRunway) October 21, 2014
RIP, Oscar de la Renta. Thank you for all of the years of beauty, style and inspiration. http://t.co/Qjk67hVVR7

— afrobella (@afrobella) October 21, 2014
King of the red carpet. American fashion royalty. The life and legacy of #OscardelaRenta. http://t.co/S8dkskExTt pic.twitter.com/PKPJZihbfP

— Marie Claire (@marieclaireau) October 21, 2014
"I like light, color, luminosity. I like things full of color, and vibrant." RIP #OscardelaRenta pic.twitter.com/kxEpqXkpfz

— StyleHaul (@StyleHaul) October 21, 2014
A more glamorous designer you will not find. A look back and the work of #OscardelaRenta: http://t.co/DqNB0kwyzb pic.twitter.com/ER3gLDgXuV

— Elizabeth Holmes (@EHolmesWSJ) October 21, 2014
RIP to legendary designer, #OscardelaRenta pic.twitter.com/7oyKIVllBR

— PacSun (@PacSun) October 21, 2014
Paris is waking up to the sad news that designer #OscardelaRenta has passed away http://t.co/QTmIvlBdc5 pic.twitter.com/cYhcvjvIhl

— Vogue.fr (@VogueParis) October 21, 2014
BEFORE YOU GO
PHOTO GALLERY
Notable People We've Lost In 2014