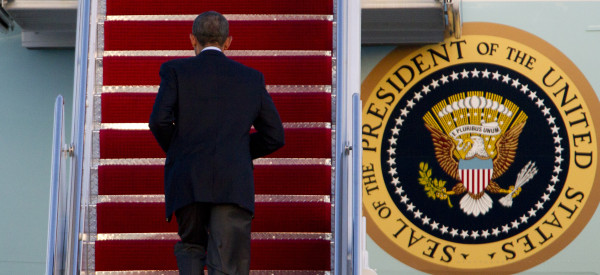 TOP STORIES
STRIKING AN IRAN NUCLEAR DEAL WITHOUT CONGRESS "No one knows if the Obama administration will manage in the next five weeks to strike what many in the White House consider the most important foreign policy deal of his presidency: an accord with Iran that would forestall its ability to make a nuclear weapon. But the White House has made one significant decision: If agreement is reached, President Obama will do everything in his power to avoid letting Congress vote on it." [NYT]

U.S. AIRDROPS AID TO KURDISH REBELS In an attempt to aid the defense of Kobani, the U.S. has dropped weapons, ammunition, and medical supplies to the Kurdish rebels defending the embattled city from ISIS's siege. "The airdrops are almost certain to anger the Turkish government, which has said it would oppose any U.S. arms transfers to the Kurdish rebels in Syria." On the diplomatic front, Secretary of State John Kerry is trying to drum up Asian support for the fight against ISIS. [HuffPost]
QUARANTINE ENDS FOR RELATIVES OF THOMAS DUNCAN "At least one chapter of the Ebola saga neared a close Sunday, as most of the dozens of people who had direct or indirect contact here with Thomas Eric Duncan, the Liberian man who died of Ebola, had been told by officials that they were no longer at risk of contracting the disease." The Texas health care worker previously quarantined on a cruise ship has been cleared. The CDC is revising its protocol for how to safely treat the deadly virus. The White House plans to ask for more money to fund the fight against Ebola. Liberian doctors are staying home from the fight, and the country's president warned the epidemic was creating a "lost generation." And here's a refresher on how the Ebola virus kills. [NYT]
REMAINS SUSPECTED TO BE HANNAH GRAHAM Officers found skeletal remains, along with black pants resembling the ones missing UVA student Hannah Graham was wearing when she disappeared, Saturday. While testing is underway, the Graham family was notified of the discovery. The police now consider the case to be a "death investigation." [CNN]
POPE: 'GOD IS NOT AFRAID OF NEW THINGS' "Pope Francis has closed an assembly of Catholic bishops that revealed deep divisions on how to respond to homosexuality and divorce, saying on Sunday the Church should not be afraid of change and new challenges." [Reuters]
THE HUNT FOR RED OCTOBER CONTINUES "The Swedish military said Sunday it had made three credible sightings of foreign undersea activity in its waters during the past few days amid reports of a suspected Russian intrusion in the area." [AP]
NAZIS COLLECTING SOCIAL SECURITY "Dozens of suspected Nazi war criminals and SS guards ... collected millions of dollars in Social Security payments after being forced out of the United States, an Associated Press investigation found. The payments flowed through a legal loophole that has given the U.S. Justice Department leverage to persuade Nazi suspects to leave. If they agreed to go, or simply fled before deportation, they could keep their Social Security, according to interviews and internal government records." [AP]
WHAT'S BREWING
PEYTON MANNING, NFL ALL-TIME LEADER "Just three years removed from spinal fusion surgery, in what has been a remarkable restart to his NFL career as the Denver Broncos quarterback, Peyton Manning passed Brett Favre for the league's record for career touchdown passes Sunday night with his 509th career scoring pass in front of a national prime-time audience." [ESPN]
THE ST. LOUIS RAMS BEAT THE SEAHAWKS WITH TRICK PLAYS Is this "The Twilight Zone?" [HuffPost]
APPLE PAY ROLLS OUT TODAY Don't throw away your wallet just yet -- the payment system still needs to work out a few glitches. [WSJ]
THE NETFLIX WORKOUT Yes, you can be active from your couch. [HuffPost]
DISNEY MADE A SHORT ABOUT PUPPIES Of course you're going to watch it. [HuffPost]
YOU, TOO, CAN MAKE A HOTEL BED Just add the chocolate candy on top, and you'll feel like you're at the Ritz. [HuffPost]
CARBS THAT AREN'T WHITE BREAD Because you don't want to put on the holiday season poundage before the holidays. [HuffPost]
ON THE BLOG
TOUGH BOSS: DIFFERENT FOR WOMEN THAN MEN? "The existence of the Queen Bee -- the ultra-competitive, hypercritical female boss who has zero interest in fostering the careers of fellow women, possibly even actively seeking to keep them down -- has been much discussed. Is she real -- a real, live enemy to female career advancement? Or is she any woman who reaches a position of power and, it's assumed, must have stepped on more than a few toes along the way?" [HuffPost]
BEFORE YOU GO
~ The first Snapchat ad didn't go over well.
~ Drinking soda could take 4.6 years off your life.
~ Should we be worried about Andew Lincoln's lack of beard?
~ Disney's latest movie technology is lightyears ahead of what we even understand.
~ "Glee's" Mr. Schuester got married!
~ This is how Google works.
~ Meghan Trainor's newest song isn't about bass, but it's just as catchy.
~ This color is the new black.
~ "The Sisterhood of the Traveling Pants" cast reunited again (plus Blake's baby bump).
Send tips/quips/quotes/stories/photos/events/scoops to Lauren Weber at lauren.weber@huffingtonpost.com. Follow us on Twitter @LaurenWeberHP. And like what you're reading? Sign up here to get The Morning Email delivered to you.