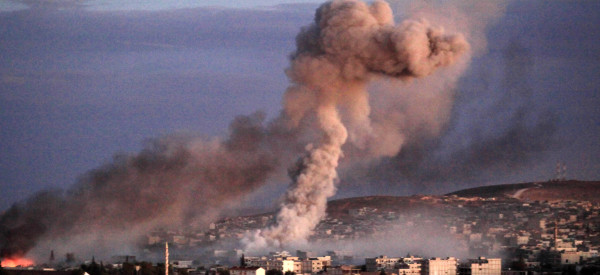 TOP STORIES
TURKEY TO ALLOW HELP FROM IRAQI KURDS IN FIGHT AGAINST ISIS "Turkey will allow Iraqi Kurdish forces, known as pesh merga, to cross its border with Syria to help fight militants from the group called the Islamic State who have besieged the Syrian town of Kobani for more than a month, the Turkish foreign minister announced Monday." Here's why Turkey will work with the Iraqi Kurds, but not Turkish Kurds. This is what the battle for Kobani looks like via satellite. ISIS's far-reaching "sway" has begun to creep into Lebanon. ISIS forces are also approaching Mount Sinjar. The dangers of revolting against the Islamic State were made clear in a underreported Syrian massacre. And women fighting ISIS on the ground "share their battlefield stories." [NYT]

RUBIO WANTS EBOLA TRAVEL BAN "Sen. Marco Rubio (R-Fla.) announced on Monday that he plans to introduce legislation that would temporarily ban U.S. visas for nationals from African countries affected by the Ebola outbreak." According to the latest projections, about three Ebola-infected travelers could travel overseas each month. Here's what the CDC's new health care guidelines look like in practice. Donations to fight the deadly virus have been slow. And Liberian Ebola patients are disappearing in a health care system where a paper trail is all but nonexistent. [HuffPost]
CANADIAN SOLDIER KILLED IN POTENTIAL TERROR ATTACK "One of two soldiers hit by a car on Monday in Saint-Jean-sur-Richelieu, Que., died of his injuries early Tuesday, according to Quebec provincial police … The second soldier's injuries were described as less serious ... The man who died from police gunfire after he struck the two soldiers with his car had 'become radicalized,' the Prime Minister's Office said Monday." [HuffPost]
OSCAR DE LA RENTA DEAD AT 82 "Oscar de la Renta, the doyen of American fashion, whose career began in the 1950s in Franco's Spain, sprawled across the better living rooms of Paris and New York, and who was the last survivor of that generation of bold, all-seeing tastemakers, died on Monday at his home in Kent, Conn." Friends in the fashion world took to Twitter to mourn the legend's passing. And here's a look at some of his masterpieces. [NYT]
OSCAR PISTORIUS SENTENCED TO FIVE YEARS Former Olympian Oscar Pistorius was sentenced to five years in prison for the shooting death of his girlfriend. His defense team believes he will only serve 10 months before getting out on parole. [HuffPost]
FEDERAL WORKERS ON PAID LEAVE RAKE IN OVER $775 MILLION "Tens of thousands of federal workers are being kept on paid leave for at least a month — and often for longer stretches that can reach a year or more — while they wait to be punished for misbehavior or cleared and allowed to return to work, government records show. During a three-year period that ended last fall, more than 57,000 employees were sent home for a month or longer. The tab for these workers exceeded $775 million in salary alone." [WaPo]
POTENTIAL CREDIT CARD BREACH AT STAPLES Several stores across the Northeast appear to have been targeted. [HuffPost]
UKRAINE USED BANNED CLUSTER BOMBS "The Ukrainian Army appears to have fired cluster munitions on several occasions into the heart of Donetsk, unleashing a weapon banned in much of the world into a rebel-held city with a peacetime population of more than one million, according to physical evidence and interviews with witnesses and victims." [NYT]
OBAMACARE VS. AFFORDABLE CARE ACT Watch Democrats stay far, far away from calling the Affordable Care Act "Obamacare" in the midterm debates this fall. [HuffPost]
WHAT'S BREWING
MEET THE NEXT DISNEY PRINCESS She's a Polynesian princess navigating the world and sailing into theaters in 2016. [Vulture]
'MY LITTLE PONY' MOVIE COMING God help all the adults that are forced to go. [Variety]
TOM HANKS WROTE A STORY FOR THE NEW YORKER It's even better if you listen to his audio version. [The New Yorker]
MARCEL THE SHELL RETURNS And continues to be adorable. [Vanity Fair]
WHAT TOP CHEFS ORDER AT CHIPOTLE Learn from the masters. [Thrillist]
MAC SALES UP 21% It's all about that Apple logo. [HuffPost]
STOPPING SCHIZOPHRENIA BEFORE IT STARTS "That first psychotic break can lead to a series of disasters: social isolation, hospitalization, medications with sometimes disabling side effects, and future psychotic episodes. So, what if you could intervene earlier, before any of that? Could you stop the process from snowballing?" [NPR]
ON THE BLOG
HALLOWEEN COSTUMES FOR KIDS: SEXISM AT A YOUNG AGE "We quickly located a firefighter costume for boys, complete with a bright red jacket, a traditional helmet and an axe. The girls' version, on the other hand, is a skin-tight, short, shiny dress that's surely flammable. It includes a fascinator (in lieu of a helmet) never before seen on a real firefighter." [HuffPost]
BEFORE YOU GO
~ Pumpkin violence is a thing.
~ Send women astronauts to space -- it's cheaper.
~ T-Swift wants to welcome you to New York.
~ Monica Lewinsky just got a Twitter account.
~ A new political ad features a sharknado.
~ Kelly Clarkson KILLS it with her "Stay With Me" cover.
~ Look out for shooting stars tonight.
~ And ICYMI, here's how you can store more beer in your fridge.
Send tips/quips/quotes/stories/photos/events/scoops to Lauren Weber at lauren.weber@huffingtonpost.com. Follow us on Twitter @LaurenWeberHP. And like what you're reading? Sign up here to get The Morning Email delivered to you.