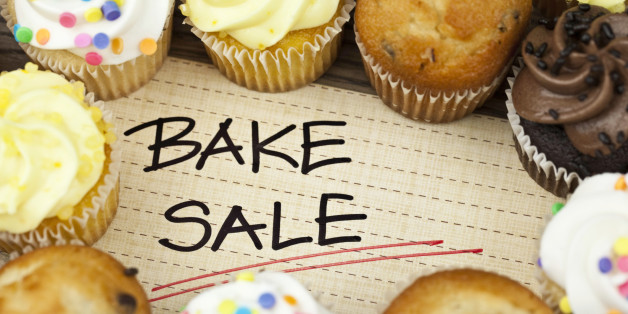 Remember bake sales? Those awesome fundraisers at school where you, or your parents, would bake something delicious, and bring it in to the cafeteria or the gym to sell for a good cause? Could anything be better? Now that the school year is back in full swing, we're feeling extra nostalgic for the good 'ol days. Let's face it. Bake sales were the highlight of many a sports game for some of us.
There was always the danger, however, of that crushing moment when you reached the front of the line and your dream dessert was gone. The kid in front of you -- or even worse, his mom -- bought one too many brownies, and didn't leave anything but a measly stack of oatmeal raisin cookies for the rest of the crowd. It was an early lesson in the power of expectation. At next season's bake sale you either got in line early, found a way to cut the line, or kept expectations low so that you were pleasantly surprised when you landed an M&M cookie.
The hard truth is, while bake sales are generally awesome, not all bake sale goods are created equal. Here's a list of the best and worst bake sale goods in order.
PHOTO GALLERY
Bake Sale Goods In Order
Want to read more from HuffPost Taste? Follow us on Twitter, Facebook, Pinterest and Tumblr.
Follow HuffPost's board Brownies, Blondies, & MORE on Pinterest.
BEFORE YOU GO
PHOTO GALLERY
Bake Sale Recipes