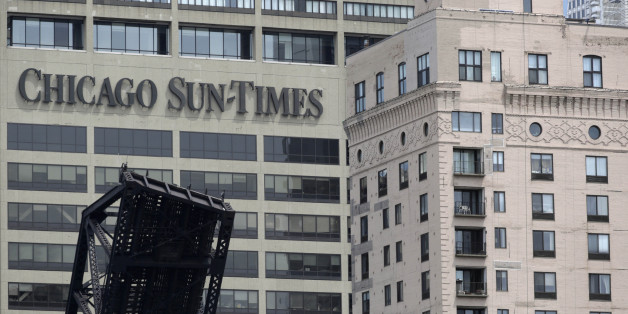 A veteran Chicago Sun-Times reporter has resigned from his job amid speculation that the newspaper bowed to pressure from the campaign of Illinois gubernatorial candidate Bruce Rauner (R), an ex-stakeholder in the paper, to punish the reporter for writing a story the campaign was not happy with.
Dave McKinney, who had served as the paper's Springfield bureau chief and led its Illinois political coverage since 1995, announced his resignation Wednesday via an open letter addressed to Sun-Times chairman Michael Ferro Jr.
Earlier this month, McKinney co-authored a story centered on allegations that Rauner verbally threatened an executive of LeapSource, a company owned by GTCR, Rauner's investment firm. The Rauner campaign has denied the allegations, pointing out that the complaint was dismissed in summary judgement, though the campaign for incumbent Governor Pat Quinn (D) has been using the story in its advertising.
McKinney in his open letter writes that the Rauner campaign tried to block the LeapSource story by suggesting a conflict of interest between the reporter and his wife, Ann Liston, who works as a political consultant. According to McKinney, Sun-Times publisher Jim Kirk responded by defending McKinney and the story, but the reporter was nonetheless pulled from his beat and told to go on leave. McKinney also says Kirk offered up other jobs at the paper that McKinney "considered demotions."
McKinney eventually returned to his position. Soon after, the Sun-Times, which had instituted a policy of no political endorsements in 2012, endorsed Rauner, who was a 10-percent owner of Sun-Times parent company Wrapports LLC until shortly before he launched his gubernatorial campaign.
Though Kirk has publicly defended McKinney and his story -- as well as the paper's endorsement of Rauner -- the reporter writes that the controversy has "had a chilling effect in the newsroom."
"Readers of the Sun-Times need to be able to trust the paper. They need to know a wall exists between owners and the newsroom to preserve the integrity of what is published. A breach in that wall exists at the Sun-Times," McKinney writes. "While I don't speak for my colleagues, I'm aware that many share my concern. I'm convinced this newspaper no longer has the backs of reporters like me."
UPDATE: 4:30 p.m. -- In response to McKinney's resignation, Kirk said in a statement to Crain's Chicago Business that he "disagree[s] with Dave's questioning the integrity of this newspaper and my role as editor and publisher. I call the shots. While I've been here, our ownership and management have never quashed a story and they have always respected the journalistic integrity of this paper." He also described McKinney as "among the best in our profession" and said he still stands behind the LeapSource story.
Rauner is challenging Gov. Quinn in what has been called one of the nation's most expensive governor races this year.
BEFORE YOU GO
PHOTO GALLERY
2014 Gubernatorial Challengers