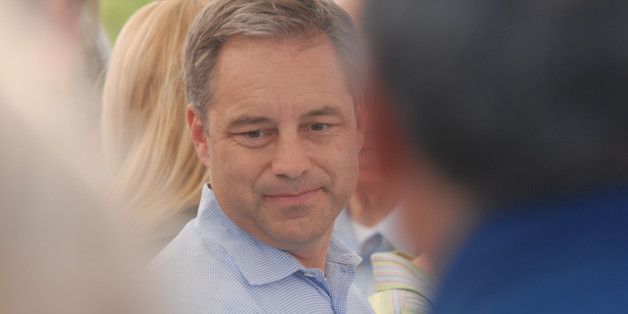 WASHINGTON -- The Alaska National Guard is facing down some grave allegations: A recruiter trying to give alcohol to high school girls, botched responses to sexual assault complaints, embezzlement, a former porn company owner keeping his job despite military investigators finding that he failed to respond to sexual assault, and whistleblowers terrified to speak out.
The alleged misconduct, detailed in an assessment by the National Guard Bureau's Office of Complex Investigations and in investigations by local news outlets, is threatening the re-election bid of incumbent Alaska Gov. Sean Parnell (R). The governor, who is commander in chief of the Guard, fired three top officials from the military unit this week. His office has said that he took action each time he was made aware of misconduct, and that he was ultimately misled by his top general.
But Parnell's critics -- including whistleblowers and victims -- claim that his office failed to do enough to respond to allegations of abuse over several years. Local news outlets are now suing the governor's office to get access to internal emails that may show how much Parnell knew about the allegations, and what he did in response.
Last month, at Parnell's request, the Office of Complex Investigations released a scathing report on how the Alaska Guard has handled misconduct, detailing some of the allegations. Following the report, Parnell requested the resignation of the Guard's top general, Maj. Gen. Thomas Katkus. Parnell has since fired additional officials.
As an incumbent in a Republican-leaning state, Parnell should be a shoo–in this November. But in HuffPost polling as of Wednesday, Bill Walker, the independent candidate, was leading Parnell by a margin of 3.4 points. Democrats have hammered Parnell over the scandal. And Alaska-based consultant Jim Lottsfeldt, the senior adviser for a super PAC backing Democratic U.S. Sen. Mark Begich, told The National Journal that all this scrutiny over the Guard could hurt Parnell's reelection.
Those who are alleging serious misconduct in the Guard say the problems have been going on for years. One woman who has come forward publicly, Melissa Jones, was serving in the Alaska Army National Guard in 2007 when she said that she was drugged and later raped. She reported the alleged assault, but said that her privacy was breached and the case ignored. Jones told The Huffington Post that she is speaking out to call attention to an "ongoing issue" and to "seek justice for the victims that came after me."
Parnell was sworn into office in 2009. Sharon Leighow, a spokesperson for Parnell, said that the office was made aware of allegations of misconduct in the National Guard in 2010. "Every single allegation brought to our office was relayed to the appropriate law enforcement agency," she said, noting that the office met with the top general 41 times over a four-year period to discuss the allegations before he resigned.
But Lt. Col. Ken Blaylock, a whistleblower who served in the Guard until 2012, told HuffPost that if Parnell "actually followed up on the reports, then he would not have had to request the Office of Complex Investigations in 2014." Blaylock said that in the spring of 2010, he drove sexual assault victims to Parnell's office to clue him in to what was going on. "We were basically thanked politely and rushed on our way away," he said. "I never saw any followup from the governor's office whatsoever."
Chaplain Lt. Col. Rick Cavens, who is now retired from his job in the Alaska Air National Guard, also said chaplains from the military unit approached the governor in 2010. "There were emails, there were letters sent, there were conversations with his office," he said.
Leighow said that in 2010, the governor's office contacted the FBI about the allegations. "The FBI conducted a six-week investigation at that time, but it yielded nothing," she said.
In February 2012, Alaska National Guard Head Chaplain Lt. Col. Rick Koch also wrote to the governor's office expressing concern that a "plumb assignment" had just been given to a commander who had led "a command known to have ties with the illegal drug trade and many of the sexual assaults our young women have endured."
According to Lt. Col. Lee Knowles, Alaska National Guard recruiting and retention battalion commander, things have since changed. "I don't think that reports of information from several years ago is a fair reflection of who we are now," he said.
Leighow said that part of the problem was Katkus, the top commander, who she said didn't do enough to alert the office to problems in the unit. "The complexity of Alaska National Guard investigations combined with Gen. Katkus consistently misleading the governor on the true status of these investigations resulted in a perfect storm. What matters most is that when the governor was presented with evidence that revealed the failure of Guard leadership, he acted immediately to instigate the OCI investigation," she said. Katkus could not be reached for comment.
Lt. Col. Candis Olmstead a spokeswoman for the Alaska National Guard, added that the governor "is genuinely engaged in the progress of the implementation planning process for improving the organization."
But a person in the Guard with close knowledge of the ongoing investigation into alleged wrongdoing told HuffPost, "It seems there are no checks and balances for Alaska's governor to adequately assess the climate of his Guard."
"If you want to know what's going on the Guard, you cannot just rely on the word of your top guy or gal," the person added.
BEFORE YOU GO
PHOTO GALLERY
Most Vulnerable Governors