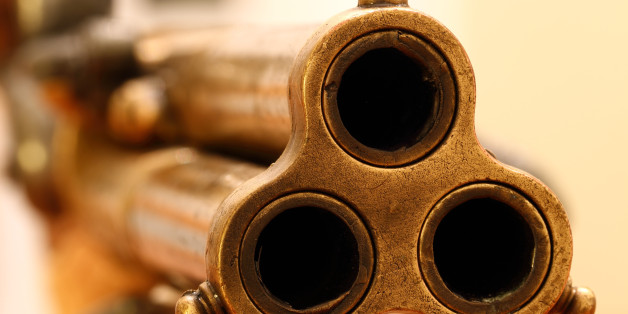 Students at a high school in Nebraska will now be allowed to pose with guns in their senior portraits.
The Broken Bow School Board made the decision to allow the guns in school photos this week after a student asked last year to be photographed with his gun, Broken Bow Public Schools Superintendent Mark Sievering told The Huffington Post. That student asked after the deadline last year, but his request prompted the board to review their practices around guns in pictures and vote on whether they should allow them.
The school board voted 6-0 to allow the guns in photos as long as the images are tasteful, the Omaha World-Herald reported.
Sievering told the Omaha World-Herald that the school was initially afraid that allowing students to pose with guns would promote violence. However, the board decided to allow it because hunting is a big part of the local community.
"The board, I believe, felt they wanted to give students who are involved in those kinds of things the opportunity to take a senior picture with their hobby, with their sport, just like anybody with any other hobby or sport," Sievering said, according to the Omaha World-Herald.
"I understand that in different cultures this would be viewed differently, but in the rural, hunting culture here, it is something that is viewed in a positive way," Sievering told HuffPost.
Students will not be allowed to be photographed brandishing the weapon or pointing it at the camera. If students do so, the photos will not be allowed to go in the school yearbook, according to the Associated Press.
The school board president, Ken Myers, noted that a lot of students in the district are involved in activities that use firearms, local outlet KOLN-TV reported.
"We have the 1 Box Shooting Club, a great trap range and sporting clays range," Myers told KOLN-TV. "A lot of youth are interested in that so that brings up firearms, I guess, a little bit more to the forefront along with the hunting."
In 2004, a student tried to sue his Vermont school after they refused to allow him to pose with a gun in his yearbook photo. A federal judge rejected the teen's bid.
With the exception of groups like law enforcement personnel, Nebraska prohibits guns on school property, Time noted. Nebraska does not have particularly strong gun laws overall, and it received a D in a 2013 report that analyzed gun laws in each state.
This story has been updated with a comment and clarification from the Broken Bow Public Schools superintendent.
BEFORE YOU GO
PHOTO GALLERY
School Lunches From Around The World