After a Chicago-area haunted house drew criticism for featuring a room dedicated to local serial killer John Wayne Gacy, an actor who previously portrayed the murderer is speaking out about the potential benefits of such an attraction.
"People forget that this really happened," California-based actor Richard McVoy told The Huffington Post of Gacy, who murdered at least 33 young men and boys in the 1970s. "They don't grasp it. What's really sad is that people forget about victims."
McVoy played Gacy's alter ego "Pogo The Clown" in the 2013 run of Rob Zombie's Great American Nightmare in California. He said he was drawn to playing such a horrific character -- and gave a performance he called "terrifying," "X-rated" and "over-the-top" -- because his own past as a victim of violent crime.
"In 1992 my little brother was murdered at 18 years old. I was 21 at a time," McVoy said. "In 2002, my mother and nephew were murdered. My mother had married a gentleman and wanted a divorce. He got mad, got his guns out, killed my 17-year-old nephew, went into another room, and killed my mother in front of my niece."
He said his experience portraying Gacy was a positive one for him, calling it both "helpful and cathartic." As he explained it, playing the killer in an over-the-top way was a way to remind people that the terror felt by Gacy's victims was real.
"If I were to talk to Gacy's victims, I'd say, 'I feel your pain. I feel it everyday. It is hell,'" McVoy said. "At the same time, it's OK for someone to share that -- to share the pain that you feel everyday."
(Story continues below)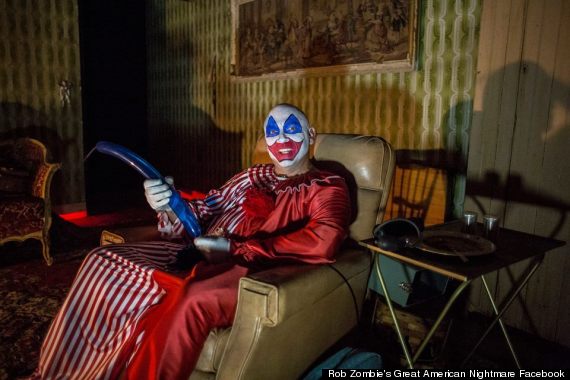 Richard McVoy portrays Gacy's "Pogo The Clown" during the 2013 run of Rob Zombie's Great American Nightmare in California.
An image of McVoy's character was used to promote the current haunted house in Villa Park, Illinois, where relatives of Gacy's victims live. The location is what many people, such as Bob Egan, who co-prosecuted the Gacy trial, found so problematic.
"I've got no quarrel with this person's right to do this, but you exercise a little common sense of where to do it," Egan previously told HuffPost. "If it was in Nebraska or Florida, I'd have no problem because there's no proximity to the victims' next-of-kin."
Asked if his intentions might be better served in a historical or educational context rather than for a money-making entertainment attraction, McVoy said that he's "thinking outside the box as a crime victim myself."
"I do feel for everybody who is in Chicago," said McVoy, who has not attended the Villa Park version of the attraction. "I wouldn't go somewhere where there's a scene depicting my mom or nephew."
McVoy said he empathizes with the families of Gacy's victims and says he understands how the memory of their personal tragedy could be eroded over time.
"People think, 'This is so long ago, they should be healed by know. They should get over it,'" he said. "But every day you still have it with you. It's still a part of your life that never goes away."