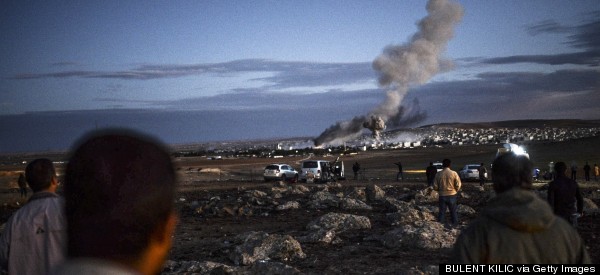 TOP STORIES
A SHIFT TO SAVE KOBANI FROM ISIS ONSLAUGHT "In public, the Obama administration argued for weeks that Kobani wasn't strategically vital to the air campaign against Islamic State extremists. Behind the scenes, however, top officials concluded the Syrian city had become too symbolically important to lose and they raced to save it." In the ongoing fight for the city, an airdrop of weapons intended for Kurdish rebels landed in the hands of ISIS. And in North Africa, Tunisia has become a hotbed for ISIS recruitment. [WSJ]

OFFICIAL AUTOPSY INDICATES CLOSE STRUGGLE BETWEEN BROWN, COP "The official autopsy on Michael Brown shows that he was shot in the hand at close range, according to an analysis of the findings by two experts not involved directly in the case. The accompanying toxicology report shows he had been using marijuana. Those documents, prepared by the St. Louis County medical examiner and obtained by the Post-Dispatch, provide the most detailed description to date of the wounds Brown sustained in a confrontation Aug. 9 with Ferguson police Officer Darren Wilson." Many Ferguson protesters expect that Wilson will not be charged and warn that widespread protests will follow. [St. Louis Post-Dispatch]
LEGENDARY WASHINGTON POST EDITOR BEN BRADLEE DEAD AT 93 "Benjamin C. Bradlee, who presided over The Washington Post newsroom for 26 years and guided The Post's transformation into one of the world's leading newspapers, died Oct. 21 at his home in Washington of natural causes. He was 93 … The most compelling story of Mr. Bradlee's tenure, almost certainly the one of greatest consequence, was Watergate, a political scandal touched off by The Post's reporting that ended in the only resignation of a president in U.S. history." Tributes poured in for the journalistic giant, and here's a timeline and photos of his extraordinary life. [WaPo]
THREE AMERICAN TEENS PLANNED TO JOIN ISIS "Three teenage girls from suburban Denver may have been trying to join Islamic State militants in Syria after stealing their parents' money and flying to Germany, authorities said Tuesday. The girls — two sisters, ages 17 and 15, and their 16-year-old friend — were reported missing after they skipped school Friday, but the families had no indication of where they might have gone, said Glenn Thompson, bureau chief of the Arapahoe County Sheriff's Department." [AP]
JOHNSON & JOHNSON TO BEGIN EBOLA VACCINE TESTING The health care giant will begin testing a vaccine for the deadly virus in January. And U.S. authorities have restricted travel from Liberia, Sierra Leone, and Guinea. Flights from those countries can now only arrive at five U.S. airports designated capable of additional Ebola screening. [WSJ]
NATION'S CONFIDENCE DISAPPEARING? "With every passing week or month, it seems, some government agency or another has had a misstep or has been caught up in scandals that have deeply eroded public confidence. The Internal Revenue Service targets political groups, the Border Patrol is overwhelmed by children illegally crossing the Rio Grande, the Department of Veterans Affairs covers up poor service, and the Secret Service fails to guard the president and his White House." [NYT]
WHAT'S BREWING
ROYALS DREAM RUN HITS SNAG The Kansas City Royals lost their first game of the postseason, and the World Series, last night to the San Francisco Giants, 7-1. [AP]
COWBOYS CUT MICHAEL SAM "Michael Sam is looking for a new team and another opportunity to prove he can play in the NFL after the Dallas Cowboys cut him from their practice squad. The team announced the release of Sam, the first openly gay football player ever to be drafted into the NFL, from their 10-man practice squad on Tuesday." [HuffPost]
AIRLINE TICKET PRICES ARE GOING UP Because you weren't being fleeced enough. [AP]
RENEE ZELLWEGER RESPONDS TO MEDIA EXPLOSION "Renée Zellweger has responded to Internet chatter about her appearance. In an exclusive statement to PEOPLE, the Oscar winner says she looks different because she is healthier and happier than ever – and she's fine with people taking notice. 'I'm glad folks think I look different! I'm living a different, happy, more fulfilling life, and I'm thrilled that perhaps it shows,' Zellweger said."
[People]
JILL ABRAHAMSON'S NEXT JOB Former New York Times executive editor Jill Abramson is creating a startup with entrepreneur Steven Brill that will launch "one big story a year." [Vanity Fair]
WHAT HAPPENS AT THE DRY CLEANERS Your clothes DO get wet. [HuffPost]
COULD THIS BE THE FIRST REAL HOVERBOARD? It already has over $110,000 on Kickstarter. [Kickstarter]
WHAT A PANIC ATTACK FEELS LIKE "My body feels tingly and I get dizzy. I feel like ice is running through my veins. I want to run away from my body but I can't, of course. Shallow breathing. Heart racing. Total panic." [HuffPost]
ON THE BLOG
PETS AND DOMESTIC VIOLENCE "'Pets are the silent victims for abusers who want to exert extreme power and control,' as Rita Garza of the NYC nonprofit Urban Resource Institute later told me. 'This happens all the time.' But despite this issue, most domestic violence shelters only take humans -- no pets are allowed." [HuffPost]
BEFORE YOU GO
~ Anna Wintour pays tribute to Oscar De La Renta.
~ Kate Middleton stuns in her first public appearance since announcing her pregnancy.
~ Are Walnuts the new anti-Alzheimers superfood?
~ Weather.com is starting to lose it.
~ Gale is less than impressed in the latest trailer for "The Hunger Games: Mockingjay - Part 1."
~ A timeline for all superhero movie release dates over the next six years.
~ Don't underestimate old men in sweaters.
~ The Mormon Church released a video explaining its undergarment requirement.
~ Forget plain candy corn -- we're all about the deep-fried candy corn.
~ These are the worst cities to live in case of zombie apocalypse.
~ And this mini-hedgehog just realized it can fit in a Starbucks cup.
Send tips/quips/quotes/stories/photos/events/scoops to Lauren Weber at lauren.weber@huffingtonpost.com. Follow us on Twitter @LaurenWeberHP. And like what you're reading? Sign up here to get The Morning Email delivered to you.