In March, the World Health Organization reported 60 deaths in Guinea from the first Ebola outbreak in West Africa. In the intervening months, those initial infections grew into the worst Ebola epidemic in history: As of Oct. 23, there have been nearly 10,000 Ebola infections. The fatality rate for the disease is about 50 percent, according to the World Health Organization.
Ebola has traveled throughout the region around Guinea, devastating Liberia and Sierra Leone. In a few rare instances, it has also moved abroad. A Spanish nursing aide was the first person to contract Ebola outside of Africa. (She has since been declared Ebola-free.) Two health workers in the U.S. were also infected after they cared for a Liberian man with the virus in Dallas. And on Oct. 23, an international emergency medicine doctor was diagnosed with Ebola in New York City following a trip to Guinea with the aid organization Doctors Without Borders.
Add to this public health crisis the amplified fear and panic of a fully mobilized media and social media corps, and finding quality information about Ebola has become exponentially more complicated.
Here's what you need to know to understand Ebola, its spread, and how the international community is responding.
ORIGINS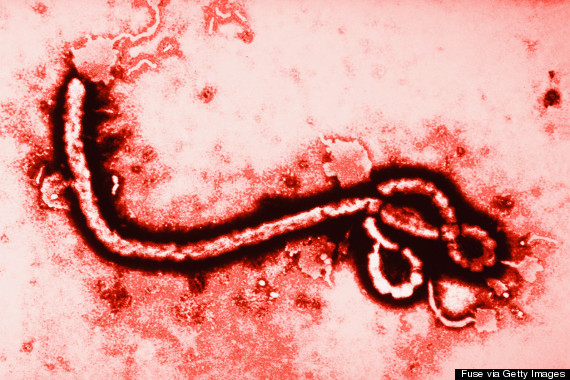 The Ebola virus first emerged in 1976 in Zaire and then in Sudan, where the hemorrhagic disease killed up to 90 percent of those infected. Experts think contact with wild animals, particularly bats and primates that are traditionally eaten for their meat, may have led to the first human cases of Ebola. The disease was named for a tributary of the Congo River that was the closest body of water to the town where the virus was first discovered by researchers. Find out more about the disease's origins here.
THE VIRUS
Ebola is transmitted through exposure to an animal that carries the virus (like bush meat) or through exposure to the bodily fluids of a human who is experiencing symptoms. Rarely, exposure to contaminated objects can lead to infection.
Ebola's worm-like form is familiar to anyone keeping up with the news, but a magnified view of an Ebola particle reveals exactly how the virus is able to wreak havoc on the human body:
Ebola symptoms can feel a lot like flu symptoms -- including aches, chills, fever and vomiting. Only about 20 percent of patients experience hemorrhaging.
2014 OUTBREAK
The outbreak is still sweeping through vulnerable areas in Liberia, Sierra Leone and, to a lesser extent, Guinea. As of Oct. 22, there were 9,915 cases of Ebola reported by the Centers for Disease Control, and 4,555 fatalities. Before 2014, there were only 2,418 confirmed cases of Ebola on record, according to the World Health Organization.
In December of 2013, a 2-year-old boy in Guinea died from what experts think was Ebola. The initial outbreak occurred a few months later in February 2014 in Guinea's rural districts of Guekedou, Macenta, Nzerekore, and Kissidougou, along with the capital, Conakry. Suspected cases in Liberia and Sierra Leone were also reported. Doctors Without Borders (MSF) began calling for aid and warning that the virus was not contained in March.
On March 27, a consortium of doctors from Bernhard-Nocht Institute of Tropical Medicine, Institut Pasteur Paris and the Institut Pasteur Dakar confirmed the virus strain. Over the next few days, a stream of medical aid organizations entered the affected areas.
Between April 7 and July 8, the fatalities grew from 100 to 500. Ten days later, the number of confirmed cases reached 1,048 people. By the end of July, the Peace Corps had pulled its staff from affected areas, the doctor leading Ebola treatment efforts in Sierra Leone had died of the disease and the president of Sierra Leone had declared a national emergency. Liberia closed all of its schools in an effort to hamper the spread of the virus.
Here's a timeline of some of Doctors Without Borders' early and constant alarms about the virus:
Spanish nursing aide Teresa Romero, 44, was the first person in the current outbreak to contract Ebola outside of West Africa. She tested positive for the virus on Oct. 6, after caring for a missionary who returned from the region with the disease. Her husband and several friends and neighbors were put under quarantine, but none contracted Ebola. Her dog was euthanized, a controversial move, out of fear that it might also spread the virus. On Oct. 19, she was declared virus-free.
Her recovery was a relief to Spanish health officials, who had faced criticism when it came to light that Romero suffered from a fever for a week before her illness was diagnosed.
Thomas Eric Duncan, a Liberian man who arrived in Dallas in late September, became the first person to be diagnosed with Ebola in the U.S. He went to Dallas' Texas Health Presbyterian Hospital on Sept. 25 with symptoms, including aches, fever and dehydration. He was sent away with antibiotics, but he later began vomiting, and returned to the hospital in critical condition on Sept. 28. He died on Oct. 8. Two of his nurses, Nina Pham and Amber Vinson, contracted the virus from him -- the first domestically acquired cases of Ebola in the U.S.
In Dallas, 167 people -- friends, relatives and others who were in contact with the patients -- have been under quarantine. On Oct. 20, 51 people were removed from the quarantine list, after completing the 21-day incubation period.
On Oct. 23, a New York City doctor who had recently returned from treating Ebola patients in Guinea, tested positive for the disease. He was immediately put in isolation in a designated hospital facility for Ebola treatment and his fiancee went into quarantine.
Nigeria was declared Ebola-free on Oct. 20, after efforts from medical officials there to contain the 300 or so people who had been exposed to the virus. Experts think Patrick Sawyer, a Liberian diplomat who traveled to Nigeria with the disease, was the source of the virus there. He was placed in quarantine by his attending physician, Dr. Ameyo Adadevoh, despite protests from the Liberian government for his release, Reuters reported. Both Sawyer and Adadevoh died of the disease.
The differences between how the virus was handled in Nigeria and its neighboring countries is a testament to the profound inequalities in the region: Nigeria is the wealthiest country in Africa, having recently surpassed South Africa, while Liberia and Sierra Leone are some of the continent's poorest.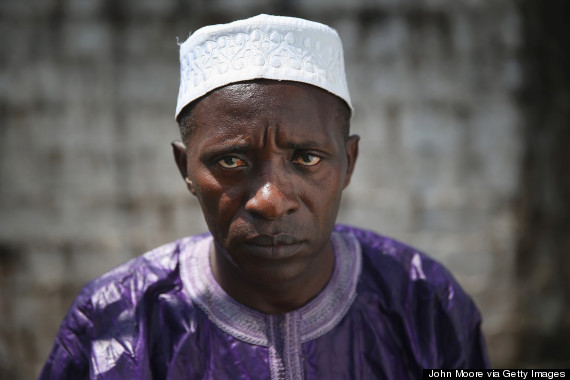 Photography from the outbreak region reveals the hard work, heartbreak and occasional triumph of contending with Ebola. Photographers like John Moore and Kieren Kesner are working to educate the public and tear down stereotypes and stigma through our series, Inside An Outbreak.
TREATMENT
The best chance for survival of Ebola is early treatment -- a reality demonstrated clearly by the disparity between survival rates in rural West Africa and the U.S. In the past, so few people had contracted and died of Ebola that it was a neglected area of drug research, but a few experimental treatments have emerged.
Convalescent Serum, meaning antibodies from the blood of a person who has survived Ebola -- has been part of a successful protocol in some cases. An American missionary who got Ebola received antibodies from a teenage boy who survived it in Liberia, and he subsequently donated blood to Ebola patients in the U.S.
ZMapp uses lab-created Ebola antibodies to prevent the virus from reproducing. Before the outbreak, it had been tested in monkeys with promising results. Human application has been mixed -- while some recipients survived the illness, others did not.
TKM-EBOLA targets one of the virus's RNA proteins, and it successfully treated Ebola in six of seven macaque monkeys. It was also part of treatment for Richard Sacra, the American missionary, and is now being distributed in a clinical trial in West Africa.
Brincidofovir is an antiviral with mixed results for Ebola treatment. The drug had never been tested in humans for Ebola infections before it was used for Thomas Eric Duncan, the Liberian man who died of the disease in the U.S., and Ashoka Mukpo, a freelance journalist who was successfully treated.
Read more about treatment options here.
Nurses around the country spoke out in October after accusations that hospitals hadn't fully prepared them for Ebola cases. According to one survey, 67 percent of nurses said their hospitals hadn't clarified an admission policy for Ebola patients, and 85 percent said there was no official forum for nurses to inquire about these protocols.
Francis Collins, director of the U.S. National Institutes of Health, told HuffPost's Sam Stein that congressional decisions to defund medical research are part of the reason there's no vaccine.
"NIH has been working on Ebola vaccines since 2001. It's not like we suddenly woke up and thought, 'Oh my gosh, we should have something ready here,'" Collins said. "Frankly, if we had not gone through our 10-year slide in research support, we probably would have had a vaccine in time for this that would've gone through clinical trials and would have been ready."
In response to criticism that the CDC's protocols were not sufficient to prevent two nurses from contracting the disease, the center has updated its guidelines to include more comprehensive protective gear and more rigorous training. (It still doesn't understand how the two women caught the virus.) Additionally, should another case arise, patients will be directed to one of a few select hospitals around the country with these protocols in place.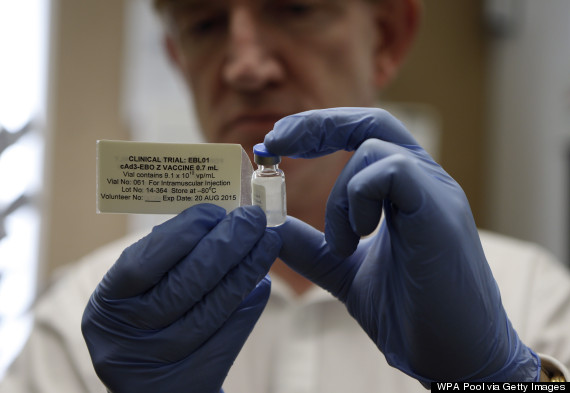 Johnson & Johnson announced on Oct. 22 a goal to produce 1 million doses of a two-step vaccine, possibly in collaboration with rival GlaxoSmithKline, Reuters reported. Trials for a separate vaccine began in September at the U.S. National Institutes of Health's Clinical Center, according to a separate Oct. 22 announcement.
The World Health Organization has stated publicly that it wants front-line health workers to receive vaccines as early as January.
CENTRAL FIGURES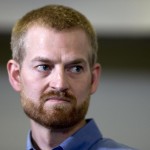 One of three American missionary health care workers to contract the illness, Brantly fell ill with Ebola in Liberia and received a blood transfusion from a former patient who had survived the virus. He was subsequently transferred to Emory University Hospital for care in the U.S. that included the experimental drug ZMapp. Post-recovery, Brantly has been a blood type match for three subsequent patients and has donated his blood to all three.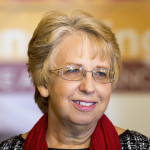 Writebol, a missionary who was working in the same Liberan clinic as Brantly, was transferred to the U.S. along with him and made a full recovery at Emory University Hospital. On MSNBC, Writebol explained to host Andrea Mitchell how a good protocol can go wrong:
Well, it's possible that when you come out of a unit, that as you take off your gloves, you might even touch your face, or it's possible that you take the suit off with clean hands and there might be Ebola on the outside of the suit. So it's possible that you can touch something that's unclean with a clean hand.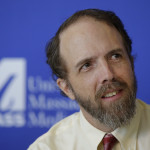 Sacra contracted the illness while working at an obstetrics clinic in Liberia. "There's the human side of you that's afraid, but I'd also thought this through before going and ... knew that this was a possibility," Sacra told reporters of the moment he realized he might have Ebola. He was successfully treated at Nebraska Medical Center, but has faced health problems, including a bout of pneumonia, following his recovery.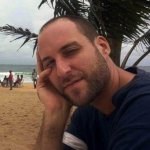 The freelance cameraman contracted Ebola while on assignment for NBC and other news outlets in Liberia. After treatment at the Nebraska Medical Center,
Mukpo was declared successfully treated on Oct. 21
.
"I feel profoundly blessed to be alive, and in the same breath aware of the global inequalities that allowed me to be flown to an American hospital when so many Liberians die alone with minimal care," Mukpo wrote to reporters in a statement presented by the hospital chancellor.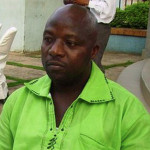 The first person to be diagnosed with Ebola in the U.S., Duncan arrived from Liberia to marry his girlfriend and be with their son,
both of whom live in Dallas
. He had passed a screening before leaving Liberia and didn't show symptoms until after his arrival in the U.S. -- but it later became apparent that he had helped transport a pregnant woman with Ebola-like symptoms to an area hospital four days before his departure. Duncan died on Oct. 9.
Read more about him here
.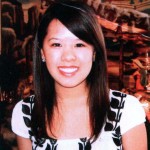 Pham, a 26-year-old nurse who treated Duncan, became the first known person to contract Ebola in the U.S. Her colleague Vinson, 29, was diagnosed a few days later. The two were among 77 health workers at Texas Health Presbyterian Hospital who treated Duncan, and their infections resulted in new protocols for health care workers. Both received care at state-of-the-art facilities, Pham in Maryland at the U.S. National Institutes of Health (NIH) facility and Vinson in Atlanta at Emory University Hospital. On Oct. 22, Vinson's family announced that she was Ebola-free, though Emory has yet to make an announcement. On Oct. 24, Pham
was declared Ebola-free
.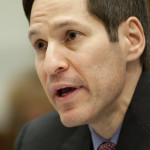 The director of the Centers for Disease Control and Prevention, Frieden has come under scrutiny for his agency's
handling of the Ebola cases
in Dallas, including the allegation that insufficient protocols and agency oversight endangered the health of nurses treating Duncan and their contacts.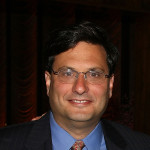 The White House-appointed ebola response coordinator, or "Ebola czar," is the former chief of staff to Vice President Joe Biden. While some people wondered if
an Ebola czar
was necessary at all, others pointed to Klain's
lack of experience
in medicine and public health. Klain will be in charge of coordinating a vast array of government agencies in their efforts to improve the public health and safety. In this regard, former colleagues say
he's the right man for the job
.
'AN ABUNDANCE OF CAUTION'
School closures, campus bans, volunteer quarantines and fear of those from affected countries have been just a few of the reactions to the exceedingly minor threat of Ebola infection in the U.S.
Many politicians have called for a travel ban, wherein all air travel from the affected countries in West Africa to the U.S. would be stopped. But public health officials have countered that such a ban would be counterproductive, preventing key aid from reaching affected regions and making the outbreak worse. What's more, it would be easy for travelers to circumvent a ban by routing their trips through unaffected countries throughout the rest of the world.
Despite the extremely low likelihood of contracting Ebola, there is a great deal of fear about the disease. A recent poll found that a majority of Americans think Ebola can spread through the air, and 38 percent of respondents believed that they or an immediate family member could contract Ebola within the year, neither of which are remote possibilities.
These misconceptions spread across Twitter and other social media networks with breathtaking speed, contributing to an environment of fear. Learn more about why we're so scared of Ebola, despite low risk.
It wasn't long before people began making Ebola "jokes" and spreading hoaxes, doing things like shouting that they had Ebola on crowded buses.
"The more widespread the tragedy, the more attention it gets in the press over a long period of time, the more likely it is that powerless individuals will see a way of establishing control in the worst kinds of ways," criminologist Jack Levin told HuffPost.
On Oct. 20, former New York Times editor Jill Abramson talked about the media's role in amplifying fear: "People are scared in part because of the ceaseless, ominous cable and other coverage, which stokes their fears. Two people are sick and one person has died. That's what's happened in the United States," she said.

While the threat in the U.S. is extremely low, the battle against Ebola in Liberia and Sierra Leone rages on. A lack of resources is a major problem. Here's a list of charities and NGOs that are accepting donations. You can also lend your support immediately:
Support UNICEF's efforts to combat Ebola through the fundraising widget below.