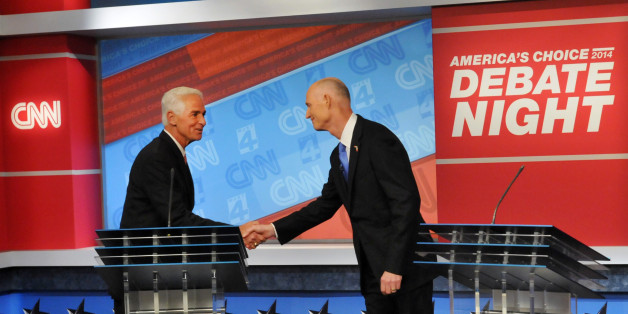 WASHINGTON -- With the 2014 midterm season drawing to an end, candidates in close races across the country are squaring off against their rivals, and occasionally (see: Charlie Crist's fan) even making national headlines.
Fan-gate, however, produced no discernible effect in the Florida polls. And nationwide, few Americans say they're following any of the debates, and even fewer that they've changed their votes because of them, a HuffPost/YouGov poll finds.
In theory, at least, most people think debates are significant: Twenty percent say that they're very important, and 62 percent that they're at least somewhat important in determining their vote.
Just 37 percent, however, report following coverage of any political debates this year even somewhat closely. Only 27 percent say they've actually watched or listened to a debate this year -- a figure that's likely much higher than the real number, since research finds people are far more likely to report watching a debate than they are to have actually done so. For comparison, 68 percent reported watching any of the 2012 debates between President Barack Obama and Mitt Romney.
There are good reasons for this year's numbers to be lower. Midterm elections traditionally garner far less enthusiasm than presidential elections, local debates are less likely to be widely televised, and of course, many people live in states without competitive Senate or gubernatorial races.
Political science research shows that presidential debates are rarely, if ever, election game-changers, as political scientist John Sides summarized in 2012: Both candidates are already well-known to voters and tend to be equally prepared, and most viewers have already made up their minds, generally along partisan lines.
There's less research, however, on the effects of Senate and gubernatorial debates, which typically attract less attention and coverage, but also feature candidates about whom voters are less likely to have solid opinions.
This year, at least, the impact seems to be limited: About a third of those who'd watched or listened to any debates this year -- just 9 percent of Americans as a whole -- said the events helped them make up their minds on who to vote for.
The HuffPost/YouGov poll was conducted Oct. 16-17 among 1,000 U.S. adults using a sample selected from YouGov's opt-in online panel to match the demographics and other characteristics of the adult U.S. population. Factors considered include age, race, gender, education, employment, income, marital status, number of children, voter registration, time and location of Internet access, interest in politics, religion and church attendance.
The Huffington Post has teamed up with YouGov to conduct daily opinion polls. You can learn more about this project and take part in YouGov's nationally representative opinion polling. Data from all HuffPost/YouGov polls can be found here.
BEFORE YOU GO
PHOTO GALLERY
United States Governors