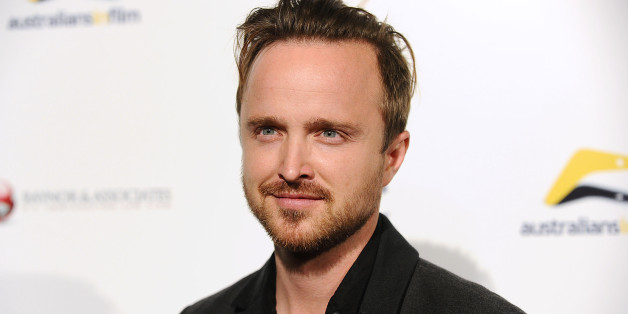 On the heels of Toys R Us announcing this week that it was pulling four collectible "Breaking Bad" dolls from its shelves after a Florida mother's petition campaign, Aaron Paul has come out to criticize the toy retailer's decision.
On Thursday, Paul, who played Jesse Pinkman on the AMC hit show, tweeted this to his 2.24 million followers:
Wait, so @ToysRUs pulled all of the Breaking Bad figures from their shelves and still sells Barbie? Hmmmm...I wonder what is more damaging?

— Aaron Paul (@aaronpaul_8) October 23, 2014
And what about all of the violent video games you sell @ToysRUs ? Do you still sell those? Florida mom really messed it up for everyone.

— Aaron Paul (@aaronpaul_8) October 23, 2014
A few hours later, the actor also shared a link to a change.org petition that calls for Toys R Us to continue selling the "Breaking Bad" figurines. So far, more than 12,000 people have signed the petition.
Toys R Us announced on Tuesday that it would no longer sell the "Breaking Bad" dolls, which came with detachable bags of cash and methamphetamines. "Let's just say, the action figures have taken an indefinite sabbatical," Toys R Us said in a statement, per the AP.
Previously, a Fort Myers, Florida mother named Susan Schrivjer had petitioned for the dolls' removal from Toys R Us shelves. In her change.org petition, she claimed that the dolls were a "dangerous deviation from [the company's] family friendly values."
On Wednesday, Bryan Cranston, who played Walter White on "Breaking Bad," congratulated Schrivjer for achieving her goal.
Toys R Us puts Breaking Bad toys on 'indefinite sabbatical.' Word on the street is that they were sent to Belize. Nicely played Florida Mom.

— Bryan Cranston (@BryanCranston) October 22, 2014
He'd previously joked that he was so angry about Schrivjer's petition that he was "burning [his] Florida Mom action figure in protest."
"Florida mom petitions against Toys 'R Us over Breaking Bad action figures." I'm so mad, I'm burning my Florida Mom action figure in protest

— Bryan Cranston (@BryanCranston) October 20, 2014
The controversy over the "Breaking Bad" dolls has proved polarizing among netizens.
Schrivjer's online petition was signed by more than 9,000 people, some of whom claimed the dolls "glorified" drug abuse. On the other hand, many people have spoken up in defense of the dolls' sale, arguing that Toys R Us doesn't have the right to say what adult collectors -- and children with adult supervision -- can and cannot buy.
BEFORE YOU GO
PHOTO GALLERY
Celebrity News & Photos