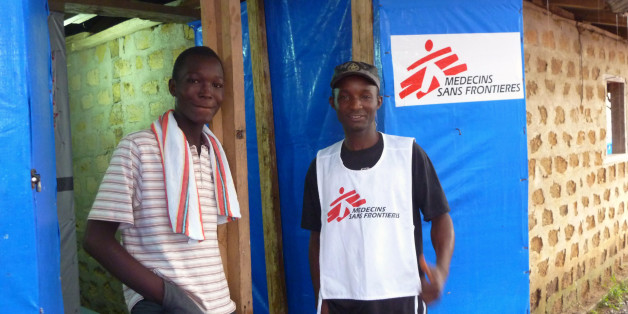 Doctors Without Borders is back in the limelight, but this time it's for hitting an impressive milestone.
The first international aid organization to respond to the epidemic in West Africa has repeatedly warned that it was stretched to capacity, and came under fire on Thursday after one of its physicians tested positive in New York City after returning from Guinea.
But the group has pushed forward and announced this week that it had saved its 1,000th patient since March.
Kollie James, a teenage Liberian boy who lost his mother, two sisters and uncle to the disease, is now Ebola-free.
"Stop crying Papa, I will not die," Kollie told his despondent father from across the treatment center's fence in Foya, Liberia, after he was diagnosed. "My sisters are gone, but I am going to survive and I will make you proud."
Nearly 5,000 people have succumbed to the world's worst Ebola outbreak on record, according to the World Health Organization and Liberia has been hit the hardest.
The trajectory of the high schooler's story highlights the varying and nuanced struggles aid groups face in trying to contain the disease.
Kollie's father, Alexander, works as a health promotion officer in northern Liberia with Doctors Without Borders, but still couldn't convince his wife to leave their home in Monrovia and join him.
"She denied Ebola," he said.
Alexander's wife and two daughters eventually contracted the virus and died last month. His brother, a nurse, also died from Ebola after caring for Alexander's family.
Though the virus has been raging since March, many people in West Africa still don't consider Ebola a threat until they become highly contagious and simply don't trust foreign health care workers, the Guardian reported. There are also strange rumors being spread about physicians harvesting organs from unconfirmed Ebola cases.
When Kollie met his father in Foya after losing his mother, uncle and sisters, the village outright rejected him because of the heavy stigma associated with Ebola.
It's another factor that's contributing to the spread of the disease.
Children who have been orphaned by Ebola are often left to fend for themselves because family members are reluctant to take them in. Survivors are being shunned by their communities, despite the fact that they are now immune and could play critical roles in caring for people with the disease.
After his son started exhibiting symptoms, Alexander's worst fears were confirmed when Kollie tested positive at a Doctors Without Borders clinic in Foya.
The group currently operates six medical centers in Guinea, Liberia and Sierra Leone and has 3,000 personnel on the ground.
Alexander worried that his son would meet the same fate as his other family members. Counselors comforted the concerned dad every day, urging him to keep calm.
"When finally I saw [my son] come out, I felt so very, very happy," Alexander wrote in a post for the aid group. "I looked at him and he said to me, 'Pa, I am well.'"
BEFORE YOU GO
PHOTO GALLERY
The Survivors: Portraits Of Liberians Who Recovered From Ebola