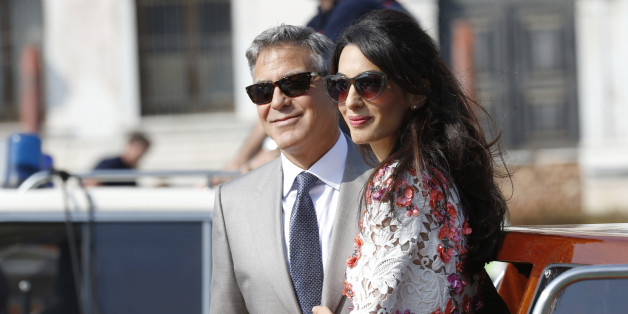 Just when you think the lavish wedding celebrations for George and Amal Clooney, née Alamuddin, have come to a close, the bride's parents send out an invite for a fancy post-nuptials dinner party nearly a month after the pair tied the knot in Italy.
According to E! News, Ramzi and Baria Alamuddin are hosting a soiree at the Danesfield House Hotel and Spa in Marlow-on-Thames, Buckinghamshire, in southeast England, on Saturday night. The expansive 17th-century estate turned Michelin-starred hotel sits on 65 acres with lush gardens and outstanding views over the River Thames and to the Chiltern Hills.
E! News obtained a copy of the invitation to the party, which reads: "Ramzi & Baria Alamuddin invite you to celebrate the marriage of Amal Alamuddin & George Clooney. Please join us for dinner on Saturday, The Twenty Fifth of October at 8 p.m. in the evening. Danesfield House Hotel in Marlow-on-Thames. Please RSVP by October Tenth."
This will be a joyous occasion for the Clooneys, who have been apart due to their busy schedules. Following their wedding, George jetted off to New York Comic-Con to promote his latest project, "Tomorrowland." Amal left for Athens to lend her legal expertise to the Greek government in its long-running bid to reclaim the Parthenon Marbles, also known as the Elgin Marbles, from Britain.
Let the celebrations continue!
BEFORE YOU GO
PHOTO GALLERY
Amal Alamuddin And George Clooney