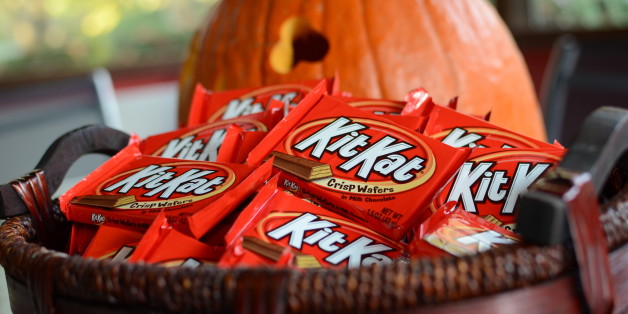 With Halloween upon us, it's time to celebrate all the things we love about the holiday -- miniature candy, jack-o-lanterns, creepy Halloween-inspired desserts -- and bemoan all the things that we hate, namely slutty costumes and candy corn. Whether you're a kid or grown-up, one universal aspect of Halloween that everyone can probably get behind is trick-or-treating. For kids, the draw is obvious: FREE CANDY. For adults, trick-or-treating is a way to relive the magic, whether you're handing out treats at the door or walking around with kids of your own.
What's not to love about trick-or-treating? We'll tell you what: apples. And raisins. If you ever got an apple or a measly box of raisins while trick-or-treating, you've never forgotten. It was the single most disappointing moment of your childhood. Okay, that's an exaggeration, but it was certainly the biggest letdown of your night. What kind of person would do that? We're all for healthy eating, but Halloween is the one night where we want to throw away our good intentions and stuff our faces with as much fun-sized candy as possible. Giving away regular-sized candy? Even better.
You can tell a lot about a person by the treat he or she gives out to trick-or-treaters. Here's what your halloween handout says about you:
PHOTO GALLERY
Halloween Treats
Want to read more from HuffPost Taste? Follow us on Twitter, Facebook, Pinterest and Tumblr.

BEFORE YOU GO
PHOTO GALLERY
Homemade Candy Bars