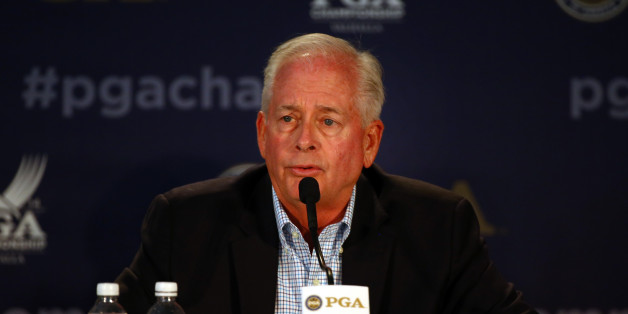 Ted Bishop, the PGA of America's 38th president, was removed from office Friday.
According to a statement by the PGA, Bishop was ousted for having made "insensitive gender-based statements" posted a day earlier on social media.
The statements were posted on Twitter and Facebook and directed at Ian Poulter, a European Ryder Cup player, for his remarks about former captain Nick Faldo in Poulter's new book "No Limits," which was released this week.
On Thursday, Bishop referred to Poulter as a little girl on Twitter and Facebook in response to passages in Poulter's book in which he questioned U.S. captain Tom Watson's decision-making during this year's Ryder Cup loss to Europe and criticized Faldo for comments that the Englishman made about Sergio Garcia during the matches at Gleneagles, Scotland.
Bishop's full Facebook post read, "Used to be athletes who had lesser records or accomplishments in a sport never criticized the icons. Tom Watson (8 majors and a 10-3-1 Ryder Cup record) and Nick Faldo (6 majors and all-time Ryder Cup points leader) get bashed by Ian James Poulter. Really? Sounds like a little school girl squealing during recess. C'MON MAN!"
And here's Bishop's tweet:
"@IanJamesPoulter -Faldo's record stands by itself. Six majors and all-time RC points. Yours vs. His? Lil Girl. @NickFaldo006 @pgaofamerica"
Both posts since have been deleted, but not before they caught Poulter's attention.
"I guess we can only have opinions if you won a major or 6," tweeted Poulter, who owns a 12-4-2 career Ryder Cup record.
"The PGA of America understands the enormous responsibility it has to lead this great game and to enrich lives in our society through golf," Pete Bevacqua, the PGA's chief executive officer, said in a news release Friday evening that announced Bishop's removal. "We must demand of ourselves that we make golf both welcoming and inclusive to all who want to experience it, and everyone at the PGA of America must lead by example."
Under the PGA constitution's bylaws, vice president Derek Sprague has been appointed the association's interim president until Nov. 22, when he is expected to be elected the 39th president of the PGA of America at its 98th annual meeting, in Indianapolis.
Shortly after the announcement, Bishop released a statement in which he apologized for his comments.
"This afternoon I was asked by my fellow officers to resign my position as president," said Bishop, the director of golf at The Legends Golf Club in Franklin, Ind. "I declined because I wanted to speak to our PGA Board of Directors, offer a personal apology and let the due process take place in this matter. The Board heard me out and then voted to impeach me as the 38th president. That is the due process and I respect that, as painful as it might be.
"The PGA has also informed me that I will not become the honorary president nor will I ever be recognized as a past president in our association's history. These, along with the impeachment are drastic consequences for the offense I have committed, but I must live with them. ... Today, all I have left is my PGA membership and that will always mean the world to me."
Davis Love III, who captained the U.S. Ryder Cup team in 2012, spoke Friday at the McGladrey Classic in St. Simons Island, Ga., about Bishop.
"Ted Bishop has been a great supporter of golf, the PGA of America members and the PGA Tour during his presidency," Love said. "I have said things in my passion for the Ryder Cup that I wish came out differently. We all make mistakes on social media. I consider Ted a friend and will not remember his presidency for this incident, but for his support and passion for helping me through my captaincy, and for his role in setting the team up for future success."
The LPGA released a statement Saturday morning regarding Bishop's removal from office:
"The PGA of America's quick and decisive action sent a strong message - reinforcing a consistent belief that with so many positive gains being made among golf's leading organizations, there is simply no room, nor willingness, to take a step backwards."
BEFORE YOU GO
PHOTO GALLERY
PHOTOS: Europe Celebrates Ryder Cup Win