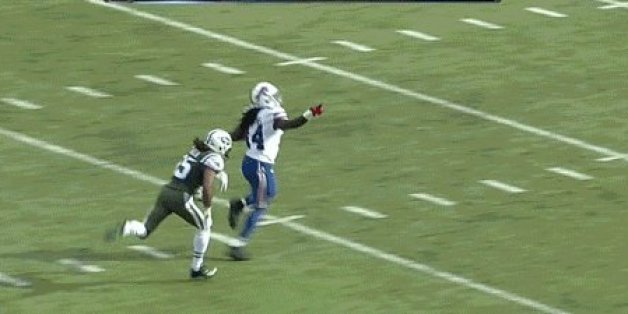 Those who do not learn from the mistake of Leon Lett are doomed to repeat it.
The latest NFL payer to squander what seemed to be a sure touchdown by celebrating too early is Buffalo Bills wide receiver Sammy Watkins. The speedy rookie produced his own spectacular fail by beginning to celebrate before reaching the end zone against the New York Jets on Sunday. Watkins had caught a pass from Bills quarterback Kyle Orton and had nothing but green turf between him and six points when he appeared to slow his stride in order to point at the crowd. He was caught from behind by Saalim Hakim of the Jets.

(GIF via @TheCaulldron)
Watkins was tackled at the five-yard line and settled for an 84-yard reception rather than the touchdown he was anticipating. His teammates let him off the hook somewhat by scoring two plays later to take a 21-7 lead in the second quarter.
BEFORE YOU GO
PHOTO GALLERY
PHOTOS: NFL Week 8