Walmart has everyone's Halloween needs covered this year -- especially if you happen to fall into the category known as "fat girl."
No, we're not kidding, though we wish we were. Until just after 11am this morning, the mega-retailer actually had a subsection of online Halloween costumes marked as "fat girl costumes." (See below.)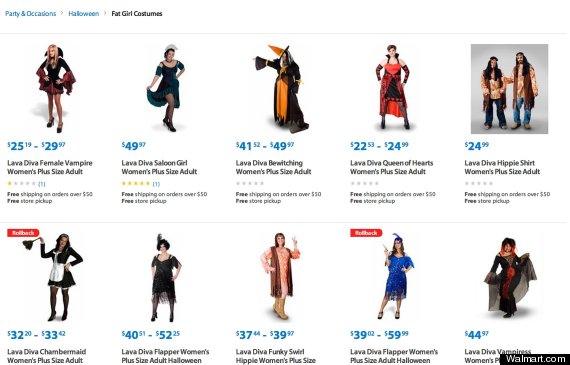 A screenshot from Walmart.com taken on October 27.
This is an ill-advised category name, to say the least. "Fat girl" still remains a derogatory label, though it shouldn't be. And it's also unclear what the retailer's motivations were for creating such a category. As Anna Merlan at Jezebel pointed out, many of the costumes featured in the "Fat Girl" section were also available on a page labeled "Women's Plus Size Adult." So was this someone's idea of a funny joke? Or did Walmart actually think people were searching for "Fat Girl" costumes?
Walmart did not immediately respond to a request for comment, but the section was taken down shortly after HuffPost contacted them. The "Fat Girl Costumes" page now redirects to an empty "Women's Plus Size Costumes" page.
In case you're not a fat girl but just think it would be hilarious to dress up as one for Halloween, why not try the Walmart "Fat Tinkerbell" getup? Or purchase a straight-up fat suit?
Halloween, brought to you by Walmart -- the best time of year to make fun of any woman over a size 6.
If you want some actually clever costume ideas, check out our list here.
UPDATE 2:04pm EST: The Huffington Post received the following statement from a Walmart spokesperson: "This never should have been on our site. It is unacceptable, and we apologize. We are working to remove it as soon as possible and ensure this never happens again."
H/T Jezebel
Follow HuffPostWomen's board Halloween! on Pinterest.
BEFORE YOU GO
PHOTO GALLERY
Women's Halloween Costumes That Are More Clever Than 'Sexy Nurse'