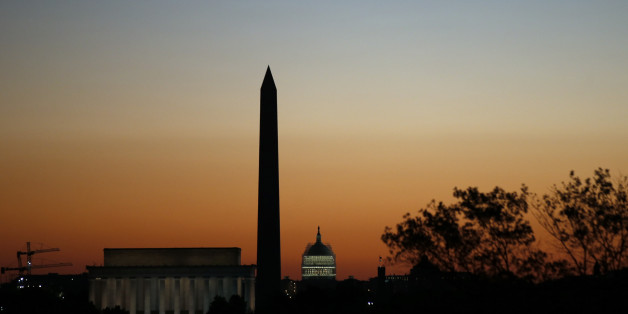 Americans' disaffection with Washington continues unabated, but polls differs on whether that means a big "likely voter" advantage for Republicans. New surveys cast a different light on Alaska's hard-to-poll Senate race. And Democrats are having to work harder to win votes in some crucial Senate battlegrounds. This is HuffPollster for Tuesday, October 28, 2014.
ANOTHER POLL FINDS 'MOMENTUM' FOR THE GOP - Dan Balz and Peyton M. Craighill: "Republicans enter the final week of the midterm campaign holding higher ground than the Democrats, aided by public dissatisfaction with President Obama's leadership, with the overall direction of the country and with the federal government's ability to deal with major problems, according to a new Washington Post-ABC News poll. Driving attitudes is a pervasive sense of a country in trouble. Overwhelming majorities say the country is badly off-track and give the economy negative ratings. Economic expectations are little better today than they were at this time four years ago….When asked whether they will vote for the Democrat or the Republican for the House in their districts, 50 percent of likely voters say Republican and 44 percent say Democrat. Among the larger universe of registered voters, Democrats have an edge — 47 percent to 44 percent. That swing of nine points between registered and likely voters is identical to the difference recorded at this point in 2010." [WashPost]
Do Republicans have a clear national lead? - Other polls have been less bullish on support for Republican House candidates in 2014, with the results inconsistent on how much of an edge the GOP has on the so-called generic House vote, or even whether they have one. CNN and Pew Research polls both put Democrats ahead by 1 among likely voters asked which party they'd choose in their district, while Democracy Corps (D) had the race tied. [Pollster Generic U.S. House chart]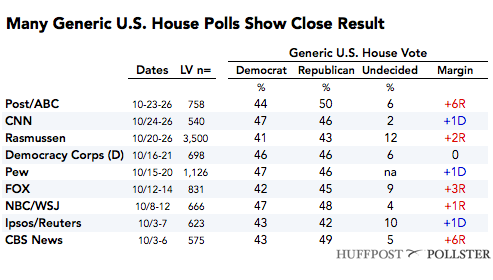 The Latest Statewide Polls:
Louisiana Senate - A Suffolk/USA Today poll released Monday finds Sen. Mary Landrieu (D) and Republican Bill Cassidy essentially tied in next Tuesday's election, with Cassidy leading by 7 in the almost inevitable runoff. The Pollster model gives Cassidy about a 5 point edge, and a 69 percent chance of winning the runoff. [Louisiana chart, Suffolk]
North Carolina Senate - A Monmouth University survey on Monday gives Sen. Kay Hagan (D) a 2-point edge over Thom Tillis, while a second poll conducted by SurveyUSA for High Point University has the two candidates tied. Polling in the race continues to suggest a slim advantage -- of the 10 most recent polls on the race, half have Hagan ahead by 3 points or less, 3 show the race tied, and 2 have Tillis narrowly leading. [North Carolina chart, Monmouth, High Point]
Alaska Senate - Three new polls show surprisingly strong numbers for embattled Sen. Mark Begich (D) against rival Dan Sullivan (R). Even more surprisingly, the worst of the three for Begich is a poll sponsored by Senate Majority PAC, which finds the race tied, while two others have him up by 6 and 10, respectively. (The CBS/NYT/YouGov panel, meanwhile, continues to show him trailing, giving Sullivan a 4-point lead). Nate Cohn: "The new polls, the first to show Mr. Begich ahead in more than a month, add considerable uncertainty to a race in a state that has a history of inaccurate polling. But even if Mr. Begich does not lead, he is most likely within striking distance, especially given the unusually robust Democratic turnout effort that is taking place….Over all, there's considerable uncertainty about the state of the race in Alaska. But between the history of polling errors in Alaska and the signs that Mr. Begich might be somewhat better positioned than he was a few weeks ago, there's a very good case that Mr. Begich is close enough that he could pull off an upset with a superior turnout effort." [Alaska chart, NYT]
National outlook - The HuffPollster poll tracking model continues to show Republican candidates with advantages adding up to a 53 seat majority, although the margins in three states, Iowa, Kansas and Georgia, remain less than two percentage points and a handful of others -- Iowa, Colorado and Alaska -- only slightly better. The overall forecast, a 62 percent probability of a Republican majority reflects the uncertainty inherent in the polling numbers. The polling shows the Senate tipping Republican, but with little room for error. [Pollster Senate forecast]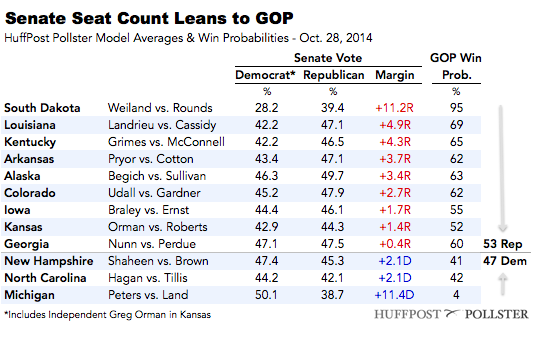 Governor's Races: Times/CBS/YouGov - On Monday, the The New York Times and CBS News released results from their massive YouGov panel survey of all of the 36 contests for Governor up for grabs in 2014. Their numbers generally mirror other public polls, showing close races in nearly a dozen contests, but YouGov is slightly more bullish on Democrats' chances than the HuffPost Pollster poll tracking model in a handful of close contests in blue states: In Illinois, Massachusetts, Michigan and Maine, the YouGov tracking gives the edge to the Democrat, while the Pollster estimate currently tips to the Republican. The pattern is reversed in Kansas, where the YouGov survey gives Republican Gov. Sam Brownback a 3-point advantage, contrary to a 3.5 point lead for Democrat Paul Davis. [NYTimes, HuffPost Governor's Forecast]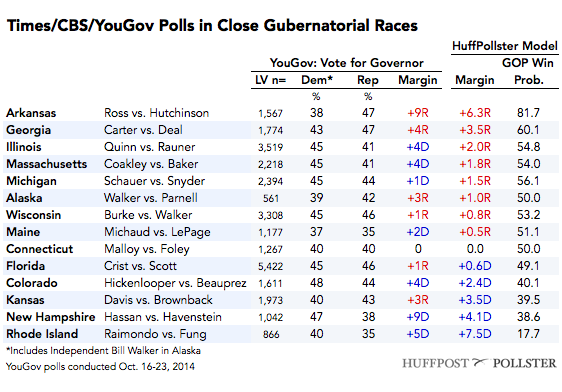 GEORGIA: SHIFT IN LIKELY VOTERS BOOSTS NUNN - Nate Cohn: "A few weeks ago, I wrote that Georgia polls — all conducted before the outsourcing comments were reported — might be underestimating Ms. Nunn because they were understating the black share of the likely electorate. Three weeks later, the polls show Ms. Nunn and Mr. Perdue locked in a dead heat, and all of Ms. Nunn's gains are attributable to changes in the racial composition of likely voters. The six polls since reports of Mr. Perdue's outsourcing remarks show black voters representing 29 percent of the electorate, and white voters representing 63.4 percent of the electorate. That's more diverse than the previous polls, and neatly in line with Upshot estimates. The polls before the outsourcing remarks were published showed black voters at 26.2 percent of the electorate, and white voters at 65.4. There is no evidence that vote preferences have shifted by any discernible amount....Why did Ms. Nunn gain in the polls? The best explanation is the screening of likely voters. It seems that more black or fewer white respondents are being deemed likely to vote. The outsourcing comments could be responsible: Mr. Perdue's comments might have raised the enthusiasm of Democratic-leaning voters, causing more to pass through likely-voter screens, or diminished the enthusiasm of Republican-leaning voters, causing fewer of them to pass through likely-voter screens." [NYTimes]
-MIchael McDonald: "there are other reasons why the GA Afr-Amer community may be suddenly energized, like controversy over missing 50K Afr-Amer [registrants]" [@ElectProject]
WHY THE POLLS MISSED COLORADO IN 2010 Seth Masket recalls the way Sen. Michael Bennet narrowly defeated Republican Ken Buck despite polling averages that had the Democratic slightly but consistently ahead during the fall of 2010: "[P]olling, while generally quite reliable, has a few blind spots. Any reported poll includes some sort of estimate by the polling organization of just which respondents will actually show up on Election Day. In a mid-term election, when less than half of eligible voters may show up, that can be tricky to determine. In 2010, the polls systematically underestimated Democratic voter turnout in Colorado and several other states. Few mainstream pollsters were conducting their surveys in Spanish (which costs extra) and thus missed those people who were uncomfortable answering a poll in English but were nonetheless likely to vote Democratic. One reason this happened likely has to do with turnout by Latino voters, who showed up in higher numbers than expected and voted strongly Democratic. Few mainstream pollsters were conducting their surveys in Spanish (which costs extra) and thus missed those people who were uncomfortable answering a poll in English but were nonetheless likely to vote Democratic...Another reason may have something to do with the Democratic ground game in Colorado. Bennet famously built on the successful Obama 2008 strategy of establishing field offices all over the state, which deployed volunteers into nearby neighborhoods with address lists and scripts to encourage turnout. This may have helped to modestly increase turnout right near Election Day, activating some of the same people who might have reported to pollsters just a few days earlier that they didn't plan to vote." [Pacific Standard]
MINING THE VOTER FILES FOR PERSUADABLE VOTERS - Sasha Issenberg: "With one week to go before election day, Bloomberg Politics revisited the basic electoral math that Democratic and Republican candidates confront in the seven most competitive Senate races: Colorado, Arkansas, Iowa, North Carolina, Louisiana, Alaska, and Georgia...To see the electorate through these strategists' eyes, we mined the underlying data set of democracy: voter files, which are the databases created from registration records and augmented by other intelligence on voters....Looking at these seven states, it becomes clear how much of the burden of campaigning is on Democrats, a function of both the time and the space in which the 2014 midterms take place. With a higher base in every state covered here other than Louisiana, Republicans simply have less work to do to get to their win number. And historically, the Democrats have had a much more difficult time turning out their base in midterm elections than have Republicans. Republicans generally start their efforts to woo persuadable voters—who are, overwhelmingly, and as is now nearly always the case, slightly older whites—from a stronger position, too. Barack Obama's broad unpopularity has become a drag on Democrats' efforts to persuade. The few candidates whom polls suggest have been relatively successful seem to be so because they have succeeded in changing the subject, like North Carolina's Kay Hagan villainizing opponent Thom Tillis for his cuts to state education budgets." [Bloomberg]
DEMOCRACY CORPS SHIFTS TO NATIONAL VOTER LIST SAMPLING - The polls produced by the Democratic Party affiliated organization Democracy Corps made a change in their methodology for their final poll, switching from samples of randomly generated telephone numbers (a technique known as "random digit dial" or RDD) to a national sample drawn from official voters lists (a technique known as "registration based sampling" or RBS). Democracy Corps: "This [change] allows us to both sample and define off-year and presidential year voters using voter history data from the file instead of relying on self-reported vote history and vote intention which academic studies and long real-world experience have shown are significantly less accurate. The sample for this survey consisted of voters who voted in the 2012 election or who registered after it. Perhaps more important, our definition of likely voters is based on a combination of vote history from the voter file and stated vote intention, which our internal analysis has shown in the most accurate prediction of actual likelihood of voting. Listed RBS sampling also has the added benefit of allowing us to more effectively achieve representative demographics prior to weighting by allowing us to stratify our sample based on demographic data that is listed on the file." [Democracy Corps]
Why now? - Via email, Democracy Corps pollster Stan Greenberg explains more on the rationale for the shift (emphasis added):
I made the change because so many of our polls in this off-year cycle have been in the House battleground and increasingly in the Senate battleground (4 polls). Here, we had great confidence in the voter files we were using for identifying who is an off-year voters. That is the only way these could have been done dependably. It has also allowed us to expand our cell phone proportion, which was previously difficult when doing a listed sample.

Also, because of the quality of the voters files, we know what proportion of off-year voter list are Hispanics, under 30, etc. Not only do we not have exit polls to compare or a lot of prior polls to get voter history, we actually know what is the real number. So, it makes weighting very straightforward.

So, a few months ago in a Dcorps planning meeting, I asked, why aren't we doing this on our national polls? Do we now have confidence in our voter lists for every state – and the answer was yes. Since we are not normally polling the public as a whole, but a voter universe. This seemed like the right time to make the change because it was now possible.

There were other reasons. We are doing a fair number of election night polls, as in the past, but some of them are in the Senate battleground and some national. So, on this poll, we decided to move in our final national survey to this universe.

There is also a cost issue. RDD polls with a rising cell-phone percentage is very costly and rising – and moving beyond the financial means of many clients. Many are moving to IVR as a result, though that is problematic unless rigorous. Cost here is still considerable but somewhat contained.

But in the end, I have felt in the battleground polls, that I'm very confident they are representative of the off-year voters – and that should be equally true of the national presidential polls.
HUFFPOLLSTER VIA EMAIL! - You can receive this daily update every weekday morning via email! Just click here, enter your email address, and and click "sign up." That's all there is to it (and you can unsubscribe anytime).
TUESDAY'S 'OUTLIERS' - Links to the best of news at the intersection of polling, politics and political data:
-68 percent of Americans are angry at the way things are going in the country. [CNN]
-Lynn Vavreck explains how she learned to stop worrying and love campaign ads. [NYT]
-Felix Salmon looks at the effect young voters could have if they turn out. [Fusion]
-Daily Kos posts a map with poll closing times for all 50 states. [Daily Kos]
-E.J. Dionne lists four overlooked facts about the 2014 elections. [RCP]
-Three political scientists are under fire for sending out official-looking flyers to Montana voters as part of an experiment. [TPM]
-Jonathan Bernstein ponders why election forecasting models have trouble quantifying candidate quality. [Bloomberg]
-Jon Ward reports on the state of the GOP data revamp. [Yahoo]
-Respondents sometimes make mistakes -- one of several problems with a study arguing that non-citizen voters could decide the 2014 election. [WashPost]
-Thad Kousse offers advice on how to increase turnout. [LA Times]
-MRA lobbyist Howard Feinberg reviews how a new congress could affect survey and market research. [MRA]
BEFORE YOU GO
PHOTO GALLERY
Longest Serving Senators In U.S. History