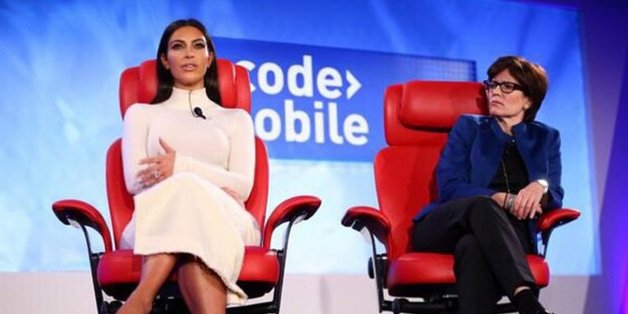 Kim Kardashian has a wildly successful video game that's making her boatloads of money.
She wouldn't say exactly how many boatloads during her tech talk at Recode's Code Mobile conference on Monday, where she spoke with Recode co-founder Kara Swisher, but we still managed to learn a few things about the 34-year-old.
1. She loves her BlackBerry.
Yes, she has an iPhone, but she's a big fan of the now discontinued BlackBerry Bold, and stocks up on them on eBay.
"[My BlackBerry is] my heart and soul, I love it and I'll never get rid of it. I do have an iPhone, and I use it for photos. But if you write an email and you need to type fast -- I like having the [key]board," she told Swisher. "They don't even have them in stores anymore. I buy them on eBay. It's a BlackBerry Bold. And I like to have three in my room that I line up in case they break."
2. She's all about Instagram, but she's not into Snapchat, sorry.
"I'm loving Instagram. I think you can be really creative, and a little more intimate. It has more texture than just words, obviously,"she told Swisher, later revealing that she doesn't use Snapchat. "Sometimes there's too much out there, my little sisters use it, but I just don't have the time."
3. There are rules to Instagram, duh.
Just like Kardashian doesn't think it's sexy to Instagram photos of food, she explained that she has "a three-image rule, in the same setting."
"I try not to do more than three. It over-saturates my feed," she explained.
4. She says rumors she gets paid $10,000 to tweet are false.
"I would have been tweeting every two seconds if it was true," she said.
Via: Recode
BEFORE YOU GO
PHOTO GALLERY
Kim Kardashian Through The Years