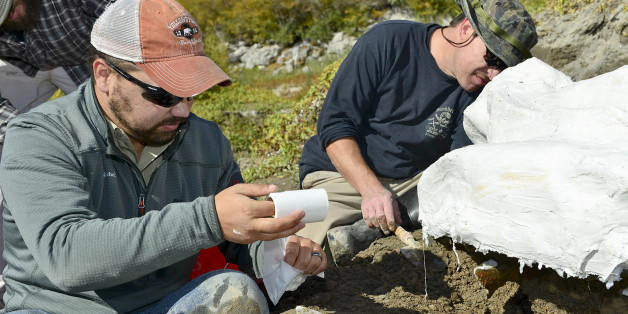 Part of a skull and at least one tusk of a Columbian mammoth have been uncovered in Idaho, but what really has scientists excited is what they haven't found. There are more bones lying in the dirt, so many more that these researchers may have hit the paleontological equivalent of the jackpot.
"There may be a whole mammoth there, so that is rare," Mary Thompson, collections manager at the Idaho Museum of Natural History and an instructor at Idaho State University, told The Associated Press.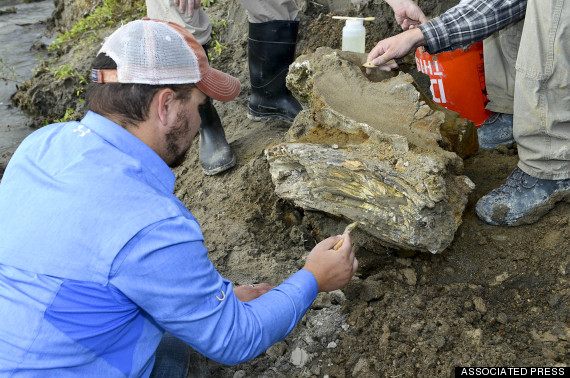 The bones of the Columbian mammoth -- a creature that lived between 70,000 and 12,000 years ago -- were discovered earlier this month near the American Falls Reservoir by a fossil hunter working for the U.S. Bureau of Reclamation, according to Capital Wired.
Students and instructors from the university who excavated at about 30 feet below the high-water mark recovered a partial skull and one tusk. But with reservoir levels rising, they ran out of time. They'll have to return next year when levels drop again to get access to the fossils.
Thompson told AP that the delay gives them time to raise funds for the excavation and to work on the pieces they did recover, which may be cleaned and put on display.
"This find is exciting because there are still teeth in place in the jaw -- so much can be learned from that," Thompson told the Idaho State Journal.
"It's exciting," Idaho Museum of Natural History at ISU director Herb Maschner told the newspaper. "This will stay at the museum."

BEFORE YOU GO
PHOTO GALLERY
Baby Woolly Mammoth Goes On Display In Japan