A California family has been left grief-stricken as they try to come to terms with an apparent road rage incident that left a 30-year-old mother of four dead Sunday afternoon, and her unknown killer on the run.
"I just hope that whoever is responsible is seriously sitting there and thinking about what they did," Esmeralda Avina told The Huffington Post on Tuesday.
Avina's sister, Perla Avina, also known as Perla Evelyn Avina Anaya Lopez, was killed Sunday afternoon, after an unknown individual fired multiple shots into her family's black 1998 Toyota Camry.
"They took a person's life," Esmeralda Avina said. "They took a mother, a wife, a sister and a daughter, from many people who loved her. This is very hard on us. I don't know how people are able to do things like this."
According to Johnna Watson, a spokesperson for the Oakland Police Department, Perla Avina's husband, Luis Lopez Gallegos, was driving the couple back from an East Oakland grocery store at the time of the shooting.
"We do believe it is road rage based on witness information and what the husband said," Watson told HuffPost. "We can't go into the exact details right now because the suspect is still out there, but we do know that there was a confrontation and during that confrontation, the suspect shot at the victim's vehicle [while] the suspect was in a vehicle traveling in the same direction."
The couple was less than a mile from their home when the shooting occurred. Watson declined to say exactly how many shots were fired at the vehicle, but did say it was hit "multiple times."
One of the bullets struck Avina in the head, prompting her husband to drive the few short blocks to their Brookfield Village home.
"I came to my home because I needed someone to call officers," Gallegos told the Bay Area News Group.
A neighbor, 54-year-old Dwayne Jackson, was outside when Gallegos pulled up in his bullet-ridden Camry.
"He pulled up really abrupt, halfway in the driveway and called to me," Jackson told Bay Area News Group. "He said, 'D, call 911. My wife's been shot.' We pulled her out of the car and I started giving her CPR, but I pretty much knew she was gone."
Paramedics responded, but there was nothing they could do and Avina was pronounced dead at the scene, police said.
Watson told HuffPost that authorities have not yet released a description of the suspect or the vehicle the shooter was traveling in.
According to Esmeralda Avina, her sister had four children -- three girls, ages 1, 4 and 8, and a 14-year-old son.
"Her oldest child got to witness his mom die in front of him," she said. "My niece is only a year and a half and she's not even going to know her mother."
The devastated woman said her sister had been married to Gallegos for three years.
"My sister was married almost three years now, but she was with my brother-in-law for 16 years," she said, adding that her sister and brother-in-law had been high school sweethearts.
Esmeralda Avina said her sister's killing is not the first time tragedy has struck her family.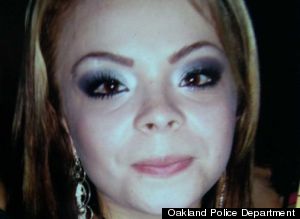 Perla Avina
"My mother had four kids in total," she said. "I lost my brother nine years ago and now we have to do it all over again and bury another sibling. Now it's just me and my younger sister left."
Crime Stoppers of Oakland and the Oakland Police Department are offering a reward to up to $30,000 for information leading to an arrest in this case.
A Go Fund Me campaign has been started on behalf of the family to raise money for Perla Avina's funeral expenses. Donations can be made by clicking here.
The young woman, who for the past eight years worked as a surgery scheduler at a medical clinic in Emeryville, was known for her love of family and children.
"[My wife was] the love of my life," Gallegos told SFGate.com. "No woman can ever replace her ... She gave me four beautiful kids. I wish God would have took me before they took her. I wish I would have gotten shot."
Anyone with information in the case is asked to contact the Oakland Police Department's homicide division at (510) 238-3821 or Crime Stoppers of Oakland at (510) 777-8572.
Like Us On Facebook |

Follow Us On Twitter |

Contact The Author
BEFORE YOU GO