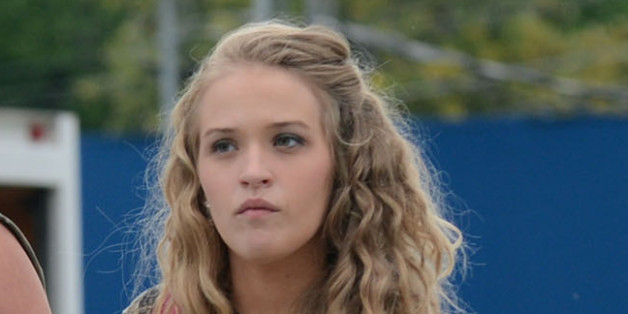 Though she has repeatedly denied it, more evidence that June "Mama June" Shannon has rekindled her relationship with convicted child molester Mark McDaniel continues to emerge.
Mama June's 20-year-old daughter, Anna Shannon Cardwell, confirmed that McDaniel molested her when she was 8 years old, and now, RadarOnline has obtained the police report detailing the abuse she suffered at the hands of McDaniel.
In a March 2003 Spalding County Sheriff's Office incident report, Officer Bauch wrote that it was a teacher at Anna's elementary school who first reported the abuse. Bauch wrote that while interviewing Anna, she told an officer and a child services counselor that "she had done the 's word' with Mark."
According to RadarOnline, McDaniel was indicted in Spalding County for "rape, child molestation, aggravated child molestation, enticing a child for indecent purposes and aggravated sexual battery."
As part of a plea deal, McDaniel pleaded guilty to aggravated child molestation. He was sentenced to 10 years in prison, and was released from Dodge State Prison on March 1, 2014.
Shannon has denied romantic involvement with McDaniel, but TMZ published photos of the 35-year-old sitting in a stairwell with her 9-year-old daughter, Alana Thompson, and the convicted child molester. TMZ also reports that Shannon allegedly bought her daughter's abuser a $25,000 used Nissan Altima, and allegedly went house-hunting with him last month in Hampton, Georgia.
Allegations that Shannon was involved with McDaniel prompted TLC to cancel "Here Comes Honey Boo Boo" last week, and a spokesperson for Georgia's Division of Family and Child Services warned that the alleged relationship puts the former reality star in danger of losing custody of her two daughters who are still underage.
BEFORE YOU GO
PHOTO GALLERY
Celebrity News & Photos