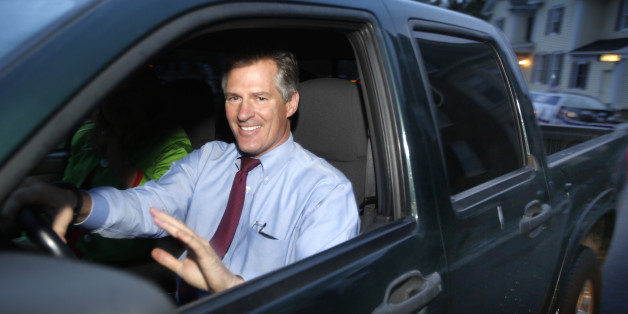 WASHINGTON -- With New Hampshire's U.S. Senate race tightening, Democrats are reaching deep into their bag of tricks to cast doubt on Scott Brown, accusing the Republican candidate of using his last campaign for office in Massachusetts to sell his book and boost his publishing payday.
The charge, which Brown's campaign vehemently denies and could easily disprove, is hard to make stick, since Brown got the Federal Election Commission's opinion in advance, granting his 2012 Massachusetts Senate campaign committee permission to buy several thousand copies of his book, Against All Odds, as long as the profits were donated to charity and never wound up in Brown's pockets.
That appears to be what happened.
But Democrats noticed on Brown's personal financial disclosure forms that publisher HarperCollins paid him $400,000 of his advance -- for a total $1.4 million -- well after the memoir came out. In the eyes of Democrats, that late payment opens up the possibility that Brown's contract may have set a relatively low bar for sales, or established some other sort of trigger, and that the campaign's book purchases helped Brown to get that final installment of his advance.
If such is the case, it would violate the rules, as the FEC noted in its opinion that Brown was not allowed to receive anything of value himself. Even any royalties destined for charity had to be given away by the publisher, not funneled through Brown.
Literary agent Howard Yoon told HuffPost that although he has no direct knowledge of Brown's contract, such advance arrangements for later payments are common in the publishing business, and that celebrity contracts like Brown's would not normally be subject to any sort of contingency or sales minimum to pay the full amount. But Democrats, perhaps eyeing the narrowing gap between Brown and Sen. Jeanne Shaheen (D-N.H.), want voters to see the contract.
"There are very serious questions about how Scott Brown may have been using campaign funds to enrich himself," said New Hampshire Democratic Party spokeswoman Julie McClain in a statement. "He must release the details of his book contract immediately and come clean with the people of New Hampshire."
Brown spokeswoman Elizabeth Guyton was harshly dismissive of the charge.
"The advance was not tied to the purchase of the books, and both were done based on guidance from the Select Committee on Ethics and the Federal Election Commission," Guyton said in a statement, referring to the FEC advisory opinion about the campaign's book purchases and the Senate ethics committee's separate approval of the book deal itself.
She suggested that Democrats have been trying for a month to get outlets to run the charge on behalf of Shaheen, who has watched her once comfortable lead shrink to an average of just over 2 points during that time, according to the HuffPost Pollster average of polls.
"For the past month, Jeanne Shaheen and her allies have been peddling this bogus story all over town, and no one thought it was worthy of publication," Guyton said.
Indeed, Democrats run a risk in putting such an allegation on the record. Although Brown's campaign declined to release the contract to HuffPost, revealing its details has the potential to cast the charge as a desperate attempt to smear Brown -- potentially backfiring on Shaheen, whose approval rating has remained much higher than Brown's despite the tightening head-to-head polls.
And in fact, the Brown campaign's explanation is entirely plausible, said Yoon, whose RossYoon Agency specializes in nonfiction.
"If he got a $1.4 million advance, he was going to get that cash no matter what. It wasn't contingent on any sales or performance, probably, unless it was a bonus -- if he got a bonus [for sales] that went over a certain amount -- but there's no way the bonus would have been activated if the sales were that low."
Brown's book sold only about 27,000 copies, not nearly enough to pay back the investment his publisher sank into the work.
While the House of Representatives banned book advances nearly 20 years ago after leaders there got sweetheart deals from publishers, the practice remains well within the rules of the Senate, and standard in publishing.
"I don't know if there's any fishiness about the Scott Brown contract," Yoon said.
According to HuffPost Pollster's tracking, Shaheen has a 2-point lead on Brown.
Michael McAuliff covers Congress and politics for The Huffington Post. Talk to him on Facebook.
BEFORE YOU GO
PHOTO GALLERY
Scott Brown