Updated on Oct. 30,2014
Is Ebola really that festive of a topic?
Plenty of people seem to think so. But those strapping on their fake hazmat suits in the name of Halloween cheer have been met with heavy criticism claiming the costumes trivialize the dire Ebola outbreak in West Africa.
Now, medical professionals are turning the controversial holiday get-up into positive action against the disease.
Doctors of the World, a humanitarian organization that provides medical care to vulnerable populations around the world, launched a campaign, More Than a Costume, to encourage those celebrating Halloween to purchase actual items that can be used to combat the epidemic -- not plastic costume accessories that make light of the disease.
On the campaign website, supporters can donate to Doctors of the World and help the organization buy life-saving tools. For example, $1 buys a pair of latex gloves and $10 purchases protective goggles.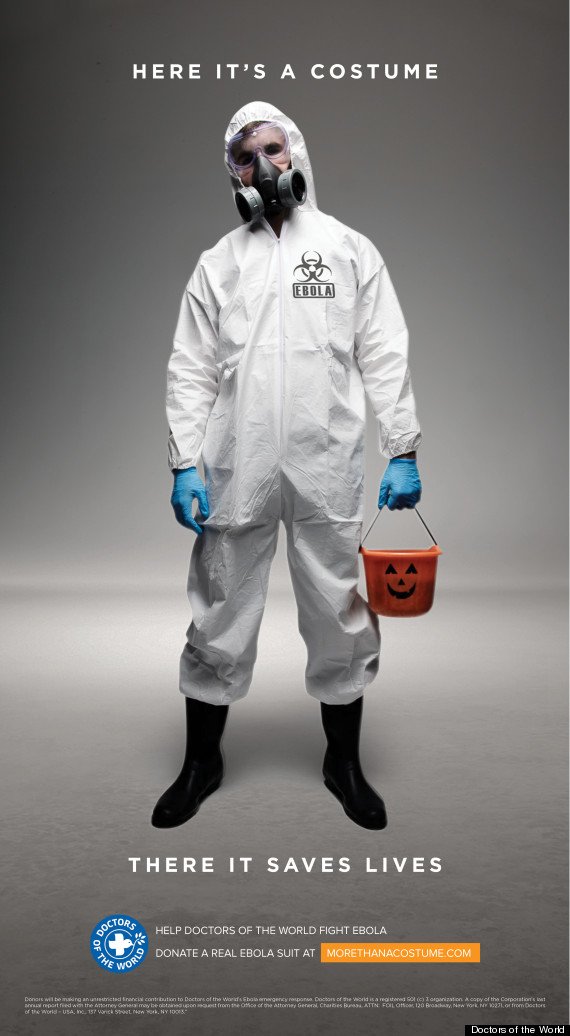 Health workers need a new hazmat suit for each of their rotations. So, if the response scales up according to the World Bank's recommendations, volunteers will need an estimated 1 million suits to provide care for just the next six weeks, Doctors of the World told The Huffington Post in an email.
According to the World Health Organization's (WHO) latest update on the epidemic released on Oct. 25, 10,141 cases of Ebola have been reported and 4,922 people have died from the disease throughout the world. The vast majority of those cases and deaths, however, have been in the West African nations of Guinea, Liberia and Sierra Leone.
While the ongoing epidemic has been devastating, positive signs are giving hope to advocates. WHO announced on Wednesday that the rate of new Ebola infections in Liberia is declining, according to the Associated Press. The hopeful news could represent a larger trend in fighting the disease, officials said.
Supporters can donate to the More Than A Costume campaign here.