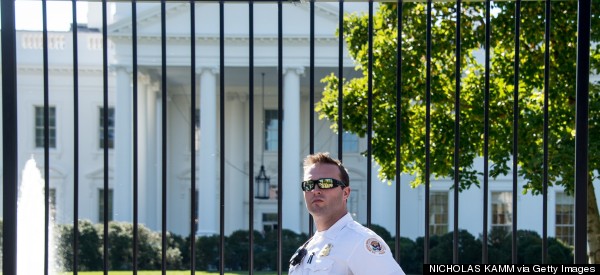 TOP STORIES
WHITE HOUSE HACKED "The White House computer network has been hit by what appears to be a sustained cyberattack, administration sources told HuffPost. The White House -- or the Executive Office of the President (EOP) -- regularly gets hit with hapless cyberattacks from all corners of the web, but the one revealed Tuesday, said people familiar with the situation, has been much more significant in duration and strength, putting the system on the fritz for nearly two weeks, if not longer." Russian hackers are suspected. [HuffPost]

UNMANNED ROCKET EXPLODES AFTER LIFTOFF "An unmanned Antares rocket exploded six seconds after liftoff from NASA's Wallops Island launch facility in Virginia at 6:22 p.m. EDT." The mission was valued at $200 million, and social media captured the terrifying explosion. [HuffPost]
POLICE IN FERGUSON BUY MORE RIOT GEAR As the St. Louis County Police Department gears up in preparation for a grand jury decision regarding Darren Wilson, school district superintendents have asked the lead prosecutor to announce the decision on a Sunday so children can get home from school. And Ferguson Police Chief Thomas Jackson denied a CNN report that said his resignation was imminent.
DHS RAISES FEDERAL BUILDING SECURITY The move comes after the Canadian Parliament shootings and threats from terrorist groups. [WaPo]
LOBBYISTS TARGET ATTORNEYS GENERAL "Attorneys general are now the object of aggressive pursuit by lobbyists and lawyers who use campaign contributions, personal appeals at lavish corporate-sponsored conferences and other means to push them to drop investigations, change policies, negotiate favorable settlements or pressure federal regulators, an investigation by The New York Times has found. A robust industry of lobbyists and lawyers has blossomed as attorneys general have joined to conduct multistate investigations and pushed into areas as diverse as securities fraud and Internet crimes." [NYT]
U.S.-ISRAEL RELATIONS REACH NEW LOWS "The relationship between these two administrations— dual guarantors of the putatively 'unbreakable' bond between the U.S. and Israel—is now the worst it's ever been, and it stands to get significantly worse after the November midterm elections. By next year, the Obama administration may actually withdraw diplomatic cover for Israel at the United Nations, but even before that, both sides are expecting a showdown over Iran, should an agreement be reached about the future of its nuclear program." [The Atlantic]
OVERDOSE DRUG ACCESS EXPANDED Access to naloxone is on the rise following Philip Seymour Hoffman's February overdose. The drug can reverse the effects of overdoses, as it "blocks the brain receptors to which heroin or other opioids bind." [HuffPost]
MAN WHO WENT MISSING AT BRONCOS GAME FOUND Five days after Paul Kitterman disappeared during halftime at a Denver Broncos game, the 53-year-old was found two hours away from the stadium. [HuffPost]
WHAT'S BREWING
AND ON TO GAME SEVEN "It had to come down to this, didn't it? In a postseason filled with surprise departures and improbable twists, the final fork in the road leads to a baseball stadium adjacent to a football stadium amid a gargantuan parking lot in the American heartland. The San Francisco Giants and Kansas City Royals have reached that magical stage of October when pitchers' leashes are short-to-nonexistent, deep breaths are imperative … For the 37th time in history and only the second time since 2002, a World Series will be going to a deciding Game 7." [ESPN]
YOUTUBE, WITHOUT THE ADS? Google is contemplating a subscription service that would allow you to watch videos ad-free. [Variety]
MEET THE SELF-QUARANTINED FAMILY "While Americans debate whether a handful of Ebola cases here should lead to stricter quarantine rules, a family in Columbia, South Carolina, have been living in self-imposed quarantine for nearly five months – all to protect their daughter. Eliza O'Neill, 4, suffers from a rare, ultimately fatal genetic disorder called Sanfilippo syndrome, type A." [People]
WHO'S MAKING YOUR HALLOWEEN CANDY? These ten companies. [HuffPost]
A GLASS OF RED FOR WOMEN ON TV "As assertive professional women operating often in the sphere of men, the characters of both Olivia and Alicia must drink red, even in their private moments. They are permitted to be vulnerable but can't betray themselves to the audience as white wine weak." [NYT]
SORORITY LIFE, WITH A PRICE TAG All those date parties, membership fees, and time spent pomping adds up. [NYT]
A FULL BODY WORKOUT, PUMPKIN INCLUDED Before you carve it, might as well use it to mix-up your workout. [HuffPost]
ON THE BLOG
REP. DORIS MATSUI (D-CA) ON DOMESTIC VIOLENCE AWARENESS MONTH "Alarmingly, one out of every three women in the United States will experience some form of domestic violence in her lifetime. This is unacceptable, and we as a nation must do better. We can start by bringing the conversation out of the shadows. Women -- and men -- who experience domestic violence must know that they are not alone, and that there are resources available to help." [HuffPost]
BEFORE YOU GO
~ Do Uber drivers really make $90,766?
~ More cooking hacks.
~ We hardly recognized Kate Gosselin with her long hair.
~ This puppy in a K-9 vest is "taking a pup-sized bite outta crime."
~ All these movies are disappearing from Netflix on November 1.
~ Kim Kardashian is hoarding Blackberries.
~ Here's what it's like to walk for 10 hours as a woman in NYC.
~ "Gossip Girl's" Lily and Rufus might be a real-life couple?!?
~ R. L. Stine wrote a scary, scary story -- all on Twitter.
~ Jose Canseco shot himself in the hand.
~ Marvel announced "Black Panther" and a bunch of other movies.
~ Simplify your photos into modern art.
~ And Fireball is being recalled in Europe for having dangerous levels of a chemical found in antifreeze.
Send tips/quips/quotes/stories/photos/events/scoops to Lauren Weber at lauren.weber@huffingtonpost.com. Follow us on Twitter @LaurenWeberHP. And like what you're reading? Sign up here to get The Morning Email delivered to you.