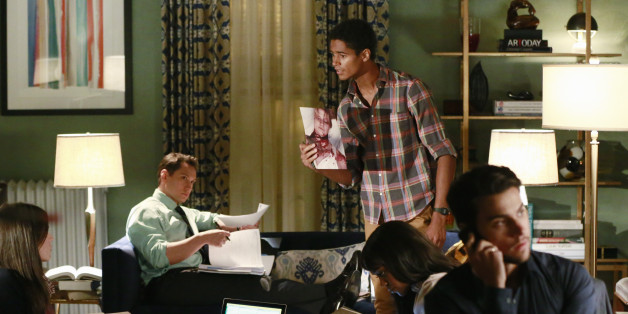 Whatever it takes. That's what Wes demands Annalise do to save Rebecca, that's what Annalise has proven she'll do for her clients, that's what these students will do to impress Annalise, and that's what our murderous crew will do to cover up their actions. How much is whatever it takes going to take out of our favorite characters?
In this week's flash forward, we learn that Asher has some seriously hilarious dance moves (and a need to further his rich asshole image by throwing around money in his apartment). This ridiculous scene exists solely for Asher to realize the murder weapon trophy is missing, and any excuse to watch him dance like that is fine by us.
Back in present day, which is a mere five weeks earlier, Wes has defiantly left the trophy on his desk in Annalise's class. After all, he is less than pleased that she hasn't come forward about her husband's involvement in Lila Stangard's murder. What a sassafras.
In the case of the week, Annalise tells the sob story about the first case where she saw justice done wrong. This tale of man on death row for 21 years for a crime he didn't commit doesn't quite compute with the first three people she defended, who were 100% morally bankrupt. But the jury's out on her ambiguous clientele and defense morals (yes, that was a horrible pun).
Back at Wes' apartment for the explosive teacher-student showdown, Wes threatens to expose Sam if Annalise doesn't find and return Rebecca. After their awkward exchange about whether or not Wes is sleeping with Rebecca, Annalise scurries off. This weird power dynamic is too much.
In prep work, Frank and Laurel flirt again. Bonnie creeps, per usual. The kids are sent to gather some intel, and Asher starts to suspect his squeaky clean dad. In his first strokes of genius, Asher figures out his dad sold the guy on death row down the river in order to snag a federal judgeship and make all the moolah that's given Asher such a nice life. Asher runs back to Professor Keating to grab the trophy for his trouble and protect his father. The kid actually does have a brain.
In an all nighter to get their client off death row, Bonnie creeps up on Laurel to give her a come-to-Jesus talk about letting Frank off now before he gets attached. She says she won't let the Frank thing happen because of class issues. Unclear whether that's just about Frank or about Bonnie's own insecurities. Also unclear how she creeps around that stealthily. Regardless, Laurel breaks Frank's heart later in the episode. As a reminder, in case you were sad about this, the two of them sleep together sometime in the next five weeks before the murder. So Bonnie's advice doesn't last long.
Annalise quickly discredits the witness who perjured herself to pay her rent bills (the rent is always too damn high), and then sinks her teeth into the corrupt state senator allegedly behind the murder of the David Allen's girlfriend.
Subtle race cues ran throughout this episode: Annalise tells Sam "didn't know you were screwing some white whore" and the maid in Asher's house is black (anyone having flashbacks to Viola Davis in "The Help?"). These cues culminate with Annalise's screaming at a white, corrupt state senator in front of an (almost) all white Supreme Court. Turns out the state senator murdered in order to make it easier for him to make millions off of the plaza he erected in place of the projects. Lovely.
Annalise's speech is to die for. The passion, the vibrance, the anger -- if only she defended people she believed in every day. Nice to see her give one for the good guys, and get her client off of death row. Also we love any excuse for Viola Davis to destroy someone.
After that win, Annalise gets another one. She had Frank plant Lila's wiped phone in Griffin's car, which throws suspicion off of Rebecca by indicating Griffin could have been jealous of Lila's other lover.
After news of the cell phone discovery breaks, Rebecca says what we are all thinking -- what is Annalise doing? And then she asks why Wes cares (really, we all want to know that one). She gives a "no one has ever believed in me like this before" line, and we all continue to ask ourselves why baby eyes is falling for this drug dealer's tale.
Back in the Keating household, Sam isn't too happy about the phone leak, but Annalise assures him "unless ... someone else out that that knows what your penis looks like," he's safe. She even changed the wallpaper to cover up his involvement.
She then has the requisite breakdown of the week, whispering I need you and I love you over and over again. We knew she was flawed. But covering up for his murdering ways? And saying she loved him? Why Annalise, why? It's unclear whether she actually feels this way, or just needs to tell herself this to justify her life decisions to this point. As a side note -- she says all this with her makeup on, not off. Maybe she is masking her true feelings?
In the final scenes, Nate figures out Annalise is covering for her husband by having Frank do her dirty work. Uh oh.
But the real kicker of the episode is when we find Asher in bed in the flash forward, jealous of the murderous quintet's bonfire photos. Then the camera pans right and we see he is SLEEPING WITH BONNIE. But before we can even recover from this twist, Annalise calls, accusing Bonnie of being with Sam. And then says ominously: "Something terrible has happened."
We then see the empty house, missing the rug that ol' Sam Keating's body is wrapped in. Turns out Annalise might have loved her husband after all. Too bad he has less than five weeks left to live on the show.
Odds and Ends
Anyone else laugh that today's lesson was habeas corpus, which means "produce the body?"
Annalise has labeled her kids the "Keating Five," which is a great name for the boy band they can form when they're all in jail for their various crimes.
First episode coffee came into play -- another attempt of the show to make it remotely more realistic?
Since there were no sex scenes this episode, Wes had to answer the door with his shirt off. Obviously.
If you took Wes and Annalise's conversation out of context, you'd think they were sleeping together. "Stop this." "Stop What." "You know what."
When it comes time for the spinoff of "How to Get Away With Murder", Bonnie will star as a silent creeper/assassin. That girl is EVERYWHERE, and no one hears her coming. Sam and Annalise have a fight about his potentially murderous ways? Bonnie's there. Laurel and Frank flirt? Bonnie's there. Asher needs a hookup? Bonnie's there.
The rest of the kids also all assume Wes and Rebecca are sleeping together. BECAUSE WHY ELSE WOULD HE BE THIS ATTACHED? No one knows. No one knows.
The whole notion of murder "whack-a-mole," where you have to beat off continuous potential chances of exposure, is genius.
No way those kids cleaned up the crime scene that well from the final shot of the evening. What happened to all the blood?
"How to Get Away With Murder" airs on Thursdays at 10 p.m. EDT on ABC.