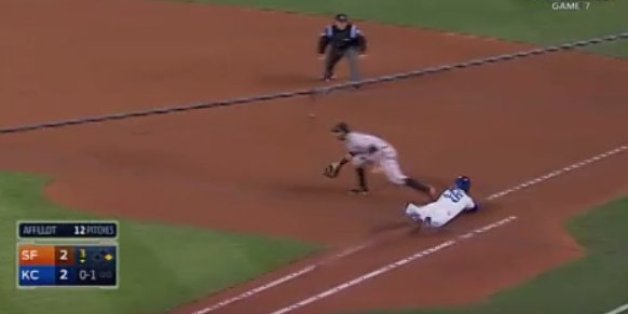 There is at least one thing that noted television "Science Guy" Bill Nye and Little League coaches across the nation can agree on: Do not slide headfirst into first base, run through the bag.
World Series Science: don't dive into 1st base. Instant a runner leaves his feet, he slows down. May have cost Royals a run and the game.

— Bill Nye (@TheScienceGuy) October 30, 2014
Nye chimed in with his view on the matter after a key play in Game 7 of the 2014 World Series between the San Francisco Giants and Kansas City Royals. The score in the decisive contest deadlocked 2-2 in the bottom of the third inning when Eric Hosmer of the Royals slid headfirst into first base, perhaps making it easier for the Giants to turn an impressive -- and potentially game-altering -- double play.
With a runner on first and no outs, Hosmer hit a ball back up the middle that was snagged by Giants second baseman Joe Panik. After diving to his right to make the grab, Panik deftly flipped the ball to Giants shortstop Brandon Crawford to record an out at second base. Crawford then threw over to Giants first baseman Brandon Belt, who caught the ball with his foot on the bag just before Hosmer arrived, via his headfirst slide. Hosmer was initially determined to be safe on the play, but the call was overturned after a challenge from Giants manager Bruce Bochy triggered a replay review.
The Giants would emerge from the third inning unscathed and go on to score the World Series-winning run in the fourth inning.
2 morals of this #Game7:
1. Never slide into first, ever.
2. Have Madison Bumgarner on your team, always.

— Bradley Slavin (@bradslavin) October 30, 2014
BEFORE YOU GO
PHOTO GALLERY
PHOTOS: World Series Game 7