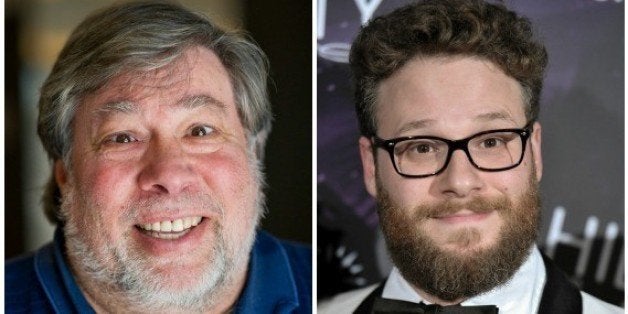 According to TheWrap, Sony wants Seth Rogen to play Apple co-founder Steve Wozniak in the studio's new Steve Jobs biopic. But a source close to production told HuffPost Entertainment that Rogen didn't even have a formal offer yet. If a deal is worked out, however, Rogen would appear opposite Christian Bale in the film. Bale was cast as Jobs earlier this month after Leonardo DiCaprio bowed out of consideration.
Wozniak and Jobs founded Apple together in the 1976, though Wozniak left the company in 1987. He is credited as designing both the Apple I and Apple II computers. Josh Gad previously played Wozniak 2013's "Jobs," which starred Ashton Kutcher. "I had such high hopes for this movie and, oh, it was so hard to say that it let me down a bit and it fell a bit flat," Wozniak told ABC News.
Based on Walter Isaacson's biography of Jobs, this new film was written by Aaron Sorkin and will be directed by Danny Boyle. Head to TheWrap for more on Rogen's possible involvement in the film, which also might include Jessica Chastain.
BEFORE YOU GO
PHOTO GALLERY
Steve Jobs: In Pictures