Tom Menino, who served as the mayor of Boston, Massachusetts, from 1993 to 2014, has died, 7 News and WCVB report.
Menino was in hospice at Bringham and Women's Hospital, according to CBS Boston. Menino suspended his cancer treatments last week.
"While I continue to fight this terrible disease, I feel it is time for me to spend more time with my family, grandkids, and friends," Menino said in an Oct. 23 statement.
On Wednesday, Menino was visited in the hospital by the head of the Boston Archdiocese, Cardinal Sean O'Malley.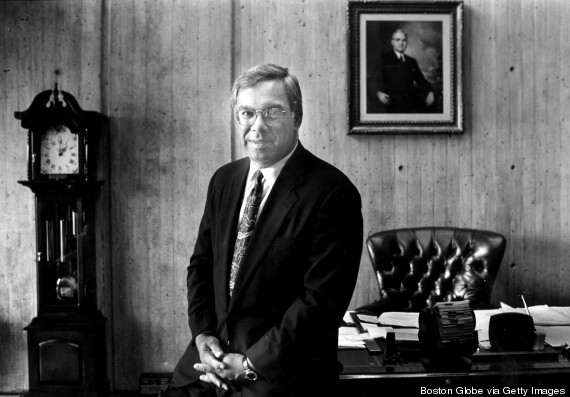 Menino, then-acting mayor of Boston, in his office in 1993. (Photo by Suzanne Kreiter/The Boston Globe via Getty Images)
In March 2013, the Boston Globe reported Menino had been diagnosed with an advanced form of an unknown cancer. It was the latest in a string of health setbacks for the mayor.
WCVB reports:
He underwent surgery in 2003 to remove a rare sarcoma on his back and the next year was diagnosed with Crohn's disease. He discovered in early 2012 that he was suffering from a broken toe and did not know it. Later that year he fell gravely ill while on an anniversary vacation with his wife in Italy.

Months after leaving office he was diagnosed with an advanced cancer that had spread to his liver.

"What I don't want is people feeling sorry for me. I don't want sympathy. There are people worse off than me," he said after getting the diagnosis.
Menino announced in March he would not run for re-election, saying he could handle "a mayor's schedule, but not a Menino schedule," after being hospitalized in 2012 with a respiratory infection and a blood clot, among other health issues.
"Spending so much time in the neighborhoods gives me energy... it may not be the only way to lead Boston, but it's the only way for me," Menino.
Reflecting on Menino's time in office, The Boston Globe wrote that "[f]or constituents, Mr. Menino was the perennial mayor in their midst, a constant presence at neighborhood events." Read their entire obituary here.
CORRECTION: This story has been updated to reflect Menino was mayor until 2014, not 2004.
BEFORE YOU GO
PHOTO GALLERY
Notable People We've Lost In 2014