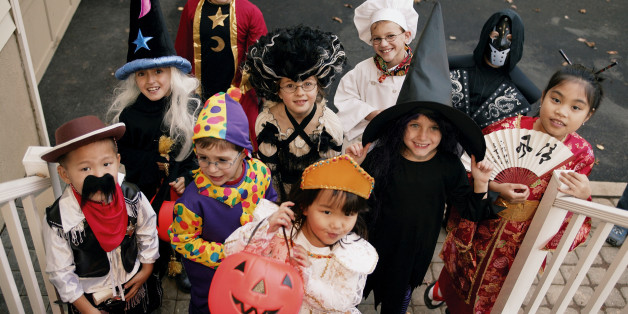 Before your kids go trick-or-treating tonight, consider these tips from Dr. Jim Sears, pediatrician and co-host of The Doctors:
1. Make sure costumes are safe. For example, costumes should be fire retardant, and makeup should be non-toxic so it doesn't cause skin irritation or rashes. Children should be able to see and breathe through masks without obstruction, so eyeholes should be at least two times bigger than your child's eyes. Knives or swords should not be pointy; they should be made out of cardboard or other flexible materials.
2. Light them up. Twice as many kids get hit by cars on Halloween than any other night of the year so consider placing reflective material on your child's costumes so cars can easily spot them. They should also use flash lights or glow sticks to see where they're going if they're in a dark neighborhood.
3. Eat dinner and hold off on the candy. There's nothing wrong with eating candy on Halloween, but kids should eat dinner before indulging and not be permitted to eat candy until their parents inspect it.
4. Know numbers. If kids are not with a grown-up or are without a cell phone, they need to have their home address memorized along with an emergency phone number.
5. Walk the right way. If there is no sidewalk, walk toward oncoming cars, not in the same direction as the cars are moving. Don't ride a bike or wear rollerblades.
6. Have a buddy system. Kids need to keep each other in check by being accountable to one another. And nobody should be permitted to enter a stranger's house.

7. Review fire safety. With candles and jack-o-lanterns at every turn, kids can get burned. Make sure they know the "Stop, Drop and Roll" rule.
8. Make your home safe for trick-or-treaters. Consider trimming bushes, removing flower pots, making sure outdoor lights are working properly and secure pets.