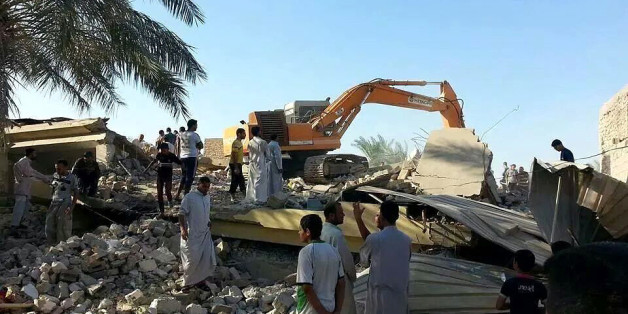 By Michael Georgy and Raheem Salman
BAGHDAD, Oct 31 (Reuters) - Iraqi tribal leader Sheik Naeem al-Ga'oud and his men once helped U.S. Marines drive al Qaeda out of their Anbar Province stronghold. He doesn't even put up a brave face when it comes to his current enemy the militants of Islamic State.
This week the al Qaeda offshoot massacred more than 200 members of his Albu Nimr tribe in retaliation for months of resistance.
Ga'oud says he has good reason to fear many more will be rounded up, shot at close range and dumped in mass graves, with little chance that the Iraqi government or United States will come to the rescue of his tribe or any other any time soon.
"A day before the attack we told them (the government) that we will be targeted by the Islamic State. I talked to the commander of the air force, with several commanders," he told Reuters in an interview.
"We gave them the coordinates of the places where they were, but nobody listened to us," he said. Asked why he believed the government had not helped, he nearly cried and said: "I don't know."
Islamic State fighters have made a practice of executing Shi'ite prisoners when they seize a town, but the shooting of members of the Albu Nimr tribe in the city of Hit on Wednesday appears to be their worst mass killing yet of fellow Sunnis.
During the interview in Baghdad, Ga'oud, a member of the Iraqi parliament, fielded phone calls from contacts who relayed the latest information about the death toll from the massacre, the full extent of which is still being tallied.
Members of his tribe had held out for weeks under siege by Islamic State fighters, but finally ran low on ammunition, fuel and food last week. Hundreds of tribal fighters withdrew. The people left behind lost hope. At the end of last week the Islamist fighters took their village Zauiyat albu Nimr.
"Islamic State spread a rumor that whoever lays down his weapon and repents will not be harmed and that we are brothers. We warned the people not to trust them," said Ga'oud.
Instead of being given safe passage, hundreds of people were shot, he said, including university students and some of the elderly, who were blindfolded and executed in public in the town of Hit, which had fallen to Islamic State earlier in October.
Most of those found in mass graves were men, but the bodies of 20 women and 13 children were found in the desert, he said.
"They brought 2 children aged eight and six and killed them because their father was with the security forces," said Ga'oud.
"Now, the district of Al-Bakr, northern Hit, is besieged by Islamic State and they are searching for 500 young men Islamic State has sentenced to death."
Several government officials and security sources, as well as witnesses in Hit, have confirmed that bodies of more than 200 people were found in mass graves on Tuesday and Wednesday, having been shot at close range. Other details of Ga'oud's account could not be confirmed.
BATTLEGROUND
The story of how Ga'oud went from a tribal warrior who fought al Qaeda to a man desperate for help speaks volumes about the difficulty of organizing tribes to trust the government and fight Islamic State, especially in Anbar.
The vast desert province includes towns in the Euphrates River valley dominated by Sunni tribes, running from the Syrian border to the western outskirts of Baghdad.
It was the main battleground between U.S. Marines and al Qaeda during the "surge" campaign in 2006-2007, the bloodiest phase of the U.S. war in Iraq, when American troops enlisted the tribes to help them defeat al Qaeda fighters.
Back then, the tribes, hostile to Baghdad and Washington, initially tolerated al Qaeda but grew to hate and fear the fighters, many of whom were outsiders and who imposed their own brutal justice on villages used to running their own affairs.
Washington, which is again using air strikes against Islamic State, hopes the Baghdad government of Prime Minister Haidar al-Abadi can repeat the tactic and again win over support from tribes that rose up against Abadi's predecessor Nuri al-Maliki.
But so far, tribes that have dared to stand up to Islamic State in Anbar are paying a brutal price. They say Baghdad has failed to give them support.
Iraq's most senior Shi'ite cleric called on the government on Friday to rush to their aid.
"What is required from the Iraqi government ... is to offer quick support to the sons of this tribe and other tribes that are fighting Daesh (Islamic State) terrorists," Grand Ayatollah Ali al-Sistani said, in an address read out by an aide in the holy city of Kerbala after Friday prayers.
Ga'oud said the Albu Nimr's first confronted Islamic State in January when the insurgents, traveling in about 80 vehicles, launched an attack on Hit.
"Islamic State contacted us asking us to allow them to enter our area to proceed to Hit. We refused, telling them 'you can pass over on our bodies only'," said Ga'oud. The tribe fought about 20 battles with the militants, he said.
Ga'oud had calculated that he could eventually persuade the Shi'ite-led government to provide his tribe with weapons that could counter Islamic State's arsenal, and that Washington would follow suit.
Islamic State fighters are now far better armed than before, since sweeping through northern Iraq in June and seizing weapons from fleeing Iraqi troops.
In Anbar, the militants are now encircling a large air base and the vital Haditha dam on the Euphrates. Fighters control towns from the Syrian border to parts of provincial capital Ramadi and into the lush irrigated areas near Baghdad.
Ga'oud listed the weapons at Islamic State's disposal, including mortars, machineguns and sniper rifles.
"During this period we were appealing to all sides, government, security apparatus, to supply us with weapons and ammunitions, but nobody did," he said. "The only one who helped us was a division commander who gave us 30 Egyptian-made machineguns, with small quantities of ammunition."
Many Sunni tribal leaders refused to do business with Maliki, who they saw as having a Shi'ite sectarian agenda.
His replacement three months ago by Abadi, seen as a more conciliatory figure, raised hopes that an alliance could be formed between tribal leaders and the Baghdad government.
But Ga'oud and other tribal figures say Abadi has yet to deliver on promises of military support for Anbar.
Ga'oud says Islamic State has forged ties with other tribal sheikhs and officials from Hit, who helped the group smuggle weapons into the town when it was captured.
"We have 500 people from Hit, we know them by name, who cooperated with Islamic State and facilitated their entry," said Ga'oud. "Their numbers are not large but some people join them in any area they enter. Even their weapons are sent beforehand. Then their leadership arrives." (Writing by Michael Georgy; Editing by Peter Graff)
BEFORE YOU GO
PHOTO GALLERY
Fighting in Iraq