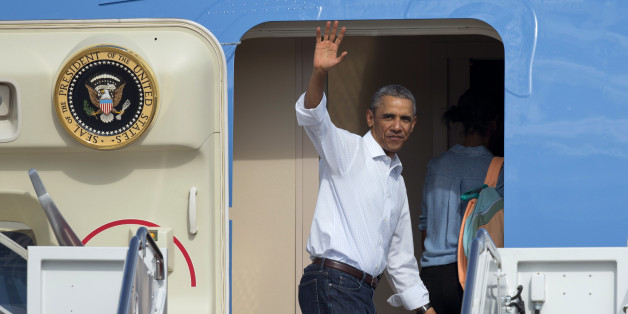 Cash-strapped news outlets looking to cover President Obama's trip to Asia next month may find it difficult to do so. Not because the trip isn't newsworthy -- it is -- but because there are at least 60,000 dollar-shaped reasons not to.
At a bare minimum, outlets will have to front $60,000 per person for a seat on the chartered plane that will tail Obama as he visits China, Myanmar and Australia on a 9-day trip next month. And that's just for airfare.
According to The Washington Post, the $60,000 figure does not include other necessities like hotel rooms, meals or other expenses, all of which are liable to tack on another $10,000 to the final bill, making this the most expensive White House press correspondents' trip in history.
Last Wednesday, after the trip's sign-up deadline passed, White House Correspondents' Association (WHCA) President Christi Parsons addressed the "staggering number" in an email to WHCA members.
"No one is happy about it," she wrote, "and the WHCA board and the TV producers are looking at some creative ways to cut charter costs in the future. In the meantime, we will fight for the access that makes a trip like this worthwhile."
News organizations split the cost of the chartered flight evenly, so when only a few outlets sign up, the cost skyrockets. According to Parsons, 51 journalists will be onboard when Obama departs on Nov. 9, which partially explains the eye-popping sum.
In an article for U.S. News & World Report, former WHCA president Ken Walsh labeled the cost of charters a "vicious cycle." When outlets don't send reporters on expensive trips, says Walsh, the cost increases for those that do, which in turn means even less can afford to attend the next charter, leading to even more expensive tickets.
BEFORE YOU GO
PHOTO GALLERY
Obama's Getting Hungry